AB Inbev: Should BUD get reduced World Cup sponsorship deal after FIFA curbs beer sales?
Subscribe to Weekly Highlights
The major market events for the week ahead right in your inbox.
Subscribe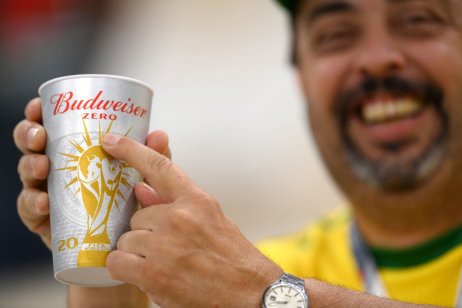 Content
The parent company of Budweiser, Auheuser-Busch InBev (BUD) announced on Thursday that it is seeking a discount of $47m (£38.9m) from its sponsorship deal with FIFA, after the world's largest brewer was prevented from selling beer in the stadium.
The drinks company, also known as AB InBev, famous for its "Wassup" campaign and the makers of well-known beers such as Corona, Budweiser, and Stella Artois, was left with crates of beer and an ad campaign, after Qatar officials made a U-turn this month and said that alcohol will no longer be sold inside the stadiums.
What is your sentiment on BUD?
Vote to see Traders sentiment!
Auheuser-Busch InBev (BUD) share price chart
BUD share price has risen but it's not happy about alcohol ban
The company has seen its share price rise over the last four weeks by 15% due to consumers drowning their economic sorrows with a pint and its lucrative deal with FIFA.
And despite the beer company being banned from selling beer at Qatar stadiums for the World Cup, its share price has been up 3% since the 17 November, when the announcement was made.
But BUD is not happy.
Despite its share price lift, AB InBev wants some of its sponsorship deal money back from FIFA - funds from the original deal, which is reported to be worth $75m.
In a recent interview, the company said: "We remain focused on our 2022 FIFA World Cup activations all around the world, including bringing the celebration from the stadiums to the winning country's fans.
"As FIFA mentioned, a few weeks ago a deal was struck between us for the 2023-2026 FIFA World Cup cycle, and we are now working through the finalization and contracting process."
Up until 17 November, BUD was able to sell its drinks in the stadium, but a last-minute decision meant that all alcohol was banned from inside the stadium and the rug was pulled from under BUD's feet.
As a result of this ban, AB Inbev has been forced back to the negotiating table and are now seeking to re-evaluate its offer for the next World Cup, which is due to be held in USA, Mexico, and Canada.
The move to ban alcohol at the World Cup was reportedly done so at the request of the Qatari Royal Family. But what affect will this move have on BUD's share price?
Will BUD share price be saying cheers to the world Cup?
BUD share price has been up over the last four weeks and has risen 3% since the announcement to ban alcohol at stadiums was made.
So, perhaps AB InBev, will be saying cheers to the world cup after all.
Some analysts agree. Edward Kevis, portfolio manager at Aviva Investors wrote in a note: "Even though the volume impact in the host nation will be limited for this World Cup, volumes in Europe, US, Brazil and Mexico will still likely see a boost."
"AB InBev recently mentioned that a typical World Cup provides a 0.5-1% boost to full year group volumes," he said.
"The World Cup often leads targeted consumers to gravitate towards more premium brands, aiding the beverage makers' strategy to get consumers focused on premium and craft brands to improve price mix."
But not everyone thinks the World Cup will offer a sustained boost to BUD's stock price.
AJ Bell's investment director told Capital.com: "From an investment point of view, it is a bit of a stretch to argue that sales, profits, cashflows and share prices will get a sustained boost, even if Budweiser is a key sponsor of the event."
"Traders may try to whip up a story, but investing is about the long-term competitive position of a business, its management acumen, balance sheet strength and operational and financial performance over a lengthy period, with valuation then the ultimate arbiter of investment return."
"The football will have a finite impact upon some of those facets and none on others, in all likelihood," Mould concluded.
BUD to give away beers
BUD tweeted on 20 November, that all unsold beer will now be given to the fans of the nation that wins the 2022 competition, it is still unknown the exact volume of beer that it will give away.
Whether AB Inbev gets a refund on some of its sponsorship deal is still yet unclear but what is certain is that the drinks company is seeing some benefit to its heavy sponsorship, whether this is enough to keep them happy remains to be seen.
Related reading