3Q 2021 IPO volumes dip after record first half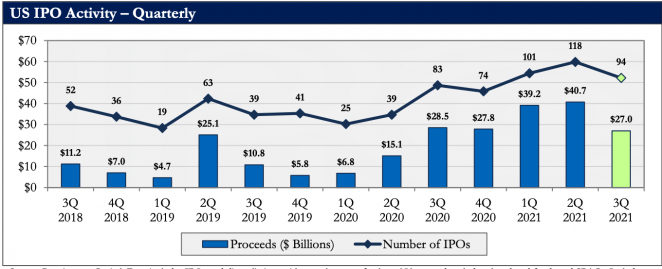 Led by Robinhood Market's $2bn (£1.47bn) public share offering in July, the US experienced the busiest third quarter for IPOs in over 20 years, Renaissance Capital reported Monday. There were 94 IPO since July, Renaissance analysts added.
Robinhood shares closed Tuesday's session at $44.62, down a touch from the $43.93 opening share price.
"In the third quarter of 2021, 94 IPOs raised $27.0bn (£19.9bn), marking the busiest 3Q by deal count since 2000," Reissuance said in the 3Q 2021 The IPO Report. After two straight record quarters, issuance slowed in Q3 2021 due to seasonal August malaise, as European accounts closed for Summer vacation.
Median IPO proceeds remained high throughout the quarter, however, due to numerous issuers tapping the market for more than $300m in proceeds.
Robinhood, of course – as the largest IPO of the quarter – pumped up the average calculations.
The 3Q 2021 was hard-pressed to top the first two quarters of the year. The first and second quarters of 2021 saw IPO volumes not seen since before the Dot-Com bubble burst in the early 2000s.
"Following an explosive second quarter, activity remained brisk before tapering off in the typically slow month of August and coming back strong after the Labor Day holiday. "IPO returns on the first trading day averaged 22%.
Not surprisingly as the world emerged from Covid restrictions, "Healthcare and technology were the most active sectors," Renaissance noted. Healthcare and tech made up roughly 66% of the 3Q 2021 IPOs. Other notable IPOs during the quarter were grill maker Weber Inc. and Swiss shoe fashion company On.
Read more:: Weber prices downsized IPO at $14 per share, raises $250m