23andMe to enter primary care with Lemonaid acquisition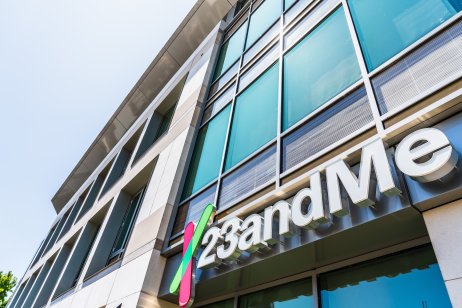 Shares in personal genomics company 23andMe are trading down 3.5% after announcing an acquisition of telehealth and prescription delivery company Lemonaid Health.
23andMe, known for its at-home genetic ancestry tests, will pay $400m (£291m) for the acquisition, with just 25% of the cost paid in cash and the remainder to be paid in shares.
The combined company intends to integrate personal genetic information and better use that data to inform primary care doctors and the drugs they prescribe through Lemonaid's existing infrastructure. However, there remains much skepticism about the accuracy and relevancy of these tests that has caused 23andMe to spar with the Federal Drug Administration throughout the years.
23andMe goes public
23andMe went public in February through a blank-cheque firm, backed by Virgin Group founder Sir Richard Branson, in a deal that valued the merged entity at $3.5bn.
Its shares debuted on the Nasdaq in June and rose 21% on the first day of trading to $13.32 but has steadily eroded since then to trade between $8 and $10 through October. Shares are down more than 45% off their highs of $18 per share.
23andMe's main business is genetic testing but it also runs research programmes, including a drug discovery and research partnership with GlaxoSmithKline that accounts for one-quarter of the company's revenues. GlaxoSmithKline is a majority shareholder of 23andMe.
Turning lemons into Lemonaid
Lemonaid Health is a private company and 23andMe management divulged few details about the company's financial performance ahead of an expected year-end close.
23andMe intends to integrate its existing data on consumer's genetic makeup with Lemonaid's infrastructure of telehealth physicians to better use that data to inform personal health care choices, 23andMe CEO and co-founder Anne Wojcicki explained on a Friday earnings call.
Pharmacy service
Lemonaid also runs its own pharmacy to fill and deliver prescription orders, which is a new potential revenue segment for the combined company.
"We believe that by combining Lemonaid Health's telemedicine platform including its online team of medical professionals and its pharmacy services with our consumer business we are taking an important step in transforming the traditional primary care experience and making personalised health care a reality," Wojcicki said on the call. "We believe that now is the perfect time to take this step. The Coronavirus pandemic has accelerated the adoption of telehealth and transformed the way consumers interact with their health care providers creating a new paradigm in primary care."
Read more: DIY genetics company 23andMe slides on widening losses