Zoom (ZM) plunges amid continued earnings fallout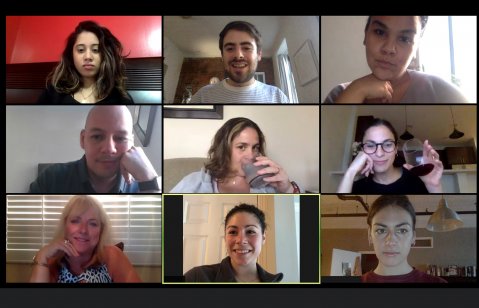 Zoom's stock price continued to nosedive Tuesday as analysts expressed concern about the company's potential upcoming revenue growth.
San Jose, California-based Zoom's stock price closed down 14.71%, or $35.64, at $206.64 on the Nasdaq Global Select Market and continued to decline in after-hours trading, down by a further 1.06% or $2.19, at $204.45 at 6:30 pm EDT (UTC-5).
Down more than 18% earlier
The stock price sank more than 18% earlier in the day before rebounding.
RBC Capital Markets analyst Rishi Jaluria told Capital.com via email that the plunge stems from investor "worries about Zoom post-pandemic and (a) slowdown in growth."
The sell-off began Monday 22 November as the company pointed to revenue "headwinds" in the earnings report and a follow-up Zoom webinar with analysts.
"While we view the quarter as solid, we're not sure there was enough to change the minds of either bulls or bears," wrote Jaluria in a research report that he provided to Capital.com.
Zoom's stock has suffered even though the company's earnings beat analysts' estimates.
EPS beat analysts' estimates
Zoom posted adjusted earnings per share (EPS) of $1.11, up from 66 cents a year earlier.
Analysts polled by Dow Jones had anticipated adjusted EPS of $1.09.
Zoom boosted its net income to $340.3m (£248.6m) from $198.4m in the third quarter of 2020, when the Covid-19 pandemic was prompting more people to work from home. Total revenue increased 35% year-over-year to $1.05bn from $777.2m. The company's latestest reporting period served as its third quarter of fiscal-year 2022.
'Fair amount to pick on'
"We certainly saw a lot from the quarter to like, but also a fair amount to pick on, especially given fears about Zoom post-pandemic," wrote Jaluria.
He pointed to a slowdown in two-year compound annual growth – which was still high at 151% but down from 165% in the previous quarter and 180% in the first quarter. The analyst noted that prosumer revenue "wasn't as bad as feared," dropping 3% sequentially.
Prosumers are people who influence a product's marketability.
In a separate interview with CNBC, Jaluria said Zoom is never going to put up numbers like it did in 2020 during the height of the pandemic. But overall, the results are not as bad as feared for customer churn – the rate at which customers stop purchasing a product or service – does not seem to be occurring as quickly as expected.
He called the quarterly report "pretty positive," adding that the way people work "has been irreversibly changed" and "Zoom is here to stay."
BofA analyst concerned about churn
Meanwhile, BofA Securities analyst Ryan Sills expressed concern that office reopenings amid the recovery from the Covid-19 pandemic will drag on revenue increases.
"(Third quarter) results and outlook suggest that reopening headwinds continue to weigh on growth," wrote Sills in a research report that his company provided to Capital.com. "While we are encouraged by (net revenue retention) holding at 130%+, (Zoom's) commentary suggests this is likely to decelerate in (the fourth quarter)."
Unlike Jaluria, the BofA analyst was concerned about the company's customer churn rate.
Sills said Zoom's record-low quarter-over-quarter enterprise and online customer metrics suggest that churn continues to weigh on the customer count.
"(Zoom's) commentary suggests that while online churn was pronounced in Europe, it remained at higher levels in the US as well," he noted. "These are all likely to be proven temporary trends as the business resets, and a number of new product cycles such as the phone, rooms and engagement centre are likely to drive reaccelerating revenue growth from our revised (fiscal-year 2023) and (fiscal-year 2024) revenue growth estimates of 19% and 20%."
Bottom line
However, Sills added, a broader slowdown in both new customer growth and expansion activity, and still heightened online churn provide little certainty as to the bottom for growth based on the company's implied fiscal fourth-quarter outlook anticipating mid-single-digit year-on-year billings increases.
Zoom expects to generate total revenue of $1.051bn to $1.053bn in its fiscal fourth quarter. The company anticipates full fiscal-year revenue of $4.079bn to $4.080bn.
Read more: XL Fleet (XL) stock spikes 37.5% on DoD contract