Yen nears two-year low: Could BoJ intervene to support JPY?
Subscribe to Weekly Highlights
The major market events for the week ahead right in your inbox.
Subscribe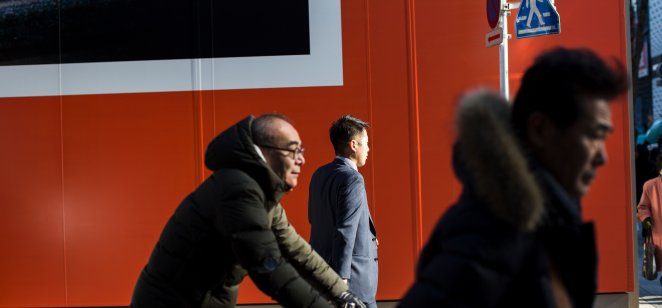 Content
Signs are building that the Bank of Japan is prepared to pull the alarm cord on the yen's collapse. Reports of rate checks from the Bank of Japan to currency traders are multiplying.
Verbal isn't enough
Japan's finance ministry has given verbal warnings on the yen's fragile state but has stepped back from direct intervention – so far. Tuesday's strong US inflation numbers saw JPY slip more than 2%.
What is your sentiment on USD/JPY?
Vote to see Traders sentiment!
Much of the yen's precipitous slump, now skirting a 24-month low, is blamed on super-loose monetary policy from the Bank of Japan, designed to encourage spending and investment but battling an ageing, shrinking and highly cautious labour force.
The sinking yen also means pricier imports, inhaling stronger quantities of inflation into the economy. Relative to its Western peers, Japan's economy is anaemic.
JPY teardown

– FX strategist and finance consultant at Keirstone, Francis Fabrizi
"We saw [the] price break through 141.610 resistance level last week and reached 144.883 which looks to be the next strong barrier price needs to overcome in order to go higher."
Fabrizi believes a break above 144.883 is due "as this is still very bullish however, today's US retail sales report will hopefully give us greater insight of a direction for this pair".
If price is rejected at this level then "we may see a retest of 141.610. A break below this could mean 139.380 is the next support level although I would expect this to be a temporary pullback before reaching the long term target of 147.280".
More mo-mo, more risk
The BoJ meets on 22 September so markets should get a fresh view shortly. Finance minister Shunichi Suzuki says Japan will act "swiftly" with no warning if it decides to step in – which may mean more yen lows. Earlier USD/JPY was at 143.55.
One of the differences between speculative moves now compared to the 1980s and 1990s "is so many momentum-based trend strategies dominating markets," points out Viraj Patel from Vanda Research.
"Anyone sitting on a very long dollar/yen position would want to think twice…I think we're confident enough to say we're getting close to peak dollar/yen and it's a question of how quickly we get a correction back."
Disruption ordered?
In terms of effectiveness, Patel is negative on BoJ intervention, but a strike might up-end the yen's dive temporarily, even if currency intervention in the past has proven comparatively puny.
| | |
| --- | --- |
| Long position overnight fee | -0.0013% |
| Short position overnight fee | 0.0001% |
| Overnight fee time | 22:00 (UTC) |
| Spread | 0.00030 |
| | |
| --- | --- |
| Long position overnight fee | -0.0013% |
| Short position overnight fee | 0.0002% |
| Overnight fee time | 22:00 (UTC) |
| Spread | 0.00050 |
| | |
| --- | --- |
| Long position overnight fee | 0.0016% |
| Short position overnight fee | -0.0041% |
| Overnight fee time | 22:00 (UTC) |
| Spread | 0.050 |
| | |
| --- | --- |
| Long position overnight fee | -0.0027% |
| Short position overnight fee | 0.0008% |
| Overnight fee time | 22:00 (UTC) |
| Spread | 0.00030 |
Also, how would other G7 economies respond to currency intervention, fraught with potential protectionist squabbling?
The issue is further complicated by Japan's historic reluctance to comment meaningfully on external economic pressures, preferring to address internal imbalances and structural reforms, thereby limiting the jawboning.
Smack in the chops?
It's likely the upcoming Japan August CPI print, this Tuesday, may rise closer to 3% year-on-year though the recent slip in energy prices may supply some 'wiggle'.
The last significant fx market intervention by Japanese authorities was in early 2011 following the Fukushima tsunami.
Next week sees the Fed, the Bank of England as well as the Swiss National Bank all likely hoist rates higher – in contrast to Tokyo's refusal to lift rates and support its currency.
In other words, the emphasis is on a weak economy, not the exchange rate. Japan's central bank is also independent and legally obliged to focus just on economics.
For now, there's significant danger around highly leveraged USD/JPY. At lunchtime DXY was 0.09% up at 109.438 while GBP/USD was at 1.1491, down 0.46% while EUR/USD was 0.06% higher at 0.9988.
Related reading