Yen and Swiss franc make gains as commodity proxies sink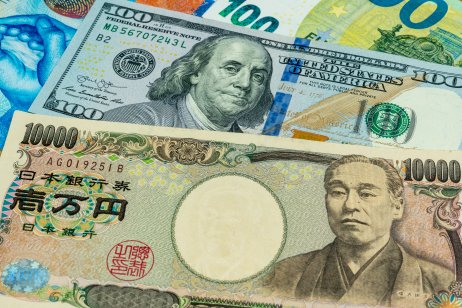 The yen and Swiss franc were in demand on Thursday morning, with risk markets on the back foot against concerns over the Delta COVID-19 variant and fears US economic momentum may have peaked.
Both the yen and Swiss franc made significant gains against the US dollar.
Meanwhile, commodity currencies were under pressure, with the likes of the Australian, Canadian and New Zealand dollars down sharply on Thursday morning against both the US dollar, yen and Swiss franc.
Delta worries
Concerns over rising cases of the Delta variant in the UK, US, Spain and South Korea dominated headlines.
US coronavirus new daily case numbers stood at more than 30,000 on Wednesday, a sharp jump from just under 4,000 new daily cases at one point last week.
There was also increasing talk that US economic momentum may have peaked. Data released on Tuesday from the Institute for Supply Management showed US service activity had slowed in June versus May.
What is your sentiment on AUD/USD?
Vote to see Traders sentiment!
Currency moves
The Swiss franc and Japanese yen were up around 0.5% and 0.7% respectively versus the US dollar at 11.03 BST (UTC+1) on Thursday.
Meanwhile, commodity currencies the Australian, New Zealand and Canadian dollar were all down in the region of 0.6%-0.7% against the US dollar. They fell more substantially versus the yen, with losses of +1%. Brent crude oil was roughly 1% lower.
Reflecting the flight to safe havens, US 10-year Treasury bonds were rallying decisively on Thursday morning. US 10-year yields stood at 1.26%, having begun the week at more than 1.4%.
Position unwind
In a research note, ING said currency markets were being dominated by a position unwind as reflation trades continue to come under pressure.
"The good news is that the FOMC minutes did not show a particular urgency from the Fed to withdraw accommodation. We suspect investors will return to the commodity complex later this year, while 1.17 may be the range low for EUR/USD this summer," stated ING.
Meanwhile, Michael Brown, senior market analyst, at Caxton said he was confident in being short the US dollar against those currencies that are likely to see monetary policy tightened before the US, including the Norwegian krone and New Zealand dollar.
He also thinks it makes sense being long US dollar against currencies where the respective central banks appear likely to tighten policy after the US, including the Australian dollar, Swiss franc, euro, Japanese yen and Swedish krona.
Always remember your decision to trade depends on your attitude to risk, your expertise in this market, the spread of your investment portfolio and how comfortable you feel about losing money.
Read more: Fading risk appetite hits stocks and oil, boosts haven assets