XL Fleet (XL) stock spikes 37.5% on DoD contract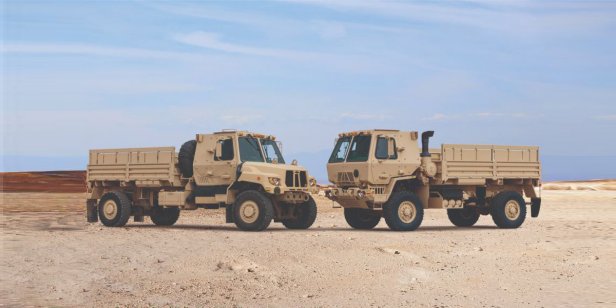 XL Fleet stock jumped 37.5% Tuesday, after announcing it was chosen to participate in a US Department of Defense (DoD) pilot program retrofitting US military tactical vehicles for reduced fossil fuel reliance.
XL Fleet shares rose to $6.38 per share versus Monday's $4.64 closing share price in early trading before declining to a $4.94 closing share price, a 6.47% gain on the session. Trading volume was heavy, topping 28.3 million shares traded, versus a 1.97 million average daily volume, according to data maintained by Yahoo! Finance. XL Fleet shares trade on the New York Stock Exchange under the ticker XL.
Dept. of Defense contract
Boston, Massachusetts-based XL Fleet was contracted by the US Army's Project Manager Transportation Systems to deliver a prototype hybrid conversion equipment to reduce idle-related fuel waste in the Army's Family of Medium Tactical Vehicles (FMTV). Venture Capital firm Volta Power is part of the contract due to its commercial solutions contacts in the EV battery sector.
While the 13-month pilot program initially focuses on developing a prototype conversion kit, the US military operates more than 250,000 such two- to 10-tonne tactical vehicles. "These kits are the first step to a game-changer across the tactical wheeled vehicle fleet in not only decreasing fuel demand but also bringing new capability in the form of increased electrical power," said Program Executive Office for Combat Support & Combat Service Support project lead Steve Roberts.
The pilot trial began in August, the DoD said in its statement announcing the contract, and will run through September 2022. "Upon demonstration and evaluation of those prototypes, the companies will be asked to develop and deliver a retrofit kit for fielding and easy installation by (s)oldiers operating at logistics depots and motor pools across the force," according to the statement.
Operating cost savings
"We are honoured by the opportunity to compete for this highly selective US Government contract to develop fuel-saving solutions for a wide range of applications for tactical military vehicles," said XL Fleet President Tod Hynes in a separate release. "We can help extend the operational range of their tactical vehicles while supporting our troops' safety and providing significant fuel and operating cost savings and reducing greenhouse gas emissions."
"(T)he U.S. military can significantly reduce the logistical and transportation requirements of its fuel supply chain – a key source of logistical complexity and safety risk to personnel," the release added.
XL Fleet's hybrid and plug-in hybrid electric drive systems can increase fuel economy up to 25% to 50%, the company claims, and reduce carbon dioxide emissions up to 20% to 33%. XL Fleet's corporate and municipal clients include The Coca-Cola Company, Verizon, Yale University and the City of Boston.
Read more: Buffet's Forest River inks $850m deal with Lightening eMotors