Will Rivian Automotive shares soar to $200 post-IPO?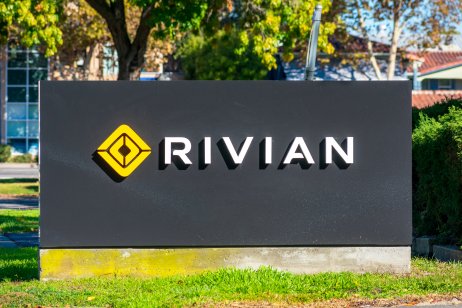 Electric vehicle (EV) maker Rivian Automotive's (RIVN) share prices surged in the week following its listing on the Nasdaq stock exchange on 10 November.
The company's initial public offering (IPO) of 153 million shares was priced at $78 a share. The stock soared above $100 when trading began. Rivian post-IPO's share price continued to rise over the first trading week, hitting an intra-day high at $154.44 before closing at $149.36 on 15 November, up 91.5% on its IPO price. At the time of writing (17 November) shares were trading at $171.84.
The surge has pushed the company's market capitalisation to $120bn. Rivian automotive valuation is now four times higher than its pre-IPO valuation.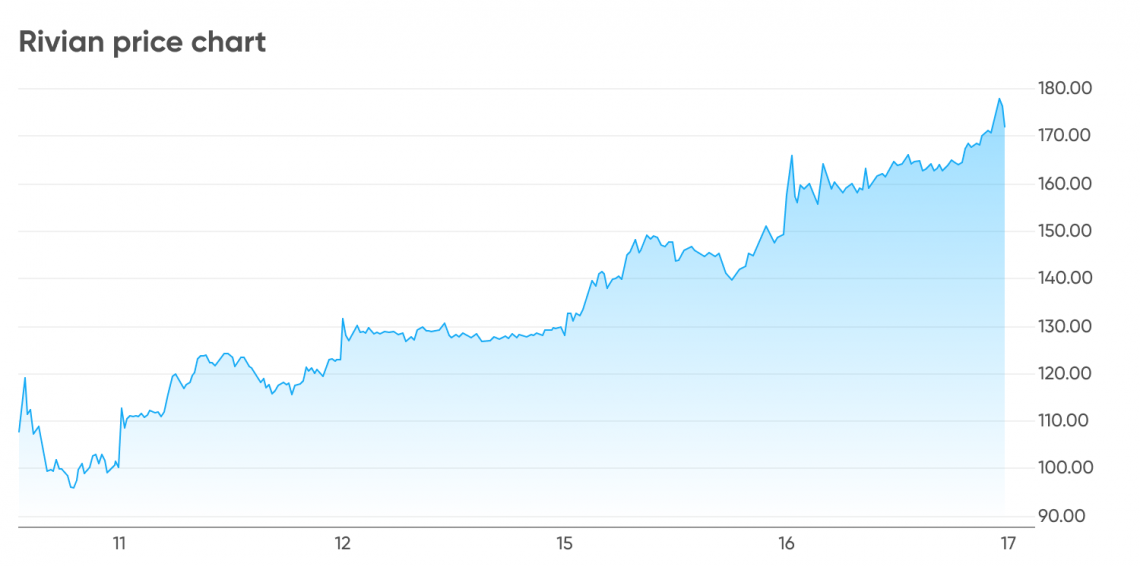 In this Rivian automotive price analysis, we take a closer look at the EV maker and the market-moving news related to the company.
Rivian's production plan and targets
The EV maker has produced 180 of its R1Ts and delivered 156 of them, as of 31 October 2021. It said that "nearly all of these vehicles were delivered to Rivian employees", with plans to launch and commence customer deliveries for the R1S in December 2021 following the completion of ongoing vehicle validation and all required testing. The company plans to produce approximately 1,200 R1Ts and 25 R1Ss, and deliver approximately 1,000 R1Ts and 15 R1Ss by the end of this year.
On the commercial side, out of the 100,000 contracted electric delivery van (EDV) designs with Amazon, Rivian expects to deliver approximately 10 by the end of 2021.
According to Rivian, its manufacturing facility in Normal, Illinois, is equipped to produce up to 150,000 vehicles annually when operating at full capacity. The facility is distributed between the R1 platform, which will be used to produce the R1T and R1S, and the RCV platform, which will be used to produce EDVs and other commercial vehicles. Installed capacity for R1 and RCV is approximately 65,000 and 85,000 vehicles, respectively.
Rivian produced 104 R1T vehicles during the last week of October 2021, representing approximately 8% of its target R1 production rate.
Rivian's high profile investors boost market confidence after the IPO
Prior to the Rivian automotive IPO 2021, the company had already received funding from high-profile investors such as online retailer Amazon (AMZN) and US carmaker Ford Motor Co (F). Their backing has, in part, contributed to RIVN's strong performance.
"Some of the confidence comes from a large order the company already has on its books from Amazon, which was an early investor in the EV maker, leading a $700m investment round in Rivian in 2019. Amazon is using the investment, along with its order of 100,000 delivery vans, to make good on part of the Climate Pledge agreement it co-founded," wrote Amazon shareholder Howard Smith on the Motley Fool website.
Amazon's Security and Exchange Commission (SEC) filing shows that it's invested more than $1.3bn in Rivian and holds approximately 20% ownership, equivalent to a carrying value of $3.8bn. Additionally, Amazon has ordered 100,000 custom electric delivery vans from Rivian for delivery by 2030.
In April, Rivian received an equity investment of $500m from Ford. Both companies have also "agreed to work together to develop an all-new, next-generation battery electric vehicle for Ford's growing EV portfolio using Rivian's skateboard platform."
In July, Rivian closed a $2.5bn private funding round, led by Amazon's Climate Pledge Fund, D1 Capital Partners and Ford Motor Company. This brought the total funding raised by Rivian since its launch in 2019 to $10.5bn.
Will the Rivian Automotive stock price continue to rise?
Concerns on Rivian's heavy losses and operation costs
Despite the successful funding rounds and listing, there are concerns about the EV maker, as it has suffered heavy losses and has yet to enter commercial production.
According to Rivian's SEC filing, the company incurred a net loss of $1bn for the financial year ended 31 December 2020.
The company's operating expenses more than doubled year-on-year to $1.021bn, compared to $409m in 2019. Research and development accounted for 75% of total expenses in 2020.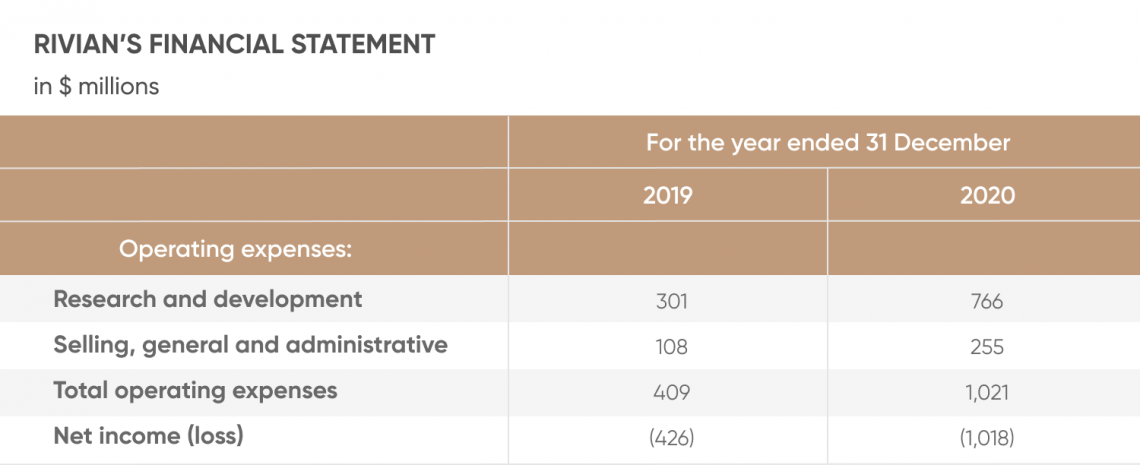 Rivian launched the world's first all-electric truck in November 2018, showcasing its flagship R1T and R1S models at the AutoMobility LA car show. The R1T is a five-passenger pickup truck. R1S is a three-row, seven-passenger SUV. Since the launch, Rivian has received 55,400 pre-orders, but has yet to make any commercial deliveries. The preorders were from the US and Canada. Customers each paid a cancellable and fully refundable deposit of $1,000.
Market analysts' forecast
With the market excitement in the EV space, many investors seem to be bullish on the Rivian Automotive stock forecast.
Market research and data provider Market Realist in its Rivian stock price prediction suggested that the share price could reach $200 next year. It said:
"Wall Street hasn't started issuing price targets on Rivian stock, but it looks like it could break above $120 in 2021 and reach $200 as early as 2022. There's strong demand for Rivian's vehicles, with the company receiving more than 55,000 preorders for its R1T truck and R1S sport utility vehicles (SUV)."
Other analysts are more sceptical on the high valuation for a young company with no track-record of financial returns and vehicle production.
"While many are questioning the valuation of a company in its infancy (including ourselves), this one is pure momentum. Eventually, the music will stop or slow, so just be prepared for when it does," analyst Ivan Brian wrote on FX Street.
"Demand for this one [RIVN] still has not been sated from retail and possibly some laggard institutional investors. Given the social media commentary, we suspect most of this late surge is retail based."
The high valuation of Rivian reflects a stronger investment interest in the EV space in 2021 compared to 2010, when EV maker Tesla (TSLA) first went public. At the time, the company's initial valuation was less than 2 billion, Trevor Jennewine on the Motley Fool points out.
Note that this article does not constitute financial or investment advice. Always do your own research before investing. Your investment decision should be based on your attitude to risk, your expertise in this market, the spread of your portfolio and how comfortable you feel about losing money. Never invest more than you can afford to lose. And keep in mind that past performance is no guarantee of future returns.
FAQs
Is Rivian a good investment?

EV sales are expected to rise as many developed countries implement policies to cut carbon emissions. The net-zero target by 2050 is likely to support the roll-out of EVs across the world and benefit EV makers such as Rivian. However, things could always change overnight. Whether Rivian is a suitable investment for you depends on your investing goals and portfolio composition. You should do your own research and never invest more than you can afford to lose.
Is Rivian publicly traded?

Yes, Rivian's shares are listed on the Nasdaq stock exchange in the US under the ticker symbol RIVN.
Read more: KC Holdco IPO: KinderCare goes public to repay debt