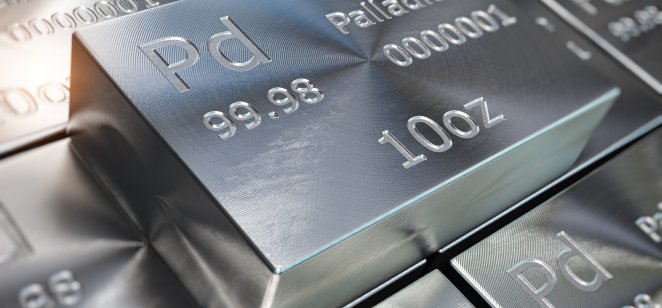 Content
Palladium is one of the most precious metals in the world facing a huge shortage over the last few years, leading to price hikes.
Palladium rose to a more than seven-month high on Thursday as concerns mounted over sanctions over Russia – the world's largest producer of palladium with a lion's share of 40%.
One of its most common uses of palladium is as a catalytic converter in cars, where it is used to reduce emissions from internal combustion engines. This has been further fuelled by governments across the globe tightening pollution laws, which reignited the need for palladium catalysts.
Apart from these, the metal is also used in jewellery, dentistry, aircraft and much more.
With the Ukraine conflict leading to sanctions from the West on metal exports from Russia, palladium is about to get much scarcer than before.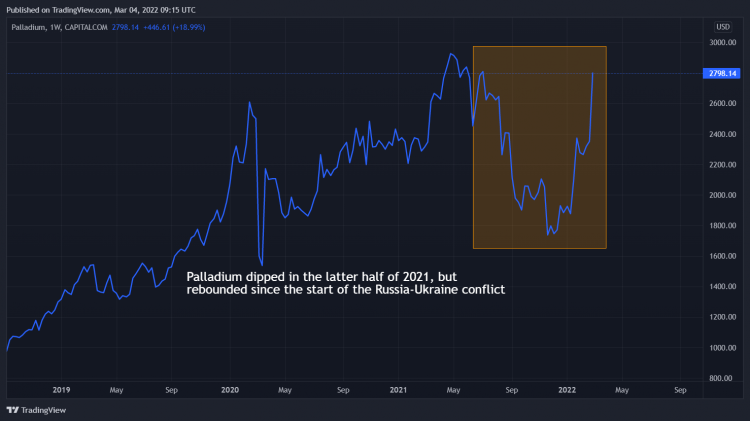 Commodities chart – Credit: Shutterstock
Pandemic-driven wobbly ride
The Covid-19 pandemic initially caused palladium prices to skyrocket as supply chain constraints plagued the world and an acute shortage seemed likely.
At the beginning of March 2020, palladium was trading at approximately $2499.54/ troy ounce (t oz). By mid-June 2020, it had dropped to around $1862.05/t oz, as demand from the automotive industry – which was slowing down by then – cooled off.
Low liquidity also contributed to the subdued demand, as palladium and platinum group metals can be particularly sensitive to market sentiment.
By March 2021, palladium had picked up and was hovering near $2665.42/t oz, hitting fresh records by April 2021 at $2926.02/t oz. This rally was soon cut short following the spread of the Delta variant around most of Southeast Asia, further undermining investor sentiment.
What is your sentiment on Palladium?
Vote to see Traders sentiment!
Rise of palladium prices
Approximately 45% to 90% of palladium and platinum demand comes from the automotive industry, thus dealing quite a blow to both metals when demand dropped off sharply due to semiconductor chip shortages.
Toyota confirmed a 40% dip in global production, referring to it as an additional hit for Asian auto manufacturers.
This report by data technology firm Knoema highlights that due to the semiconductor shortage of 2021, passenger car production fell by 10.8% in China, 16.2% in Japan, 31.7% in Germany and 32.4% in India in mid-2021.
By mid-August 2021, palladium had fallen to around $2263.17/t oz. By the end of November 2021, it had bottomed out at approximately $1737.66/t oz, making palladium one of the worst-performing commodities of 2021, with only silver and iron ore coming close.
With the economic recovery improving, by the beginning of March 2022, palladium hit an almost 8-month high at around $2771.85. This revival was also helped by the UK and the US taking inflation more seriously with the Bank of England deciding to finally raise interest rates in December 2021.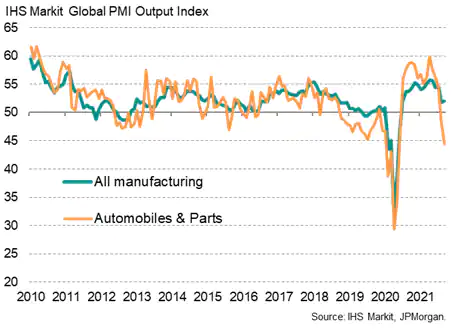 Global manufacturing PMI stayed strong while Automobiles and Parts PMI suffered in 2021– Credit: IHS Markit
Russia's palladium and platinum production
Nornickel, a Moscow-based mining company is the world's biggest producer of palladium as well as platinum. In 2021, around 2.6 million troy ounces of palladium was produced by Russia, equal to approximately 40% of global output. Close to 641,000 ounces of platinum was also mined, which accounted for around 10% of global production.
According to Bart Melek, head of commodity strategies at TD Securities, it was too early yet to determine if supply issues would be a concern. In his opinion, if sanctions affected the flow of materials and financing, then there might be palladium shortages in the near future. He also believed that palladium could potentially touch record heights of around $3000/t oz in such as scenario, with the rest of the platinum group metals rallying as well.
Mining companies with significant Russian interests, like Polymetal International and Evraz, bore the brunt of these sanctions first forcing them to bow out of the FTSE 100 index. This is likely to put additional pressure on Russian palladium production and drive prices even higher in the foreseeable future.
Edward Moya, senior market analyst at forex firm OANDA also highlighted concerns of transporting mine output to different locations around the world. With multiple flight bans on Russia, arranging chartered flights for the same is out of the question now, which could potentially lead to critical shortages. This could in turn bump up car and jewellery prices in the short term when combined with inflation.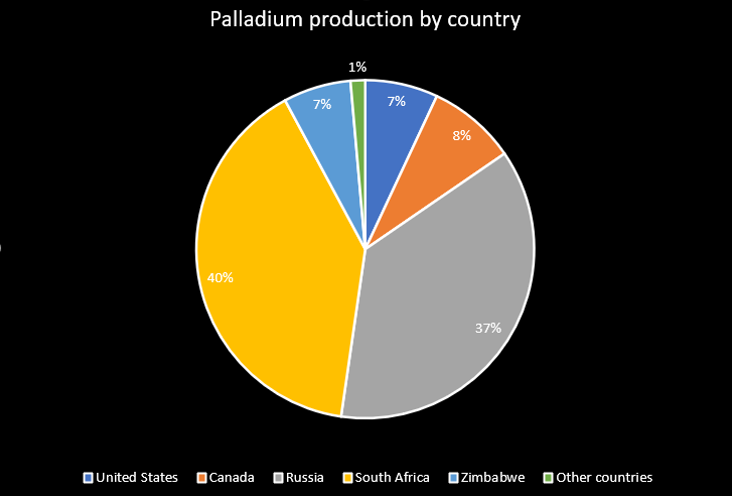 Palladium production chart – Credit: US National Minerals Information Center
Palladium – fundamental analysis
Palladium is part of the platinum group metals, which consists of rhodium, ruthenium, platinum, iridium and osmium. This group is particularly sensitive to supply disruptions and changes in market sentiment, hence palladium prices are also expected to follow that pattern in the near future. Since palladium has the lowest melting point and is the least dense, it is often favoured over the remaining platinum group metals.
The metal is also mined in very few places spread out across Russia, South Africa, Canada and the US, which has led to chronically low reserves and tight supplies, making it all the more expensive. With the Ukraine situation, this scarcity is about to get much worse as consumers wonder if it is time to look for alternatives to Russian palladium.
Investors may start looking at South Africa, the second-largest producer of palladium, or Canada, the third-largest, in an attempt to move away from Russia. Incidentally, South Africa is also the largest producer of platinum globally, which could also be a good option for consumers wanting to move away from palladium entirely, or just for the time being.
Palladium demand is expected to pick up as car production ramps back up following gradual global economic recovery. With the US Federal Reserve hinting at raising interest rates in the near future, the inflation situation is also likely to improve, leading to manufacturing and input costs decreasing.
The hydrogen sector is also expected to considerably boost palladium demand, as the metal is a vital part of hydrogen fuel cells, which in time, may be used to replace all vehicles using fossil fuels. In the long run, investors expect them to be even more environmentally sustainable than electric vehicles.
While it could potentially outperform if automotive production picks up, palladium remains at risk of being replaced by cheaper alternatives such as platinum, especially now that the Russian conflict would make it harder to obtain the metal. In case demand shifts towards platinum, palladium is likely to dip once more.
Could platinum be an alternative?
Platinum has often been considered as a possible alternative to palladium, due to it being cheaper and relatively more common than palladium. Platinum has historically traded at higher prices than gold, especially during times of relative political stability, due to it being much rarer. However, they are considered to be just as useful as palladium for automotive catalysts, which is why the industry also accounts for much of the metal's demand.
Platinum demand is expected to go up in the near future, as automotive manufacturers experiment with the Tri-Metal Catalyst technology, which allows them to partially replace palladium with platinum in gasoline engines. This change is expected to be introduced in smaller vehicles this year as well as in 2023, which could significantly boost platinum prices.
When considering the platinum to palladium ratio, historically, the two have followed largely similar patterns. From 2000 onwards, there has been a marked divergence between the two metals, as their uses became much more distinct. Platinum was found to be the favoured metal for jewellery, medical technologies and electronics, amongst others, whereas palladium had much more industrial uses, like in the automotive sector.
With the rise of more environmentally sustainable vehicles, the gap between the two metals is gradually being bridged again as they are both vital to the green economy transition.
A risk to be considered while looking at platinum as a substitute for palladium is also that the majority of its supply comes from South Africa, which regularly faces currency, power and labour disruptions. Hence, it is still unclear whether platinum could be seen as a reliable alternative for palladium in these circumstances.
Palladium to platinum ratio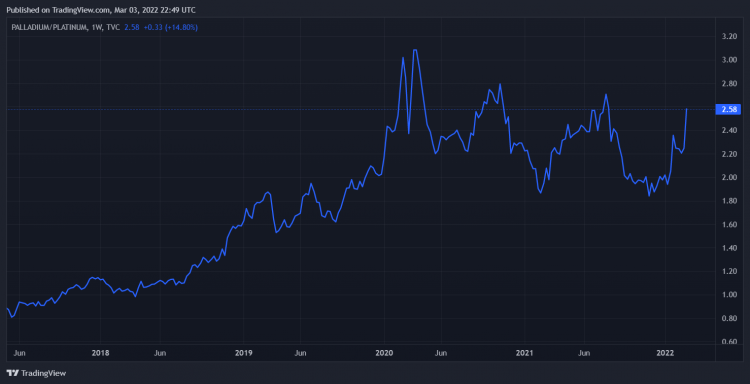 Palladium platinum ratio chart – Credit: TradingView