What can investors expect from the new German government?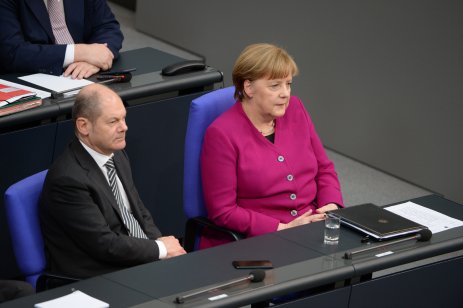 Chancellor Olaf Scholz and his new German government have been sworn into office this week. And it has to get to grips immediately with some pressing problems. These include the emergence of the Omicron variant, simmering tensions with Russia and China, and a sharpening focus on supply chain problems.
The new government is a coalition of the Social Democrats (SPD), the Green Party (Greens) and the Liberal Democrats (FDP), and its formation marks the end of an era after former Chancellor Angela Merkel's 16 years in the role.
The big question for investors is will Germany – so often described as the powerhouse of Europe – still be an attractive proposition?
Lower economic sentiment
A look at the stats surrounding economic sentiment shows Scholz has some way to go to boost confidence. Germany's ZEW Index for December 2021 shows that current economic sentiment fell into negative territory for the first time in six months, while the expectations index fell 1.8 points to 29.9.
Germany also has its work cut out to contain the spread of the pandemic. Still, sentiment is better than it was in October. Ben Laidler, global markets strategist at investment platform eToro, says: "Germany's ZEW economic sentiment indicator eased to 29.9, above market expectations and October's low of 22.3. This economic resilience is encouraging given the five-fold surge in new virus cases since October that has triggered the toughest lockdown restrictions in Europe.
"But headwinds are there. Economic sentiment is well off its May high of 84.4. This was before the current fourth virus wave and understanding of the full impact of the supply-chain and semiconductor shortage on the key auto industry. Also, the current conditions index fell into negative territory, at -7%."
Investor potential
While economic sentiment is lower, there's still much potential that Germany could offer investors, particularly those embracing environmental, social and governance principles (ESG). Green party politicians hold key roles in the new government with Annalena Baerbock taking on the role of Foreign Minister and Robert Habeck becoming Climate Minister.
Umer Suleman, UK general manager for the social impact investment fintech, Wahed, says: "So far, there have been reports that the coalition government will find new legislative ways to ensure corporations and investment funds manage their impact on the climate, the environment, and human rights around the globe.
"We already know the coalition government is placing pressure on building owners to make buildings more energy-efficient and to reduce CO2 emissions. This is good news for investors looking to put money into properties with a positive green footprint."
A business-friendly Green Party?
Matt Qvortrup, professor of political science and international relations at Coventry University and author of Angela Merkel: Europe's Most Influential Leader, adds: "There will be political stability thanks to the liberals in government. There will be more investment in new technologies and greener tech, which will make cars like BMW, Volkswagen, Mercedes more sustainable and attractive in the future.
"There will also be more investment in solar cells which they had previously imported from China and are now making themselves. So, if I were an investor I would invest in German companies, particularly those ones that are high tech, as they will be boosted by investment."
For traders, though, Germany may be a less exciting prospect. Qvortrup says: "Germany is more suitable for your pension rather than for quick wins."
That's not to say that this new coalition will not be pro-business. "The Green Party is a more business friendly party than other similar Green parties. I would describe them as more "cappuccino" than "herbal tea"," says Qvortrup.
Squaring off against Russia and China
A concern among some investors is Germany's rhetoric towards China and Russia. During her term, Merkel was largely able to juggle her relations with alliance partner America while still placating China and Russia.
It's this pragmatic balancing act that has been beneficial to Germany, considering that China is an economic partner. Major German companies see China as a destination for their exports. But under the new German government that balancing act, so carefully constructed under Merkel, could tip in favour of taking a tougher stance.
In an interview with Die Tageszeitung earlier this month, Baerbock admitted that dialogue is central to international politics but added: "That does not mean that one has to gloss over issues or keep quiet."
German-Russian relations could also be tested, especially if Russia invades Ukraine. Here again, Baerbock has been vocal saying this week that Russia would pay a "high political and economic price" if it takes military action against Ukraine.
A tried and tested formula
It's still early days in the Chancellor's office for Scholz. While Germany is set to take a tougher stance on international affairs, some believe that Scholz's experience and care for stability will not detract too wildly from Germany's ambitions to maintain a solid economy.
Despite the headwinds Scholz is considered a safe pair of hands. Qvortrup adds: "A lot say it's a new government, but it isn't really - it's a tried and tested formula."
Read more: Eurozone economy grows but Q4 warnings hit euro