What are traders looking for in a volatile market?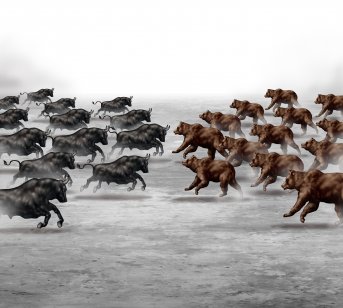 Staggered by record inflation, tight labour markets, and war in Ukraine, the up and down US market still holds opportunities for traders.
In an interview with Capital.com, Mike West, CEO of West Wealth Management in the US, said "Disciplined traders anticipate volatility and use times of distress to purchase securities within their focus."
In better times, "traders utilise market excess to realign their portfolios and pare back positions," he continued. "Because corrections and pullbacks are a part of historic market cycles, skilled investors take advantage of disruptions."
What is your sentiment on US30?
Vote to see Traders sentiment!
Commodities could benefit, but stocks need clarity
David Russell, VP of Market Intelligence at TradeStation Group, told Capital.com, "The economy is accelerating with huge amounts of negativity."
"That kind of mix can produce a rally," he said. "But we also have no idea what's going to happen, or when it's going to happen."
Russell said normal economic events are scheduled, but geopolitical events are unpredictable.
"Traders react by finding stocks that could benefit from the crisis, like energy and commodities. Everything else is just standing by, waiting for more clarity."
US benchmarks reflect shaky market
Over the last year, the Dow Jones Industrial Average (US30) was up 3.06% but is now down 8.25% since January. Over the last month, the blue-chip index is 3.48% lower, while falling 2% in the last five days
In the last year, the S&P 500 was 11.88% in the green, but is also off since the beginning of 2022, slipping 9.81%. Over the last month, the Standard & Poor's index was 4.49% lower and is 1.47% off the last five days.
In the last year, the Nasdaq Composite (US100) was up 3.29% but is 14.70% in negative territory year-to-date. The tech-heavy index fell 5.12% in the last month and 2.32% over the last five days.