WD-40 shares fall on Q4 earnings and outlook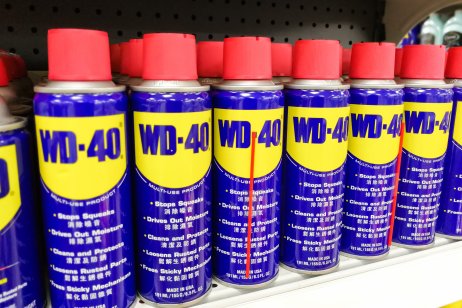 Shares of workshop staple WD-40 Company were down more than 10% to $229 (£166.04) per share during after-hours trading on Tuesday after the company released its fiscal Q4 earnings and full-year accounting,
The San Diego, California-based company has seen the value of its shares fall more than 8.4% in the last six months, though they are up more than 16% over the last calendar year.
Earnings details
WD-40 posted net sales of $115.2m in Q4, an increase of 3% when compared to Q4 2020, according to its earnings statement.
The company brought in just over $448m for the full year, a 19% increase when compared to fiscal year 2020.
Net income for the quarter was $8.4m, a decrease of 57% compared to last year.
For the full year, net income was $70.2m, representing a 16% increase from last fiscal year.
The company also reported diluted EPS of $0.62 compared to $1.42 per share last year.
Garry Ridge, WD-40's CEO, said the earnings show the pandemic continues to create "abnormal swings" in the company's revenue.
"Despite this quarterly volatility, we continue to see strong end-user demand for our maintenance products across the globe and we remain optimistic that many of the new end-users who have interacted with our brands during the pandemic will become permanent users of our maintenance solutions," Ridge said in a press release.
Domestic troubles
Despite the increase in overall sales and revenue, WD-40 saw its domestic sales drop in Q4. WD-40 brought in $54.2m in revenue from its Americas division last quarter compared to $56.8m in Q3.
For the fiscal year, WD-40 brought in $217m from its Americas division, a 7% year-over-year increase.
Meanwhile, both of the company's Europe and Asian Pacific divisions saw significant jumps in revenue.
Its European division brought in $45.1m in Q4 and $208m on the year. Those figures represent a 6% quarter-over-quarter increase and a 33% spike in annual revenue.
The Asian Pacific division saw similar results, bringing in $15m on for the quarter and $65m for the year. Those figures represent a 32% increase for quarterly sales and a 26% increase in annual revenue.
Looking ahead
As WD-40 moves into fiscal year 2022, the company anticipates its net sales growth to be between 7% and 11%, which could push its net sales up to $542m for the year.
The company also expects its net income to be between $71.7m and $73.6m, a slight increase from fiscal year 2021.
Diluted EPS is expected to be $5.24 and $5.38 with more than 13.7 million outstanding shares, the earnings statement says.
Read more: Fed expects inflation to remain elevated into 2022