War in Europe clouds Fed's potential rate hike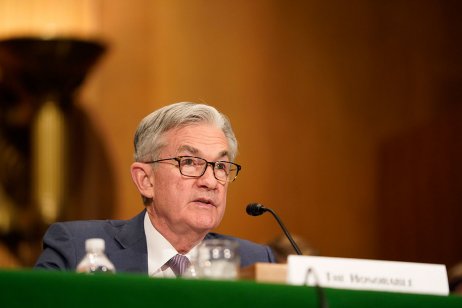 US Federal Reserve chair Jerome Powell's testimony before the American Congress on Wednesday did little to quiet speculation on Wall Street over how high the central bank would take interest rates later this month.
Powell called the Russian invasion of Ukraine a "gamechanger" and told lawmakers he was inclined to "propose and support a 25-basis point rate hike" but would be prepared to move more aggressively and raise the federal funds rate even higher, should inflation persist.
Changing strategy
Despite pandemic-related challenges to the American economy, George Mason University finance professor Derek Horstmeyer told Capital.com, "The shift down in market expectations is primarily due to the uncertainties surrounding the war in Ukraine."
He added that now, "The Federal Reserve can be slower with raising rates because of the expected drop in gross domestic product and inflation."
With a strong labour market and inflation well above 2%, the central bank will raise the target range for the federal funds rate this month, Powell testified.
Trading perspective
In an interview with Capital.com, Sarah Potter, chief education officer at the TradeStation Group, said traders are not only watching the upcoming Fed announcement and the war in Europe, "they're reviewing their accounts and looking for ways to mitigate risk.
"Traders using mid-term time horizons might employ shorter timeframes to avoid being in the market longer than needed," she continued. "Times like this call for an exit of positions with profit and to consider different trading tools, a move to less exposed markets and a diversification of risk."
Options & premiums
Potter said traders should consider trading on a weekly basis, rather than monthly, to remove unnecessary risk.
"Traders who sell premium may be very excited about the moves while using spread strategies to take advantage of premium decay and relish in volatile markets," she continued. "While instability may scare some, it provides opportunities to others."