Walmart-backed robotics company Symbotic going public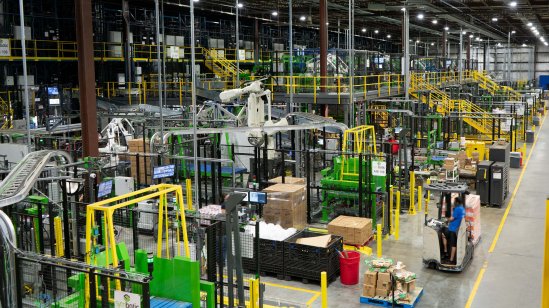 After forming a partnership with Walmart in July to reoutfit the retailer's distribution network with a fleet of fully autonomous robots, Symbotic has announced plans to become a publicly traded company early next year.
Yesterday, the robotics and automation firm announced it will go public via a special acquisition company (SPAC), courtesy of a merger with SoftBank Investment Advisers' SVF Investment Corp 3 (SVFC).
Once the merger is finalised in the first half of 2022, the combined company will operate under the name Symbotic and trade on the Nasdaq under the ticker symbol SYM.
Both Walmart and Symbotic declined comment following a series of phone calls and emails from Capital.com.
In the company release issued on Tuesday, Symbotic chair and CEO Rick Cohen said, "Now is the time to take Symbotic to the next level."
"SoftBank has tremendous experience investing in leading-edge artificial intelligence and robotics innovators, and our partnership with them will provide us with new insights, relationships and capital that will help us realise our full potential," he continued. "Together, I'm confident Symbotic will be a powerful, long-term force in modernising the supply chain to the benefit of all."
The details
The deal will provide Symbotic with a pro forma equity value of around $5.5bn (£4.16bn), while raising over $725m in gross proceeds, including $200m from SoftBank, a $150m PIPE participation from Walmart, and an additional $174m in cash coming from the big-box retailer by the end of December.
The additional funds will be used for general corporate purposes, with Walmart holding gross exercising warrants in the company. Once Symbotic's deal is completed with the SPAC, Walmart will retain 9% stake in the company.
Symbotic equity holders are expected to hold onto 88% of the combined business, while company CEO Cohen will maintain 76% ownership.
New investors will own 12%, with SPAC public shareholders owning 6%. The SVFC sponsor and its affiliates will own 5% and other PIPE investors will take on 1%.
Symbotic's CEO and CFO will be subject to a one-year lock-up period post-closing, according to the release.
Looking ahead
Symbotic has an order backlog of over $5bn, while it has operating systems in over 1,400 stores in 16 states and eight Canadian provinces.
The Massachusetts-based company expects to reach $433m in revenue in FY 2022, representing growth of over 73% year-over-year.
Symbotic is also predicted to achieve a revenue growth rate more than 80% between 2020 and 2025.
The tech: Supply-chain disruptor
Symbotic's AI-powered software acts as the conductor of a team of robots that receive, store and retrieve a virtually unlimited number of products.
The fleet is made up of several hundred autonomous, intelligent, mobile robots called "Symbots."
Symbots can move products at speeds up to 25 mph with 99.99% accuracy. As products exit the system, the AI-enabled robots use proprietary arm tools and vision to output cases, totes and packages at elevated speeds.
The system also enhances storage density, reduces product damage, and improves speed to customers.
What industry is saying
In an interview with Capitol.com, Justin Goethe, president of Allied Logistics in the US, said, "Retailers like Walmart have realised that getting goods to their customers as quickly as possible provides a litany of cost savings and cash flow benefits."
"Combine this with current labour shortages, increased capabilities of AI, and raised investment in automation, the choice becomes a clear no-brainer," he went on. However, he added, "These investments will clearly reduce low-skilled personnel usually required to run these facilities."
In a joint release issued by Walmart and Symbotic in July, the retailer is expected to create training opportunities for their associates, opening the door to higher-skilled jobs as automated robots begin replacing other positions.
Wall Street's reaction
In early trading on Wednesday, shares of SVF Investment Corp 3 are down around 0.4%.
Read more: FOMC Preview: What to expect from the US Fed meeting