Vopak (VPK) shares up as third-quarter earnings increase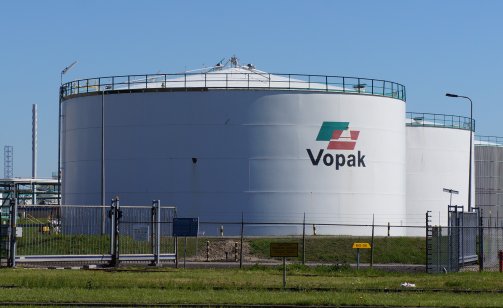 Vopak (VPK) shares were up 2.34% on Friday afternoon after the tank storage company published its third-quarter earnings and reported revenues of €309.5m ($354.30m), compared to €297m in the same period last year.
In an interim update, the Dutch business also reported that its year-to-date operating profit before depreciation and amortisation (EBITDA) was at €619m, an improvement on last year's €603m.
Earnings summary
In a summary of its earnings, the group highlighted that cost efficiency measures were tracking well and the cost level for the year-to-date third-quarter amounted to €448m compared to €441m for the same period last year.
Vopak also highlighted cash flow from operations (excluding derivatives) of €478m compared to last year's €495m, which it said reflected a positive business momentum that was more than offset by an increase in working capital of €44m. Excluding the impact by derivatives and working capital movements, cash flow from operations (CFFO) increased by €27m, it said.
Moreover, in some of the company's key third-quarter events, it highlighted the successful maintenance turnaround of the Gate LNG terminal, the opening of the Vopak Solar Park Eemshaven, and a joint venture between Vopak, Groningen Seaports and Whitehelm Capital. Additionally, it noted the switch to green electricity for its Dutch terminal activities, and the commissioning of ammonia operations in the Vopak Moda Houston terminal.
Looking ahead
Vopak said that growth investment this year is expected to be around €275m below the previously announced range of €300m-€350m.
"The allocation of these investments will be through existing committed projects, new business development and pre-FID (Final Investment Decision) feasibility studies in new energies including hydrogen and based on the assumption that the Aegis Vopak transaction will close early 2022," the group said.
It also said the majority of growth investments will be allocated towards industrial, gas and new energies infrastructures.
"Our positive views on chemicals have not changed. New growth investments in oil infrastructure are expected to be reduced and will mostly be targetted towards strengthening our leading hub positions," Vopak said.
Read more: Stock markets: European stocks hit all-time high