Volta (VLTA) adds to Cinemark (CNK) EV charging network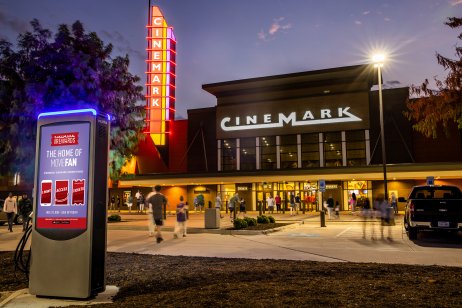 Volta (VLTA) announced Wednesday that it made a deal with Cinemark Theatres to expand the electric vehicle (EV) charging network offered to moviegoers in the parking lots of its US locations.
San Francisco-based Volta set up the first EV charging station for Cinemark in 2018 and has installed about 100 more since then. Art Justice, vice president of energy and sustainability for Cinemark, said in a company press release that building on to the charging network will make Cinemark "more than just an entertainment destination for our guests".
"We are eager to continue growing our relationship with Volta to allow more moviegoers the chance to charge their vehicles while enjoying the immersive, cinematic experience."
Volta and Cinemark Holdings (CNK), which owns the Cinemark Theatres brand, didn't disclose how many additional stations will be added to the network.
Meanwhile, shares of EV manufacturer Tesla (TSLA) had a strong showing this morning. After closing at $1,054.73 on Tuesday, the stock opened at $1,063.51 on Wednesday and climbed as high as $1,119.64 before dropping back down to $1,099.76 late morning.
Shares of EV-maker Lucid Group (LCID) had dropped by about 7% at the same point in time.
Commerce-centric charging stations
In the US, Texas-based Cinemark Holdings has 324 theatres containing 4,440 screens. The company has another 200 theatres located in 15 South and Central American countries.
Volta describes its charging networks as "commerce-centric". For example, Cinemark uses the digital screens at Volta charging stations to advertise films, concessions and onsite events.
What is your sentiment on CNK?
Vote to see Traders sentiment!
Sustainable theatre amenity
Volta said installing charging stations in theatre parking lots is a logical fit that provides guests with "a sustainable amenity that seamlessly integrates into a driver's everyday life". The average on-site charging time is 105 minutes, giving guests enough time to get their cars charged up while seeing a film.
"Volta's partnership with Cinemark is a sign of significant progress towards our mission to meet EV drivers at the places they love to go," said Scott Mercer, Volta's founder and CEO. "This is an opportunity to provide a meaningful charging experience to EV drivers at locations where they already plan to spend a substantial amount of time, which ultimately translates to customers understanding that charging infrastructure can be a convenient, accessible and reliable service that is part of everyday life."
27,000 gallons of gas saved
In total, Volta's EV charging stations have powered almost 1.2 million electric miles for visitors to Cinemark Theatres. Using US Environmental Protection Agency methodology, Volta calculates those electric miles saved about 27,000 gallons of gasoline and 53,500 pounds of carbon dioxide.
"Centred around capturing new spending habits expected to result from the shift to electric vehicles, Volta seeks to transform the fuelling industry by building open-network charging stations in locations where drivers already spend their time and money, including grocery stores, pharmacies and other retail and entertainment locations," the company said.
Read more: Housing construction starts slowed by 0.7% last month