Visa (V) shares slump 2.5% as AMZN credit card dispute continues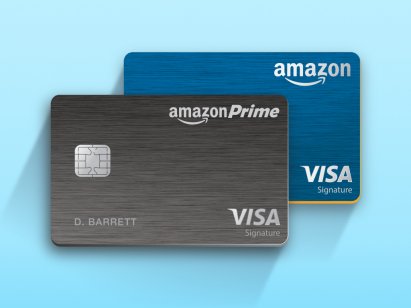 Visa shares fell by as much as 6% last week and are trading 2.5% lower again on Monday as online retailer Amazon takes issue with the company's UK fee structures that are threatening a long-standing credit card partnership between the two companies.
Amazon announced last week that it will no longer accept UK-issued Visa credit cards on Amazon.co.uk starting on 19 January 2022. The change comes after Visa increased its interchange fee on transactions between the UK and European Union to 1.5% up from 0.3%.
The fees are capped lower in EU law but amid Brexit disputes Visa and other payment processors such as Mastercard are increasing interchange fees in the UK.
"The cost of accepting card payments continues to be an obstacle for businesses striving to provide the best prices for customers," a statement from Amazon read. "These costs should be going down over time with technological advancements, but instead they continue to stay high or even rise."
Visa seeks resolution
Visa chief financial officer Vasant Prabhu said in an interview on Friday that the company expects to resolve these issues so that Amazon customers in the UK are not impacted.
However, those reassurances provided little support to the share price, which fell by 1.15% on Friday and opened Monday down another 2.5% before noon, even as the broader market rallied.
Visa shares have now fallen more than 19 points since the announcement for a 9% loss. Year to date, shares are down by more than 10%.
"We are very disappointed that Amazon is threatening to restrict consumer choice in the future," a spokesperson for Visa said in a statement obtained by Capital.com.
"When consumer choice is limited, nobody wins. We have a long-standing relationship with Amazon, and we continue to work toward a resolution, so our cardholders can use their preferred Visa credit cards at Amazon UK without Amazon-imposed restrictions come January 2022."
What is your sentiment on AMZN?
Vote to see Traders sentiment!
Credit card program at risk
Beyond the fees issue, Amazon is reconsidering whether to renew its partnership with Visa for the online retailer's co-branded credit card, which provides consumers additional cashback for purchases made on Amazon.com or its Wholefoods grocery stores.
Amazon is said to be in talks with Mastercard and American Express in addition to Visa for the credit card program. While the high fees are deteriorating the partnership between Amazon and Visa, other card payments processors have also raised fees.
Average credit card processing fees range between 1.5% and 3.5% of each transaction, according to reports.
The whole dispute has market analysts wondering if Amazon will look to circumvent the traditional credit card payments processors entirely in favor of its own payments app – Amazon Pay – or other third-party options.
Read more: Visa (V) ban "odd move" from Amazon (AMZN), says expert