VERU stock tilts upward after FDA approves prostate drug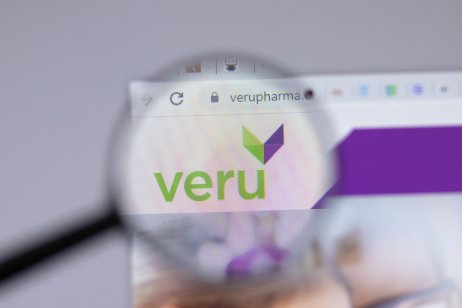 Veru, an oncology-focussed biopharmaceutical company, gained FDA approval for its treatment for urinary tract symptoms caused by an enlarged prostate, sparking a 14% jump in pre-market trading on Monday.
The drug, ENTADFI, combines two already-existing drugs into one pill that treats benign prostatic hyperplasia (BPH), while reducing adverse effects on sexual health.
By using the existing standard, Finasteride, in conjunction with another BPH treatment used more commonly to combat erectile dysfunction, Tadalafil, Veru touts ENTADFI as a means to increase treatment efficacy while diminishing undesired effects.
It was one of seven drugs that Veru had in its development pipeline, including three for prostate treatments.
"FDA approval of ENTADFI, a new treatment for BPH, is a significant execution milestone for Veru and an important step in expanding revenues from our commercial Sexual Health Division. We use these revenues to invest and advance our late clinical stage oncology drug pipeline portfolio as well as our global Phase 3 Covid clinical study," said Mitchell Steiner, MD, chair, president and chief executive officer.
Distribution and commercialisation
Veru said it plans to commercialise ENTADFI early in the coming year, and that it has already begun coordinating distribution through at least two channels.

The company has its own direct-to-patient telemedicine platform, and it also has a partnership with GoodRX to reach its extensive network of patients and health-care providers.
"We are in the process of augmenting our marketing and sales efforts by adding commercialisation partners in the US and ex-US. We expect to begin commercialisation in early calendar year 2022. The treatment of BPH is an annual multi-billion-dollar market with over 45 million US prescriptions filled each year and is projected to continue to grow with an ageing male population," Steiner said.
Market focus, market size
Veru focusses on treatments for breast cancer and prostate cancer. Those are the two most common types of cancer in the United States. Three of Veru's remaining pipeline drugs are for breast cancer, two are for prostate cancer and the company is also developing a Covid-19 antiviral, anti-inflammatory drug.
The market for breast cancer treatments in 2020 was more than $20bn, with projections indicating that it could surpass $32bn in 2026. Prostate cancer treatments were assessed to have a total market value of $63bn in 2021, and that could approach $100bn in 2026.
"We are developing three drugs, VERU-111, VERU-100, and Zuclomiphene citrate, each of which addresses large potential markets relating to prostate cancer and prostate cancer supportive care," according to the company.
Read more: AstraZeneca's prostate cancer drug trial shows positive results