USD/PKR forecast: Will Pakistan's rupee continue to fall?
Subscribe to Weekly Highlights
The major market events for the week ahead right in your inbox.
Subscribe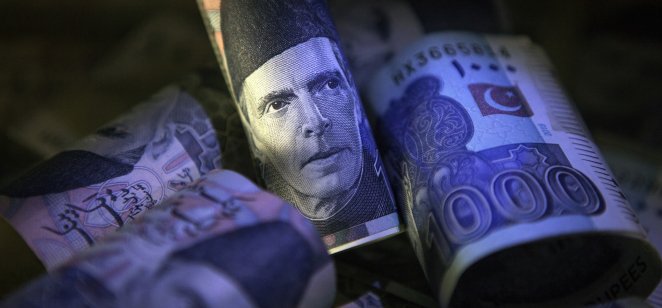 Content
The Pakistani rupee (PKR) rebounded against the US dollar (USD) in October but has since been in a downward trend as political turmoil, a fall in the country's foreign exchange reserves and a rising risk of a debt default weigh on its value.
The rupee traded at 217 against the dollar in October, the lowest level for the USD/PKR pair since mid-August, down from 239.85 in late September. But renewed weakness in the rupee has put the pair back at the 224 level.
The currency hit a record low of around 240 in late July, when it experienced its worst weekly fall since 1998 as a consequence of a shortage in foreign currency reserves, slowing economic growth and political instability.
The Pakistani rupee remains down by around 21% since the start of the year, as the strength of the greenback has created a challenging environment for emerging markets currencies.
What drives the value of currencies, and what is the outlook for the rupee? In this article, we look at the performance of the Pakistani rupee against the US dollar, as well as the latest USD/PKR predictions and forecasts.
What drives the USD/PKR exchange rate?
In forex trading, the US dollar to Pakistan rupee (USD/PKR) currency pair represents how much of the quote currency – the rupee – is needed to buy one unit of the base currency – the US dollar. The number of rupees needed to buy one dollar reached a record high of 240.15 on 28 July.
The value of a currency tends to be driven by the issuing nation's economic growth, monetary policy (such as interest rates), and cross-border trade balance. These all determine the country's attractiveness as an investment destination and the potential for the national currency to rise in value.
Pakistan is a consumption-based economy, relying on imports of commodities such as plastic, steel and chemicals for its manufacturing industry. The country's imports have soared in the post-pandemic recovery. The trade deficit widened by 55.7% in the year to June 2022 in dollar terms as imports grew by 24%, according to data from Pakistan's Bureau of Statistics. That increased its demand for dollars and weakened the value of the rupee.
As the world's reserve currency, the value of the USD is driven by sentiment on the global economy as well as economic activity in the US. The dollar acts as a safe haven for investors during times of economic and geopolitical uncertainty, which has been evident in 2022 as the greenback has soared in value to 20-year highs against a basket of other currencies.
Monetary policy on using higher interest rates to combat soaring inflation has also been a key driver for the dollar, with a series of interest rate hikes making the dollar more attractive for investors.
Historical USD/PKR performance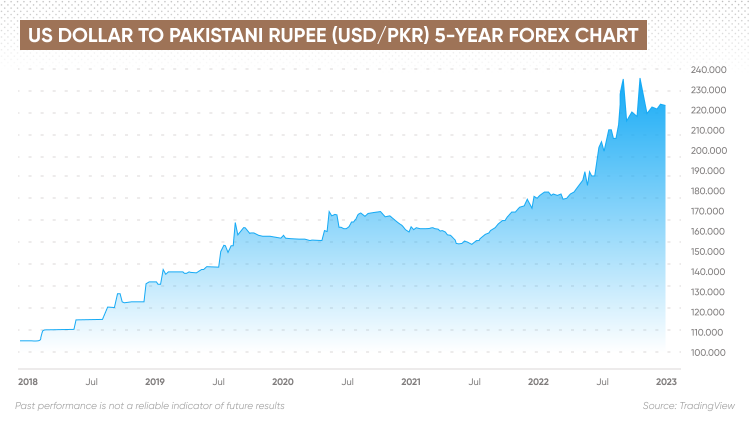 The rupee has been in a long-term decline against the dollar since the start of 2018 when it traded around the 110 level. The country has faced ballooning current and fiscal account deficits and repeated devaluations of the currency, which shifted from a managed rate against the US dollar to a free-floating exchange rate in 2018.
By the start of 2019, the US dollar/Pakistani rupee rate was trading around 140. It weakened over the summer to a record above 163, ending the year around 155. By the end of 2020, the rupee was trading at 160, with the Covid-19 pandemic driving up the value of the dollar.
The devaluation of the rupee accelerated in the second half of 2021, with the USD/PKR exchange rate breaching the 200 level for the first time in May, ending the year at 176.20. Local media reports indicated that $2m had been taken across the border from Pakistan into Afghanistan daily following the US withdrawal in August 2021 and the collapse of the Afghan banking system, contributing to a shortage of dollars in Pakistan.
PKR accelerates slide against USD in 2022
Pakistan's foreign currency reserves have been eroded further in 2022 as the country's central bank, the State Bank of Pakistan (SBP), has been using reserves to slow currency depreciation.
The USD/PKR pair traded between 176 and 182 in the first quarter but began to slump in April, when Pakistan's Prime Minister, Imran Khan, was ousted in a no-confidence vote and the government collapsed.
Currency dealers were also concerned that the International Monetary Fund (IMF) would halt its lending to the country while a new government was formed. In a statement in late April, the IMF said that it would conduct a field mission in May "to resume discussions over policies for completing the 7th EFF review" under its Extended Fund Facility (EFF) program.
On 1 September 2022, the IMF said it had completed the combined 7th and 8th reviews of Pakistan's EFF, making $1.177bn available to local authorities. According to the international financial institution:
"Pakistan is at a challenging economic juncture. A difficult external environment combined with procyclical domestic policies fueled domestic demand to unsustainable levels. The resultant economic overheating led to large fiscal and external deficits in FY22, contributed to rising inflation, and eroded reserve buffers."
To stabilise the economy and bring policies into line with the IMF's requirements, Pakistan is expected to implement its financial year 2023 budget to reduce government borrowing, resume power-sector reforms, use monetary policy to bring down inflation from the 20% level, strengthen the social safety net to reduce poverty and strengthen governance.
| | |
| --- | --- |
| Long position overnight fee | -0.0027% |
| Short position overnight fee | 0.0008% |
| Overnight fee time | 22:00 (UTC) |
| Spread | 0.00024 |
| | |
| --- | --- |
| Long position overnight fee | 0.0016% |
| Short position overnight fee | -0.0041% |
| Overnight fee time | 22:00 (UTC) |
| Spread | 0.050 |
| | |
| --- | --- |
| Long position overnight fee | 0.0000% |
| Short position overnight fee | -0.0001% |
| Overnight fee time | 22:00 (UTC) |
| Spread | 0.111 |
| | |
| --- | --- |
| Long position overnight fee | -0.0013% |
| Short position overnight fee | 0.0002% |
| Overnight fee time | 22:00 (UTC) |
| Spread | 0.00090 |
On 18 July, Fitch Ratings revised its outlook for Pakistan to reflect:
"Significant deterioration in Pakistan's external liquidity position and financing conditions since early 2022. We assume IMF board approval of Pakistan's new staff-level agreement with the IMF, but see considerable risks to its implementation and to continued access to financing after the programme's expiry in June 2023 in a tough economic and political climate."
Fitch noted that SBP's liquid net foreign exchange reserves declined to about $10bn, equivalent to just one month of current external payments by June 2022, down from about $16bn in June 2021.
Fitch forecasts that Pakistan's gross domestic product (GDP) growth could slow to 3.5% in the 2023 financial year, from 6% the previous year, because of "fiscal and monetary tightening, high imported inflation, and a weaker external demand outlook, all of which will also hit household and business confidence".
On 25 November, the State Bank of Pakistan's Monetary Policy Committee unexpectedly raised its benchmark interest rate by 100 basis points (bps) to 16%, its highest level since 1999. The central bank has raised rates by a total of 900 bps since it started its tightening cycle in September 2021.
"Amid the on-going economic slowdown, inflation is increasingly being driven by persistent global and domestic supply shocks that are raising costs. In turn, these shocks are spilling over into broader prices and wages, which could de-anchor inflation expectations and undermine medium-term growth. As a result, the rise in cost-push inflation cannot be overlooked and necessitates a monetary policy response," the committee
stated
.
Headline inflation soared to 26.6% in October, from 23.2% in September, as an electricity price cut was unwound.
Food price inflation has accelerated because of crop damage from recent floods. Higher food prices and core inflation are now expected to increase average inflation for the financial year to June 2023 up to 21-23%. Despite a decline in imports reducing the current account deficit in September and October and a $1.5bn loan from the Asian Development Bank (ADB) approved in October, "external account challenges persist", the MPC stated.
Pakistan's trade deficit narrowed to PKR640.6bn ($2.88bn) in November, from over PKR1trn in June, but was up by around 24% from October, according to Statistics Bureau data.
The rupee had found some relief in October, as trade data for September showed a 39.99% year-on-year (YOY) increase in exports in July-September in rupee terms, outpacing a 19.35% increase in imports. In dollar terms, imports fell by 12.37%, allowing more dollars to stay in the country.
The USD/PKR exchange rate moved up from 217.85 on 21 October to 220.40 at the end of the month, and rose to 221.75 on 3 November, when former Prime Minister Imran Khan was wounded in an assassination attempt. Khan has been calling for early elections since he was removed from office. He was disqualified from public office by the Election Commission of Pakistan on October 21. The next election is due in October 2023. Khan resumed his rallies on 26 November. The rupee was trading at 224.75 at the end of November.
What is a realistic USD/PKR prediction in the current environment? Read on for our USD/PKR forecast analysis.
USD/PKR forecast: Will the rupee continue to weaken?
Analysts at Fitch Solutions expected:
"A stabilisation in global monetary conditions and further improvements in Pakistan's trade deficit will soon provide the SBP with some room to dial back on the pace of tightening. Crucially, we expect that the US Federal Reserve (
Fed
) will only raise interest rates by an additional 50 bps by end-2022 before keeping them steady throughout 2023. If we are right, then there will be less of a need for the SBP to lean towards further rate hikes to preserve currency stability."
The analysts added: "In addition, the recent drop in Pakistan's foreign reserves may have already bottomed out. Pakistan's foreign reserves rebounded to USD14.6bn in October, propped up by the release of USD1.5bn worth of funds from the ADB. Pakistan now has enough reserves to fund 3.1 months' worth of imports, a touch above the IMF's recommended minimum of 3.0 months."
At the time of writing on 5 December, analysis by Trading Economics showed a USD/PKR forecast of 227.43 by the end of this quarter, with the rupee weakening further and the exchange moving to 239.149 in 12 months' time, based on global macro models and analysts' expectations.
Algorithm-based services have issued varying USD/PKR forecasts, with some showing a weaker rupee against the dollar in the coming years.
Wallet Investor's USD/PKR forecast for 2023 showed the pair trading at 224.283 at the start of the year and 241.088 by the end of the year. The site's 2025 forecast showed the pair trading at a new high of 274.90 by the end of the year.
Gov Capital's USD/PKR forecast for 2025 showed the pair trading at 277.20 at the end of the year, up from 225.6 at the end of 2022 and 251.70 at the end of 2023. Analysts and algorithm-based forecast platforms have yet to issue a USD/PKR forecast for 2030.
When considering any USD/PKR forecast, it's important to remember that currency markets are highly volatile, making it difficult for analysts and algorithm-based forecasters to come up with accurate long-term predictions.
We recommend that you always conduct your own research, looking at the latest news, technical and fundamental analysis, and analyst commentary before trading. Keep in mind that past performance is no guarantee of future returns. And never trade money you cannot afford to lose.
FAQs
Why has USD/PKR been rising?

The USD/PKR exchange rate has been trending higher since October as political turmoil, a wide trade deficit and a strong US dollar weigh on the value of the rupee. The exchange rate has been heading back towards the record high of 240 seen in July.
Will USD/PKR go up or down?

At the time of writing, analysts and forecasters indicated that the value of the US dollar could continue rising against the Pakistani rupee, but the direction of the exchange rate could depend on economic activity and monetary policy in both the US and Pakistan, as well as the outcome of elections in Pakistan, among other factors.
When is the best time to trade USD/PKR?

Technically, you can trade currency pairs, including USD/PKR, around-the-clock. However, there are certain time slots when forex trading is most busy. This usually occurs between 08:00-12:00 ET, when US economic data is typically released. Whenever significant macroeconomic data is released or new central bank policies are unveiled, the USD/PKR pair's volatility often tends to increase.

However, you should make trading decisions after performing your own research and remember that high volatility increases risks of losses. Keep in mind that past performance is no guarantee of future returns. And never invest money you cannot afford to lose.
Is USD/PKR a buy, sell or hold?

Whether you should trade the USD/PKR pair and the position you take is a personal decision depending on your risk tolerance and investing strategy. You should do your own research into the economic data, government policies and other factors that drive the exchange rate to make an informed decision. Keep in mind that past performance is no guarantee of future returns. And never invest money you cannot afford to lose.
Related reading