USD pauses, GBP ticks up and oil currencies rebound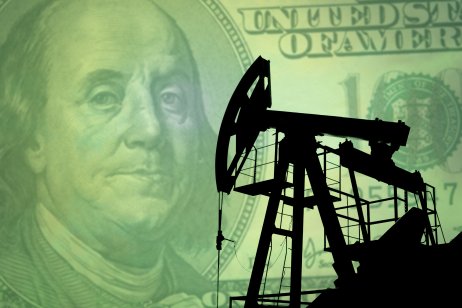 Following a day marked by a resurgence of risk appetite, major currency pairs were little changed in London morning trading, indicating that market activity is decreasing in the run-up to the Christmas holidays.
The dollar took a breather versus the other major currencies, with the DXY index remaining largely steady at 96.38 as of 10:30 GMT. The British pound (GBP) lead gains among G5 currencies, up 0.20% versus the greenback, while the Japanese yen (JPY) was the underperformer (down 0.2%).
High-beta and commodity-linked currencies recovered from last week's losses, with the Norwegian krone (NOK) outperforming - up 0.4% today versus the dollar following a 1.2% rise yesterday – as Brent prices rebounded to $74 a barrel. The Russian ruble (RUB) strengthened 0.2% today as well.
AUD/USD ticked up to 0.7160 (+0.08%)
NZD/USD edged up to 0.6773 (+0.15%)
USD/CAD was flat at 1.2905 (-0.04%)
USD/NOK slipped to 8.9022 (-0.36%)
USD/RUB edged down to 73.82 (-0.1%)
Elsewhere, the Turkish lira traded flat today, after rising 7% yesterday and 30% the day before as a result of new economic measures to preserve local currency reserves.
What is your sentiment on USD/ZAR?
Vote to see Traders sentiment!
Forex Daily Matrix – 22 December 2021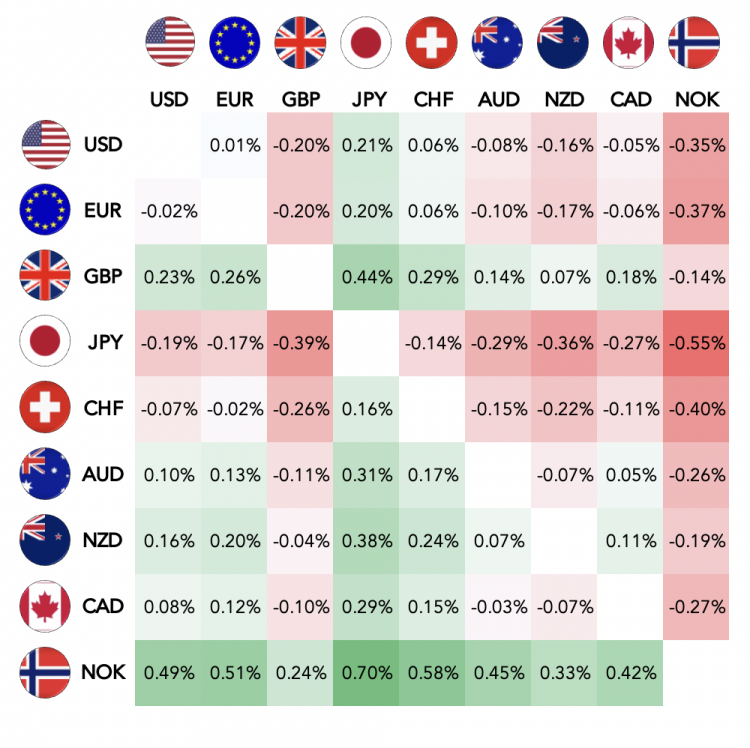 Forex Daily Matrix as of 22 December 2021, 10:20 GMT – Credit: Capital.com
US Dollar
At time of writing, the US Dollar Index (DXY) was at 96.38, flat on the day.
Recent days have seen the dollar take a respite as fears mount over Omicron's impact on US economic growth.
Goldman Sachs analysts have recently lowered their growth forecast for 2022, citing a lower-than-expected fiscal impulse, after Democratic Senator Joe Manchin said Sunday that he would withdrawal from President Biden's Build Back Better Act.
Data-wise, the US current account deficit widened to USD 214.8 billion, or 3.7% of Gross Domestic Product (GDP), in the third quarter of 2021, up from $198.3 billion in the previous period and compared to an expectation of a $205 billion deficit.
The third quarter GDP data for the United States are scheduled to be released today, with the consensus forecasting that the US economy would rise at a 2.1% quarter on quarter annualised pace.
US dollar (DXY) technical levels:
52-week high: 96.82
52-week low: 89.22
50-day moving average (one-day chart): 95.21
200-day moving average (one-day chart): 92.83
14-day Relative Strength Index (RSI) (one-day chart): 56
Chart of the day: Covid-19 Stringency Index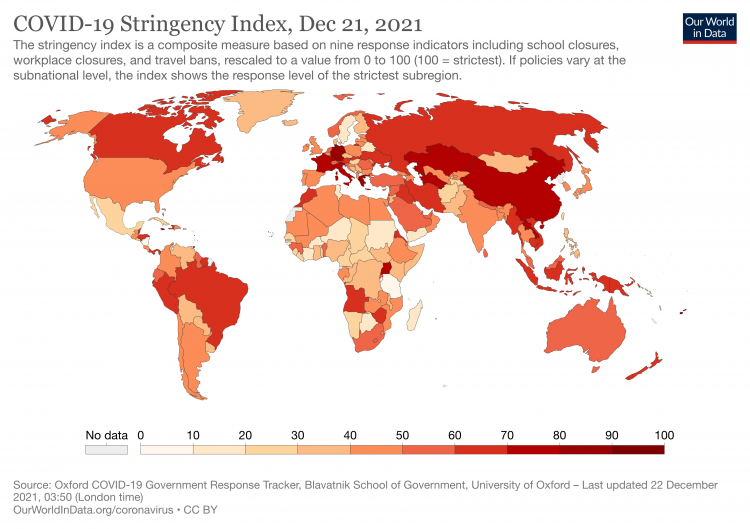 Covid-19 Stringency Index – Credit: Our World in Data; Source: Oxford COVID-19 Government Response Tracker
Euro
EUR/USD was last at 1.1262, down 0.4% on the day.
Europe is battling with a massive COVID-19 wave and more European countries are raising levels of restrictions to curb cases ahead of the festive period.
Growing anxiety over the increasing number of COVID-19 cases and the likelihood of tougher lockdown restrictions are taking a toll on consumer sentiment. The consumer confidence indicator in the Eurozone declined 1.5 points month on month to -8.3 in December 2021, the lowest reading since March and below a market prediction of -8.
EUR/USD technical levels:
52-week high: 1.2349
52-week low: 1.1184
50-day moving average (one-day chart): 1.1449
200-day moving average (one-day chart): 1.1777
14-day Relative Strength Index (RSI) (one-day chart): 47
British pound
By 10:30 GMT today, the cable (GBP/USD) was trading at 1.3293, up 0.2% on the day, while EUR/GBP was 0.2% lower at 0.8496.
The pound has gained some ground in recent sessions due to a new GBP 1 billion government support package for businesses affected by Covid and after Prime Minister Boris Johson ruled out that Johnson ruled out new restrictions before Christmas.
On the data front, the UK's GDP grew 1.1% quarter on quarter (q/q) in the three months to September of 2021, falling short of initial predictions of 1.3% and slowing after a downwardly revised 5.4% gain in the preceding period.
The UK's current account deficit increased significantly in the third quarter of 2021, reaching GBP 24.4 billion, or 4.2% of GDP, well above a forecasted GBP 13.6 billion and up from a GBP 13.5 billion in the previous period.
GBP/USD technical levels:
52-week high: 1.4248
52-week low: 1.3133
50-day moving average (one-day chart): 1.3457
200-day moving average (one-day chart): 1.3754
14-day Relative Strength Index (RSI) (one-day chart): 48
Forex Performance Heatmap – 22 December 2021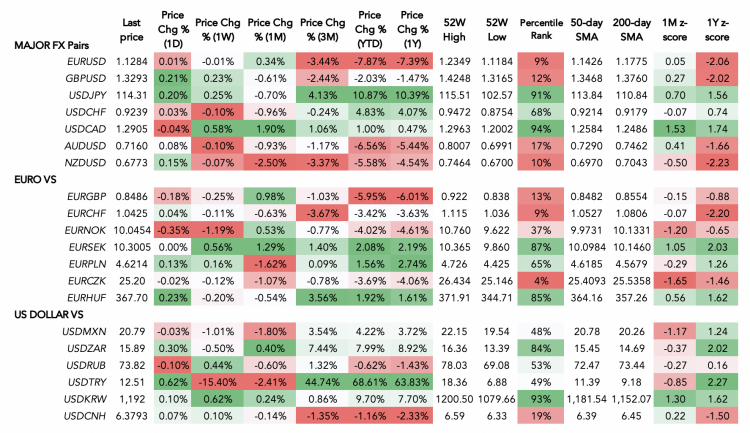 Forex Performance Heatmap as of 22 December 2021, 10:20 GMT – Credit: Capital.com
Other currency pairs (% change from previous close)
Read more: Safe havens rise, riskier currencies fall and TRY plummets