USD lifts as Powell resumes; commodities slip and lira crashes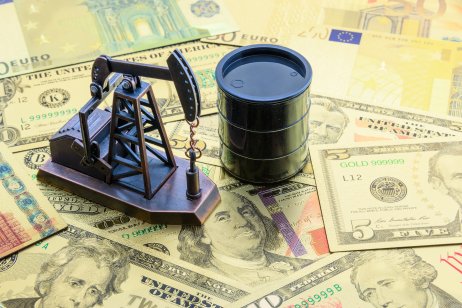 The US dollar gained further ground against major currencies yesterday as investors saw Jerome Powell's reappointment as Fed Chair as a hawkish move. The DXY index, which tracks the performance of the US dollar against six currencies, hit a new high yesterday (96.52) and then fell slightly to 96.34 at 10:30 GMT.
EUR/USD rose 0.2% from the previous close at 1.1259, as positive data from the November's purchasing managers' index (PMI) and comments by Isabel Schnabel on rising inflation risks in the eurozone provided a slight relief for the single currency. The GBP/USD pair edged 0.16% lower after yesterday's close.
Meanwhile, oil-linked currencies slipped following reports of a potential coordinated release of national oil reserves from countries including the US, India, Japan and South Korea. As a result, the price of oil (WTI crude) fell 1% on the day.
The Canadian dollar (CAD) retraced 0.45% yesterday against the US dollar, down this morning at 0.2%. The Norwegian krone (NOK) edged down by 0.2% from its previous close after posting 10 straight sessions of losses versus the dollar.
The New Zealand dollar (NZD) was 0.3% down in contrast to the broader strength of USD.
Elsewhere, emerging market (EM) currencies continue to weaken. The Russian ruble (RUB) fell more than 2% on the day against the US dollar over fears of a conflict with Ukraine, while the Turkish lira (TRY) collapsed more than 8% against the dollar after President Recep Tayyip Erdoğan once again supported his idea of lowering interest rates to promote economic growth.
What is your sentiment on USD/CAD?
Vote to see Traders sentiment!
Forex daily matrix – 23 November 2021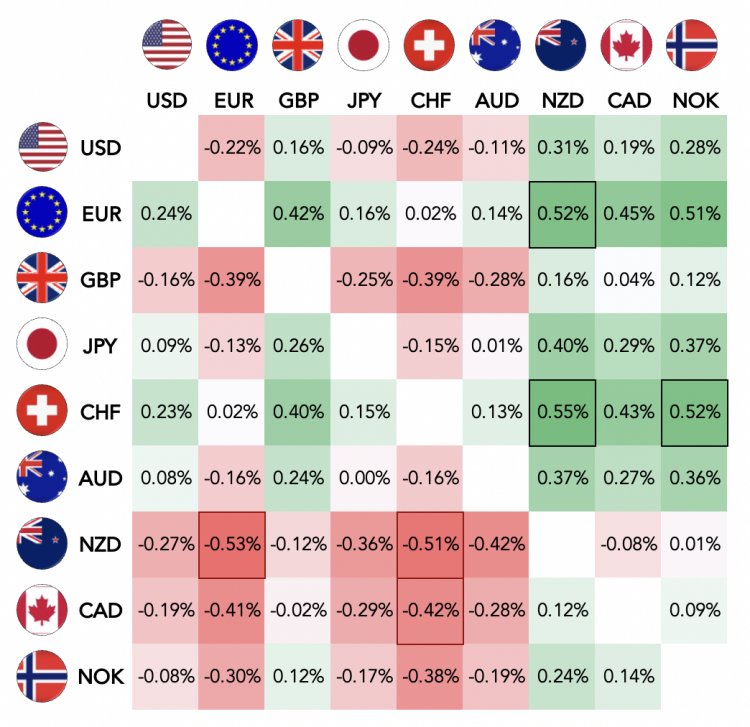 Forex Daily Matrix as of 23 November 2021, 10:30 GMT – Credit: Capital.com
US dollar
The US Dollar Index (DXY) was last at 96.34, after hitting a new year-to-date high yesterday (96.52).
President Joe Biden's decision to reappoint Jerome Powell as chairman of the Federal Reserve (the Fed), as opposed to the more dovish-leaning Leal Brainard who was appointed vice chair, prompted markets to price in a faster pace of Fed tapering and a rate hike as early as next June.
Today, the November Markit flash PMIs will be released, which are expected to rise for both the manufacturing and the services sector.
US dollar (DXY) technical levels:
52-week high: 96.52
52-week low: 89.212
50-day moving average (one-day chart): 94.13
200-day moving average (one-day chart): 92.29
14-day relative strength index (RSI) (one-day chart): 71.38
Chart of the day: Commodity currencies weakened in November as oil prices fell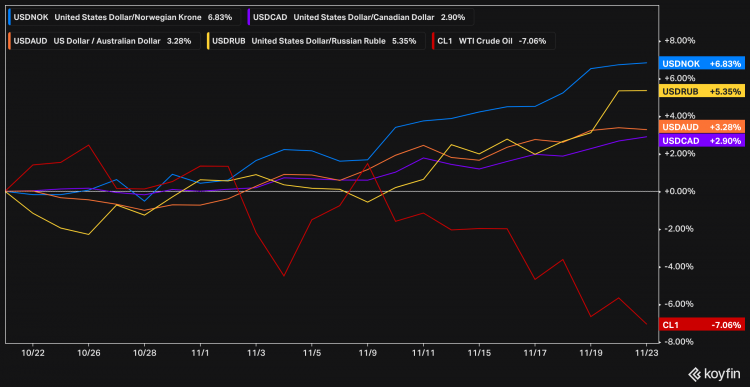 NOK, CAD, RUB and AUD weakened against the USD as oil fell in November – Credit: Koyfin
Euro
The euro was last at 1.1259 against the US dollar, up 0.2% from its previous close. Flash PMIs in the eurozone topped market expectations, with the services PMI rising to 56.6 (as against the 53.5 expected) and the manufacturing PMI at 58.6 (as against the expected 57.3).
Isabel Schnabel, a member of the European Central Bank's (ECB's) executive board, warned that risks to inflation are tilted upwards and urged fellow ECB members to take this increased uncertainty into account.
Still, widespread fears of further lockdowns continue to weigh on the sentiment for the single currency. After a 20-day national lockdown in Austria, stricter restrictions were implemented in Norway, the Netherlands and Denmark, with Christmas markets being closed in Germany's Bavaria and Saxony regions, particularly.
EUR/USD technical levels:
52-week high: 1.2349
52-week low: 1.1227
50-day moving average (one-day chart): 1.1583
200-day moving average (one-day chart): 1.1853
14-day Relative Strength Index (RSI) (one-day chart): 29.45
British pound
Cable (GBP/USD) was last at 1.3377 at 10:00 GMT, down 0.1% from its previous close.
Chartered Institute of Procurement and Supply (CIPS) and IHS Markit's flash UK manufacturing PMI rose by 58.2 in November, up from 57.8 in October and above market expectations of 57.3. The UK manufacturing expansion – the highest since August – was propelled by a rise in output, new orders and employment.
November data pointed to a slight loss of momentum for the service sector, with the IHS Markit/CIPS PMI at 58.6, down from 59.1 in October. Growth of new orders rose to a five-month high, but business margins narrowed due to rising input costs.
GBP/USD technical levels:
52-week high: 1.4248
52-week low: 1.3133
50-day moving average (one-day chart): 1.3621
200-day moving average (one-day chart): 1.3831
14-day relative strength index (RSI) (one-day chart): 36.35
Forex performance heatmap – 23 November 2021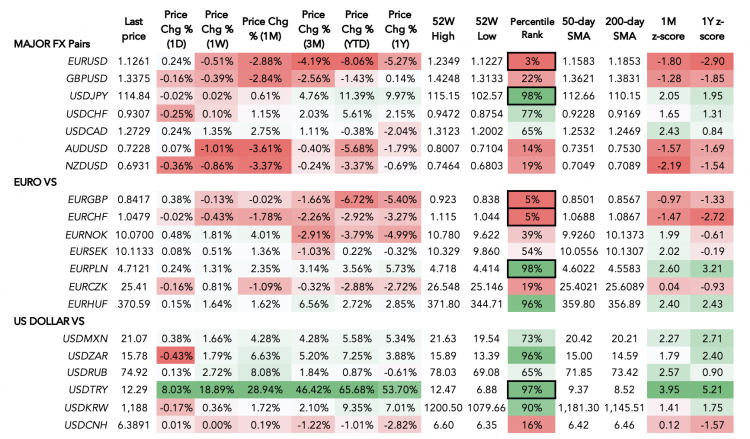 Forex Performance Heatmap as of 23 November 2021, 10:30 GMT – Credit: Capital.com
Other currency pairs (% change from previous close):
Read more: Surprise rise in eurozone business activity marred by inflation
Read more: UK input price inflation hits fresh record high in November