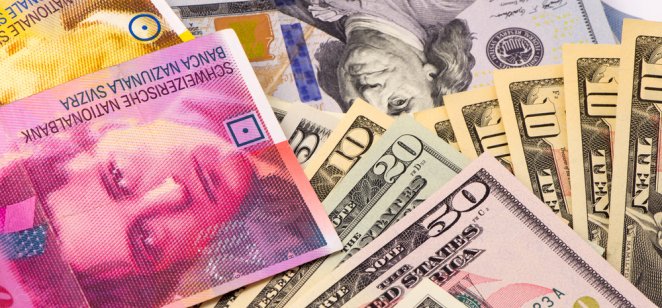 Content
After further sanctions on Russia were imposed over the weekend, investors flocked to traditional safe-haven assets such as the US dollar (USD), the Japanese yen (JPY), and the Swiss franc (CHF).
The US, the European Commission (EC), France, Germany, Italy, the UK and Canada issued a joint statement on Saturday pledging to ensure selected Russian institutions are excluded from the SWIFT payment network.
It was also revealed that the Central Bank of Russia (CBR) would be subjected to restrictions that will prohibit it from deploying its international reserves.
Ursula von der Leyen, the President of the European Commission, said on Sunday that the CBR would be banned from transactions and that all of its assets would be frozen, thus compromising its ability to intervene in support of the rouble.

The United Nations Security Council (UNSC) decided on Sunday to convene an emergency special session of the General Assembly on Monday to discuss Russia's invasion of Ukraine.
Russian President Vladimir Putin criticised North Atlantic Treaty Organization (NATO) members' aggressive statements and ordered Russia's nuclear-deterrent forces to be placed on high alert on Sunday.
In reaction to Western sanctions, the CBR increased interest rates from 9.5 to 20%. The Russian rouble (RUB) tumbled, with the USD/RUB pair rising more than 20% to 104 at the time of writing.

The European Central Bank (ECB) today warned that Vienna, Austria-headquartered Sberbank Europe AG and its subsidiaries in Croatia and Slovenia are failing or are likely to fail "owing to a deterioration of their liquidity situation".
All eyes are focused on the geopolitical situation as Ukraine and Russia are expected to meet to discuss negotiations today.
What is your sentiment on AUD/USD?
Vote to see Traders sentiment!
Although the exact time and location of the meeting remains unspecified, it is expected the meeting will be held along or near the Pripyat River, which forms a natural boundary between Ukraine and Belarus.
Forex markets today – 28 February 2022
Major currencies: top risers and fallers today – 28 February 2022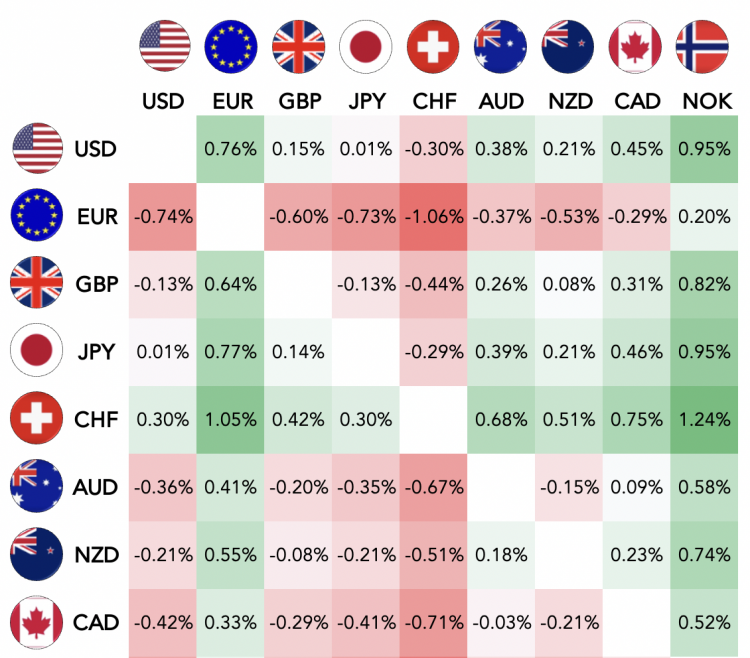 Major currencies: top risers and fallers on 28 February 2022 (10:30 UTC) – Credit: Capital.com
Chart of the day: EUR slips against safe-haven currencies USD, CHF and JPY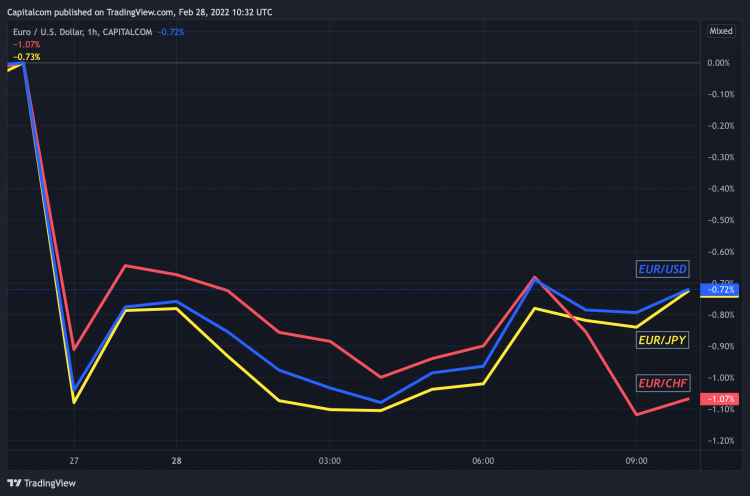 Chart revealing depreciation of the euro against safe-haven currencies (EUR/USD, EUR/JPY, EUR/CHF) on 28 February 2022 (10:30 GMT) – Credit: Capital.com / Source: Tradingview
Forex market heatmap – 28 February 2022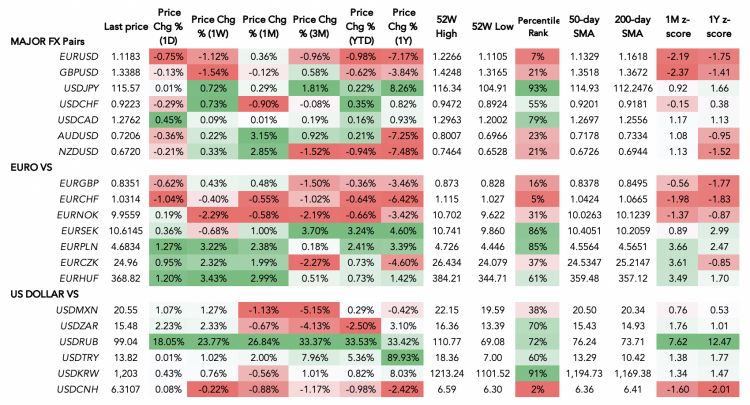 Forex market heatmap as of 28 February 2022 (10:30 UTC) – Credit: Capital.com / Source: Tradingview
USD, EUR, GBP snapshot – 28 February 2022
The US Dollar Index (DXY) was at 97 by 10:30 UTC, gaining 0.5% on the day. The EUR/USD pair broke below 1.12, down by 0.7%, while the GBP/USD pair edged slightly down (-0.1%) to 1.3388. The EUR/GBP pair lost 0.6% at 0.835.
Following geopolitical developments over the weekend, market expectations for the US Federal Reserve (the Fed) to tighten monetary policy continue to shrink.

According to the latest CME Group FedWatch tool, the market-implied probability of the Fed raising interest rates by 50 basis points (bps) in March has dropped to 13%, equating to an implied 28bps hike.
Last friday, the Core Personal Consumption Expenditure (PCE) – the Fed's preferred inflation gauge – increased by 0.3 percentage point to 5.2% year-on-year in January, in line with expectations. The headline PCE inflation rate increased by 0.3 percentage point to 6.1% year-on-year, slightly above consensus (6%).
Bond yields dropped as investors demand for safe assets surged. The yield on the US 10-year Treasury note eased to 1.91% (down by 5bps), while yields on the 10-year German Bund slid down to 0.13%, or down by 3bps.
The week ahead for the US will be packed with crucial economic events. President Joe Biden will deliver his State of the Union speech on Tuesday; Fed chairman Jerome Powell will testify before Congress on Wednesday and Thursday; and the critical February labour market report (unemployment rate and non-farm payrolls) will be issued on Friday.
EUR/USD technical levels
52-week high: 1.2266
52-week low: 1.1119
50-day moving average (one-day chart): 1.1329
200-day moving average (one-day chart): 1.1618
14-day relative strength index (RSI) (one-day chart): 38
GBP/USD technical levels
52-week high: 1.4248
52-week low: 1.3165
50-day moving average (one-day chart): 1.3518
200-day moving average (one-day chart): 1.3672
14-day relative strength index (RSI) (one-day chart): 43
Read more