US stocks fall as Moderna (MRNA) CEO warns of Omicron spread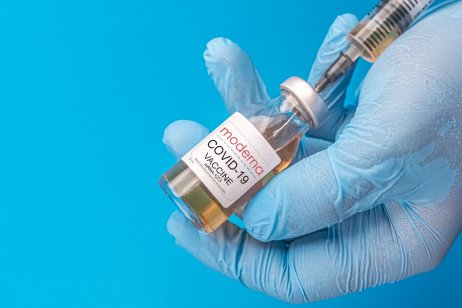 New comments from Moderna's chief executive suggesting current vaccines will be much less effective against the new Covid-19 variant Omicron are causing another sell-off in equity markets Tuesday.
Stéphane Bancel, CEO of the vaccine maker Moderna, said the effectiveness level will not be the same as it was with the Delta variant, according to an interview he gave to The Financial Times. There will be a "material drop" in effectiveness, the CEO said, he just does not know by how much.
He said new vaccines could be developed in the coming months to combat the new variant but mass production of a new vaccine would not be available until the summer.
These comments come in contrast to Scott Gottlieb, director of vaccine maker Pfizer and former commissioner of the US Food and Drug Administration, who said patients with three doses should have fairly good protection against this variant.
Market reaction
The Dow Jones Industrial Average opened 260 points down for a 0.74% drop, while the S&P 500 and Nasdaq indices opened 0.65% and 0.37% lower, respectively.
Treasuries rallied as investors look for a safe place to park their money. The 10-year Treasury rate is 9 basis points lower Tuesday morning to 1.43%, while the five-year Treasury rate fell 8 basis points to 1.09%.
US oil benchmark the West Texas Intermediate fell another 3.35% on Tuesday to a price of $67.61 per barrel, down from $69.95 per barrel at Monday's close.
What is your sentiment on US30?
Vote to see Traders sentiment!
Fed comments
Investors are eagerly awaiting comments from Federal Reserve chair Jerome Powell Tuesday morning as he prepares to answer questions from the US Senate Banking Committee.
"The recent rise in Covid-19 cases and the emergence of the Omicron variant pose downside risks to employment and economic activity and increased uncertainty for inflation," Powell said in prepared marks released ahead of his appearance. "Greater concerns about the virus could reduce people's willingness to work in person, which would slow progress in the labour market and intensify supply-chain disruptions".
The emergence of Omicron is reshuffling market sentiment for rate increases next year. The market re-priced the number of Fed hikes next year to 2.0 from 2.8 last Wednesday, according to Yuri Seliger, credit strategist at Bank of America.
Bank of America also noted that its clients pulled $850m out of equities last week led by tech and healthcare sectors, according to equity and quant strategists Jill Carey Hall and Savita Subramanian.
Read more: Business news: Omicron continues to wreak havoc