The US equity market weakened over the past month as rising inflation and impending monetary tightening led to an outflow of funds.
Standard and Poor's 500 (S&P 500) stock market Index (US500), which tracks the performance of 500 large companies listed on stock exchanges in the US, fell to $4,391.69 on 18 April, down 1.6% from a month ago.
The S&P 500 Index is widely used to gauge the performance of US equities with high market capitalisations. According to the financial data provider, approximately 80% of the available market cap of the US stock market is covered by the index. Although it has fallen over the past month, the S&P has gained 5.5% compared with the same day in 2021, reflecting the strong US stock market performance over the past year.
However, with the inflation rate accelerating and the US Federal Reserve (Fed) implementing more interest rate hikes, the American share market has faltered as funds flowed to other more profitable investment products. Some risk-averse investors also prefer to hold safe-haven assets, such as precious metal or US dollars, in times of uncertainty.
The continuing crisis in Ukraine, which led to higher logistic and operation costs, has also cut companies' earnings and profits, further pressuring the equity market. Many companies are expected to announce weaker quarterly financial performances in the upcoming earnings season.
Danish bank Saxo Markets in its US stock market update on 19 April said:
"The Nasdaq 100, S&P 500 are on the back foot, trading under their 50-day moving averages. Q1 earnings expectations are the weakest since March 2020, plus results so far are showing profit erosion and rising input costs."
Are you interested to learn more about the recent US stock market trend? Before you invest, read this US stock market analysis for the latest outlook and news.
US stock market news: Fed tightens monetary policy
Global inflation has continued to climb this year and reached a 41-year high in the US. According to the US Bureau of Labor Statistics, the Consumer Price Index (CPI) in March, which measures what consumers pay for goods and services, was up 8.5% from the previous year, the largest 12-month increase since December 1981.
The Fed recognised the inflationary impact on the country's economic growth and employment level and has committed to curbing the rate of inflation through a series of monetary measures. Fed governor Lael Brainard said on 5 April 2022:
"It is of paramount importance to get inflation down. Accordingly, the Committee will continue tightening monetary policy methodically through a series of interest rate increases and by starting to reduce the balance sheet at a rapid pace as soon as our May meeting."
Following governor Brainard's speech, the US five-year and 30-year Treasury yields inverted for the first time since 2006. Yield curve inversions occur as investors sell out short-dated bonds in favour of longer-date debt, this has historically indicated an impending recession.
Consequently, there is a wide anticipation that the Fed could announce another round of interest rate increases in the next Federal Open Market Committee (FOMC) meeting on 3 May to 4 May.
In the previous FOMC meeting, the Fed raised interest rates for the first time in more than three years, after slashing the rate to near-zero to help spur economic growth at the beginning of the of Covid-19 pandemic.
US stock market overview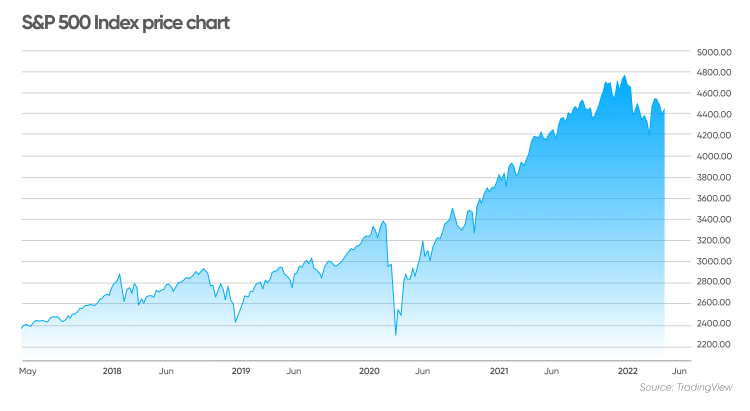 Prior to the invasion of Ukraine on 24 February, the US stock market value was stable and growing in the post-Covid economic recovery. The S&P 500 hit an all-time high of $4,796.56 on 3 January 2022 but the uptrend was halted by the rising US inflation rate. Market sentiment soured further in the weeks after the invasion, as the index fell to an eight-month low at 4,173.11 on 14 March.
What is your sentiment on US500?
Vote to see Traders sentiment!
Although the S&P Index has since rebounded, it remains under pressure as the high inflation and interest rates will challenge companies' operating costs. The uncertainty surrounding the Russia-Ukraine conflict will likely continue to impact earnings.
Private equity fund manager BlackRock said:
"The investing backdrop is mired in uncertainty. Just as the global economy is looking to emerge from pandemic malaise, a callous war has applied new pressures to a global system that was looking to normalise interest rates and process the effects of the highest inflation seen in decades."
However, BlackRock believes active stock selection has become more important in this uncertain investment climate and certain companies could continue to grow.
"We think businesses selling labour-saving equipment and technology will benefit as companies seek to offset higher wages. Software solutions and some industrial equipment are two potential beneficiaries."
US stocks forecast (2022)
The US stock market prediction for the next 6 months is expected to be volatile, with factors of rising inflation, interest rates and recession putting downward pressure on equities.
With the next FOMC meeting due in May, the US equity market is expected to remain volatile in April in the absence of concrete Fed monetary policy, said Greg Bassuk, CEO of AXS Investments.
"Because of that gap in time, we think that's going to be another driver of greater volatility and more uncertainty about the Fed," Bassuk told Forbes.
Furthermore, if the Russia-Ukraine crisis continues, energy prices could rise higher and accelerate inflation. However, the US is a major oil and natural gas producer and is "more insulated than their European counterparts from energy price spikes and the direct impacts of the war and its economic ramifications," said BlackRock.
According to BlackRock, the 10-year Treasury yield would need to reach 3% to 3.5% before investors would question the risk and reward in equities, hence the US stock market is expected to maintain an advantage over other asset classes in the second quarter.
When considering whether to invest in US stocks, you should always do your own research, considering the outlook and relevant market conditions. A number of factors dictate whether stock prices rise or fall. There are no guarantees. Markets are volatile. You should conduct your own analysis, considering such things as the environment in which it trades and your risk tolerance. And never invest money that you cannot afford to lose.
FAQs
Is it a good time to buy US stocks?

Whether it is a good time for you to buy US stocks or not will depend on your portfolio composition, investment goals and risk profile. Different trading strategies will suit different investment goals with short or long-term focus. You should do your own research and never invest what you cannot afford to lose.
Why has the US stock market been going down?

The US stock market has been falling because of a combination of factors, such as rising inflation, interest rates and the Russia-Ukraine geopolitical risks.
Will the US stock market go up or down?

At the time of writing on 19 April, the US stock market outlook was volatile in the coming months because of the changing circumstances surrounding the geopolitical risks, rising inflation, interest rates and potential recession.
When is the US stock market open?

The two major US exchanges are the New York Stock Exchange (NYSE) and the Nasdaq, both are based in New York and open for trading from 09.30 to 16.00 EST. The stock markets are closed for US federal holidays.
How many companies are in the US stock market?