US steelmaker Cleveland-Cliffs Q3 results beat expectations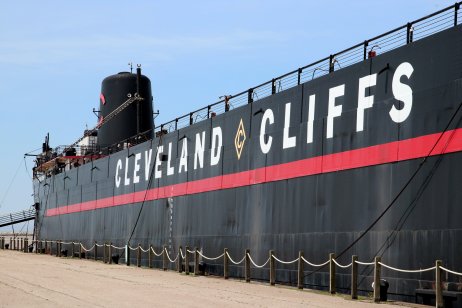 Cleveland-Cliffs shares gained upwards of 11% in morning trading Friday after North America's largest flat-rolled steel producer reported better-than-expected third quarter earnings.
At 10:30 am EDT (UTC-4) shares were trading at $23.50 (£17.07) per share, up from an opening of $22.10. By noon, the shares were trading at $22.95.
Record revenue, income and adjusted EBITDA
Revenue jumped to a record $6bn from $1.6bn on significant increases in steel production and sales. The number beat Wall Street's estimate of $5.7bn.
The Cleveland, Ohio-based company reported third quarter earnings of $2.33 per share, beating Wall Street's estimates of $2.17 a share. The figure compares favourably with a loss of $0.02 a share during the same quarter last year
Adjusted EBITDA for the three months ended 30 September was $1.9bn, compared to $126m in the third quarter of 2020.
Total liquidity was nearly $2.2bn as of 19 October. Cash at 30 September was $42m and long-term debt was $5.4bn.
The company produces flat-rolled steel and manufactures iron ore pellets from mills in the US Midwest. Steel volume in Q3 totalled 4.2 million net tons, up from 1.1 million in the year ago quarter.
What is your sentiment on CLF?
Vote to see Traders sentiment!
Sales
The company said it has renewed several annual fixed sale contracts with its most important customers after negotiations.
Cleveland-Cliffs is different from other steel companies in that it is more exposed to spot prices. "We believe that our average sales price next year should be higher than in 2021, allowing us to continue to grow our already strong profitability and to further strengthen our balance sheet," president and CEO Lourenco Goncalves said.
Auto industry
The auto industry accounts for a sizable percentage of Cleveland-Cliffs' business, about 20% in Q3 2021, or $1.1bn.
Vehicle manufacturing has witnessed a substantial drop after semiconductor chip shortages shuttered manufacturing plants across the globe. However, Goncalves expects a "strong recovery" from the auto industry in 2022.
Supply chain
Like other industries, the steel industry is not immune from the supply chain crisis. For the last year, material prices for steel manufactures have increased due to the crisis.
During a conference call, Goncalves said all steel manufacturers have been affected, but the crisis is levelling off. But he concluded: "I don't want to comment on that" before moving on.
Acquisition
This month Cleveland-Cliffs announced plans to buy Detroit-based Ferrous Processing and Trading company for $775m, enabling the company to expand its scrap metal business. During the conference call, Goncalves scolded an investment banker who asked about the company increasing its scrap metal segment. "We are still a steel company, not a scrap metal company," the CEO said.
The acquisition is expected to close before year end.
In the first nine months of this year, Cleveland-Cliffs had earnings of $15.1bn and net income of $2.1bn, or $3.69 per diluted share.
Read more: Cleveland-Cliffs shares rise on 5m scrap acquisition
The difference between stocks and CFDs
The main difference between CFD trading and stock trading is that you don't own the underlying stock when you trade on an individual stock CFD.
With CFDs, you never actually buy or sell the underlying asset that you've chosen to trade. You can still benefit if the market moves in your favour, or make a loss if it moves against you. However, with traditional stock trading you enter a contract to exchange the legal ownership of the individual shares for money, and you own this equity.
CFDs are leveraged products, which means that you only need to deposit a percentage of the full value of the CFD trade in order to open a position. But with traditional stock trading, you buy the shares for the full amount. In the UK, there is no stamp duty on CFD trading, but there is when you buy stocks.
CFDs attract overnight costs to hold the trades, (unless you use 1-1 leverage) which makes them more suited to short-term trading opportunities. Stocks are more normally bought and held for longer. You might also pay a stockbroker commission or fees when buying and selling stocks.