US retail sales: American consumers still spending despite looming headwinds for economy
Subscribe to Weekly Highlights
The major market events for the week ahead right in your inbox.
Subscribe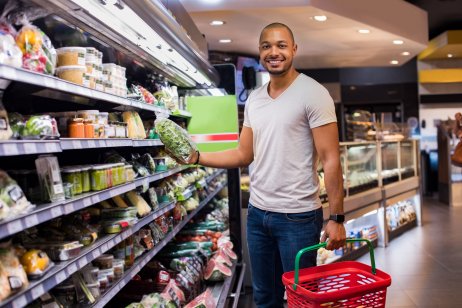 Content
After remaining flat in September, US retail sales recovered in October reflecting a still healthy consumer spending appetite despite high inflation and looming recession.
Will US retail sales maintain a recovery as economic headwinds are expected to heighten next year? Read on as we look at factors that shape current US retail sales and its outlook.
What are retail sales and how are they measured in the US?
Retail sales are a type of economic measurement that gauges consumer demand for finished goods. They track the purchase of durable and non-durable goods over a specified time period.
Retail sales are a key indicator of whether an economy is contracting or expanding. They also help to monitor indicators of inflationary pressure. The rise and fall of retail sales figures can have an impact on other markets, such as the equity and bond markets.
Good retail sales numbers bode well for shareholders of retail companies because they typically project potentially higher earnings. However, healthy retail sales could indicate higher inflation risks, which is not so good news for fixed-income investment such as bond holders as it could reduce real return of the bond.
The US Census Bureau reports retail sales each month. The sales figures are gathered from 5,500 retail and food service companies in the US retail industry via stratified random sampling. Their sales will be weighted and benchmarked to represent over three million retail and food service firms.
The sales data is collected from 13 different types of retailers as follows:
What is your sentiment on DXY?
Vote to see Traders sentiment!
Motor vehicle and parts dealers

Furniture and home furniture stores

Electronics and appliance stores

Building material and garden equipment, and supplies dealers

Food and beverage stores

Health and personal care stores

Petrol stations

Clothing and clothing accessories stores

Sporting goods, hobby, musical instrument and book stores

General merchandise stores

Miscellaneous store retailers

Nonstore retailers

Food services and drinking places
US retail sales history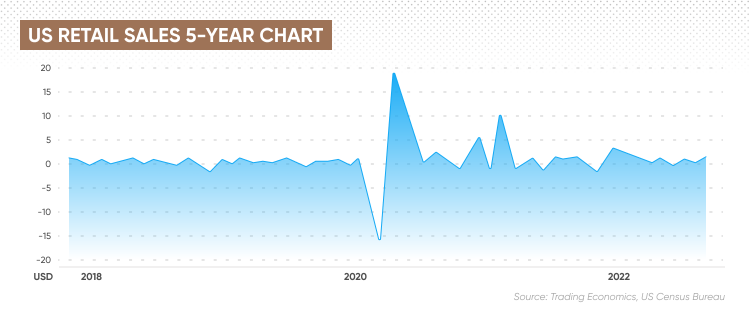 Retail sales in the US dropped to a record low of 15.2% in April 2020 as the Covid-19 pandemic forced consumers to stay at home, causing many businesses to close. Sales picked up in the following months but slowed again in the last quarter of 2020 as lack of government's support dampened spending.
In March 2021, the US retail market saw an 11.2% jump in sales as businesses gradually reopened and households received their first round of cash stimulus, according to data from the US Census Bureau and data aggregator Trading Economics.
For the remaining three quarters of 2021, US retail sales growth hovered below 2% as the resurgence of Covid-19 and rising fuel prices depressed the sales of goods. The shift from buying goods to spending more money for services, such as travel, and supply constraints due to logistics bottlenecks also contributed to slowing sales.
Additionally, the retail market in the US increased by 2.7% in January 2022, following a -1.6% decline in December 2021. Rising inflation and new Covid-19 cases did not dampen consumer spending.
However, retail sales in the US steadily declined in the following months and stalled in July at -0.4%, affected by tumbling sales at petrol stations and car dealers as consumers curbed spending due to surging domestic fuel prices.
In mid-June, prices of regular unleaded petrol and diesel surged to $5.06 a gallon and $5.816/gal, respectively, the highest prices on record, according to the American Automobile Association (AAA). Surging crude oil prices, partly stemming from the Russia-Ukraine war and falling in oil refining capacity in the US, had caused fuel prices in the country to soar.
Higher fuel prices helped push inflation in the US to the highest in 40 years at an annual rate of 9.1% in June.
Sales in the US retail market rebounded 0.7% in August as lower fuel prices provided some relief for American consumers. However, sales in the retail market in the US were unchanged in September as consumers cut back on spending due to persistently high inflation and interest rates.
By September, the US Federal Reserve (Fed) had increased the Federal funds rate to 3%-3.25%, from 0.25%-0.50% in March, to combat inflation.
What's driving retail sales in the US right now?
In October, retail sales recovered by 1.3% as high inflation did not deter consumers from spending. Petrol stations recorded the biggest increase, rising 4.1%, followed by the food services and drinking places at 1.6%.
In the first 10 months of 2022, petrol station sales recorded the biggest growth of 34.4%, followed by miscellaneous store retailers, and food services and drinking places.
Susannah Streeter, Senior Investment and Markets Analyst at Hargreaves Lansdown, said that recent sales reading in the retail market in the US showed mixed signals:
"On the one hand, overall sales were stronger than expected showing consumer resilience had not been knocked by super-sized interest rate hikes aimed at pulling down the price spiral. This has added to expectations that higher rates will have to linger for a lot longer to make a difference. But not all retailers are feeling the benefit of confident shoppers, with Target reporting a decline in sales, sparking falls for other department store chains."
What are the main drivers that keep US retail industry resilience?
Changing spending habits
Recent surveys from global consulting firm McKinsey and data intelligence Morning Consult showed that inflation has had a profound impact in changing consumers' spending habits.
A survey on 4,000 respondents in July by McKinsey showed 74% of the respondents were trading down. About 60% of these respondents said they traded down by either adjusting the quantity or pack size of their purchase or decided to postpone a purchase of non-essential items.
More lower income respondents delayed buying goods such as footwear, groceries, home improvement and apparel.
"People are also trading down by going to lower-priced stores, switching to brands that cost less, or adopting a buy now, pay later approach," according to McKinsey's survey.
Morning Consult's survey added that particularly for groceries, consumers save money by comparing prices, buying generic products and clipping coupons.
In terms of perspective, millennials were less likely to cut back on grocery purchases than Gen X and baby boomers because they were most likely to have children, the firm added.
"In addition, millennials are more likely to say they are cutting back on restaurants to save money, which might necessitate more grocery spending, or at the very least fewer cuts."
Changing finance management amid rising inflation
About 66% of consumers polled by McKinsey said they were taking action in response to rising inflation. Approximately 44% of this group chose to either dip into their savings or reduce the amount of money they save. 18% of respondents said they charged more on their credit card, and another 18% said they did not pay their bill in full.
According to a Morning Consult poll, consumers who have not made adjustments to deal with the current economic conditions are likely to do so if inflation continues to rise:
"For example, three-fourths of U.S. adults who said they did not delay purchasing electronics in the past month added that they are willing to do so if inflation intensifies, which could spell trouble for retailers this holiday season. Deals and discounts may not be enough to incentivise consumers to purchase these big-ticket items if economic conditions worsen."
However, the company stated that consumers have options that allow them to do what they want but at a different location or date, such as watching a movie at home rather than going to the theatre or looking for cheaper travel options.
"This demonstrates that consumers who have held off on making changes to save money are eager to maintain their lifestyles and routines," Morning Consult added.
US Retail sales forecasts
Data aggregator Trading Economics' US retail sales forecast expected month-over-month (MOM) retail sales in the US to trend around 1% in Q4 2022, steady at the same level in 2023 and to drop to 0.40% in 2024.
Keep in mind that analysts' forecasts can be incorrect. You should always conduct your own research before trading. Previous results do not guarantee future outcomes. Furthermore, never trade with money you cannot afford to lose.
FAQs
Why is retail sales one of key economic indicators?

Retail sales can project signs of inflation. A good retail sales indicates strong consumer spending appetite which may increase prices of goods and services, increasing inflationary risks.
What is the current US retail sales number?

Sales in the US retail industry increased 1.3% in October 2022 after remaining flat in September.
Will US retail sales go up or down?

No-one can predict accurately, as it will depend on many factors, including inflation and unemployment rates.
Related reading