US natural gas prices hit 10-day high, but Covid-19 surge in Europe hits demand for oil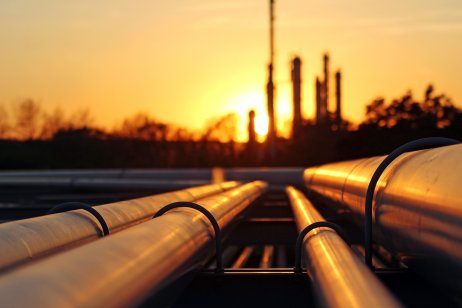 US natural gas reached its highest price in 10 days, trading at above $5.1 per million British thermal units. This is still down almost 17% from the six-year peak seen in early October. However, these prices remain on the higher side, as upward demand pressures continue.
The latest weekly update from the US Energy Information Administration (EIA) says the supply of natural gas has been squeezed this week due to a 1.7% decrease in production, while demand was up 6.8% compared to this time last year. Exports also remain strong.
Brent crude oil and US Crude oil traded at $82.17 and $78.39 respectively, both falling around 6% since yesterday. Demand outlook is weakening as new Covid-19 lockdown measures are implemented in Europe. Britain has imposed travel restrictions on journeys to and from six African countries.
Performance
Day range: $5.04 - $5.22
52-week range: $2.26 - $6.47
One-week change: -0.26%
One-month change: - 15.84%
Six-month change: 66.90%
One-year change: 72.60%
Day range: $81.72 - $82.58
52-week range: $46.82 - $86.70
One-week change: 4.16%
One-month change: -4.90%
Six-month change: 19.55%
One-year change: 71.90%
Day range: $72.60 - $78.65
52-week range: $43.92 - £85.41
One-week change: -3.49%
One-month change -11.34%
Six-month change: 10.51%
One-year change: 60.97%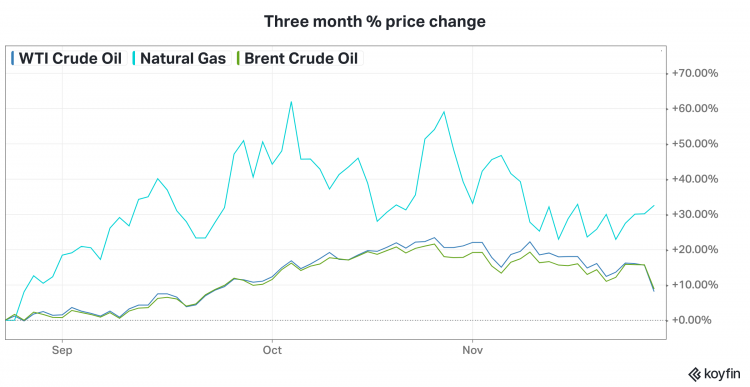 Three month percentage price change – Credit: Koyfin
Read more: BHP merges its oil and gas business with Woodside Petroleum