US mid-day: Seesaw week nears losing end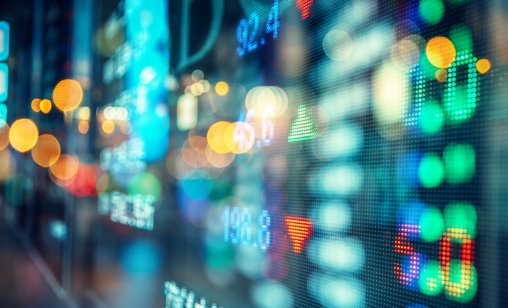 Major US indices have wobbled between gains and losses and are on pace for another down week after strong gains during the first half of trading on Thursday.
Halfway through Friday's session, the Dow Jones Industrial Average is down around 0.23%, the S&P 500 is up roughly 0.29%, while the Nasdaq Composite is approximately 0.77% higher.
At the closing bell on Thursday, the Dow fell 0.02%, the S&P went down 0.54%, and the Nasdaq slipped 1.40%. All three benchmarks were up at the midway point of yesterday's session.
Winners & losers: Vaccines mixed
In retail, Walmart is down around 0.43%, Costco is up near 0.51%, while Kohl's is almost 0.55% off and Target is roughly 0.54% higher.
In related stocks, shares of JB Hunt Transport Services are approximately 0.63% down, Amazon is off around 0.034%, and UPS is almost 0.40% in the red.
Health care shares are up and down during trading with Pfizer roughly 1.11% in positive trading, BioNtech up near 2.35%, while Moderna is approximately 3.23% higher and Johnson & Johnson is down almost 0.35%.
What is your sentiment on US30?
Vote to see Traders sentiment!
Oil: Targets winning week
Oil futures are up on Friday with West Texas Intermediate crude for March delivery spiking $1.67, or 1.9%, to $88.28 a barrel on the New York Mercantile Exchange, while March Brent crude, the global benchmark, was up $1.85, or 2.1%, at $91.19 a barrel on ICE Futures Europe.
In the energy sector, shares of ConocoPhillips are down around 1.37%, Hess is up near 1.29%, while Diamondback Energy is roughly 1.27% in the red and Chevron is approximately 4.55% in negative territory.
Gold: Sinks below $1,800
Gold futures are down to close the week as February gold lost 0.2%, or $4.90, to $1,788.20 an ounce, while silver for March delivery dropped 0.7%, or 17.1 cents, to $22.505 an ounce.
Forex: US buck pops
On Friday, one US dollar remains $0.90 of the euro, after falling to $0.88 on Monday, $1.28 of the Canadian dollar, after making up just $1.27 of the currency yesterday, and $0.75 of the Pound sterling after equalling just $0.74 on Wednesday.