US market close: Stocks rebound to end choppy week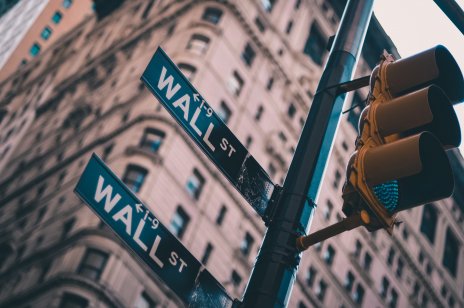 Wall Street churned up and down on Friday as the Dow Jones tacked on 564 points after trading in red territory at the midway point.
During the Friday session, the Dow Jones Industrial Average went up 1.65%, the S&P 500 increased by 2.43%, while the Nasdaq Composite climbed 3.13%.
At mid-day, the Dow was down around 0.23%, the S&P was up roughly 0.29%, and the Nasdaq was about 0.77% higher.
Winners & losers: Banking rises
In the banking sector, shares of Wells Fargo were up 0.80%, Citigroup was 0.84% higher, and JPMorgan was 0.89% in the green.
Meanwhile, First Republic Bank went up 3.02%, BlackRock went 2.52% higher, as Bank of America added 0.88% and Goldman Sachs popped 1.75%.
Elsewhere, shares of AMC Entertainment Holdings improved 3.72%, while GameStop increased by 4.84%.
Ride-sharing apps were trading green on Friday as Alibaba went up by 3.09%, Lyft added 2.35%, and Uber surged 3.29% higher.
What is your sentiment on US30?
Vote to see Traders sentiment!
Oil: Wins again
Oil futures were up on Friday to close their sixth winning week in a row as West Texas Intermediate crude for March delivery spiked 21 cents, or 0.2%, to settle at $86.82 a barrel on the New York Mercantile Exchange, while March Brent crude added 69 cents, or 0.8%, to settle at $90.03 a barrel on ICE Futures Europe.
In energy stock, shares of Hess are 1.53% higher, while Exxon Mobil and Diamondback Energy were up by 0.21% and 0.062% respectively.
Gold: Lowest since November
Gold futures went down on Friday as February gold lost 0.5%, or $8.20, to $1,784.90 an ounce, while silver for March delivery slipped nearly 1.7%, or 37 cents, to $22.301 an ounce.
Forex: US buck's up
On Friday, one US dollar remained 90 cents of the euro, after falling to 88 cents on Monday, $1.28 of the Canadian dollar, after making up just $1.27 of the currency yesterday, and 75 cents of the pound sterling after equalling just 74 cents on Wednesday.
The yield on the 10-year Treasury note fell to 1.779% from 1.807% on Thursday.