US market close: Market mostly down as Fed holds rates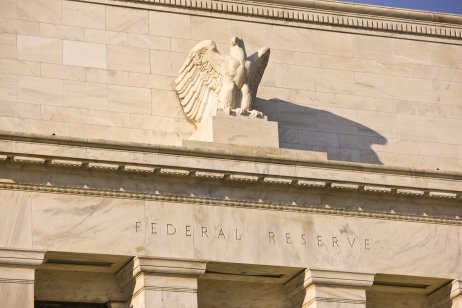 Stocks were mixed late on Wednesday as the US Federal Reserve decided to keep the federal fund rate in place, while targeting 2% inflation and maximum employment.
The Dow Jones Industrial Average lost 129 points, or 0.38%, the S&P 500 went down 0.15%, while the Nasdaq Composite clung to a 0.02% gain.
Halfway through the session, the Dow was approximately 311 points higher, or 0.91%, the S&P was up around 1.39%, while the Nasdaq was up roughly 1.97%.
Fed: pandemic drives economy
A statement issued by the American central bank on Wednesday shows the federal government feels the ongoing Covid-19 pandemic will continue steering the global economy in 2022, while increased progress in vaccinations are predicted to relax supply chain constraints and support ongoing economic activity and employment, thus cooling the record US inflation.
In the post-meeting news conference, Federal Reserve chair Jerome Powell said: "Against a backdrop of elevated inflation and strong labour market, our policy has been adapting to the evolving economic environment, and it will continue to do so."
Currently, "bottle-neck and supply constraints are limiting how quickly production can respond to higher demand," he said. "These problems have been larger and longer lasting than anticipated, exacerbated by waves of the virus."
According to the release, the committee will work to achieve maximum employment and inflation at the rate of 2% over the longer run.
What is your sentiment on US30?
Vote to see Traders sentiment!
Rate hikes
On Wednesday, the Federal Open Market Committee (FOMC) also decided to keep the target range for the federal funds rate at 0% to 0.25%.
With inflation well above 2% and a growing labour market, the FOMC thinks it will be appropriate to raise the target range for the federal funds rate soon, while maintaining a reduction on the monthly pace of net asset purchases and bringing them to an end in March.
Beginning in February, the committee will increase its holdings of Treasury securities by at least $20bn per month and by at least $10bn per month of agency mortgage-backed securities, according to the release.
Positive sign
In an interview with Capital.com, Joey Von Nessen, a research economist from the University of South Carolina, said today's Fed announcement is "generally a positive sign for the US economy."
"First, a willingness to raise interest rates signals a strong economic outlook from the Fed for 2022," he said. "Second, it shows an increased priority towards combatting our persistently high inflation rate – which is appropriate given the strength of the labour market."
Winners & losers: Tech buoys Nasdaq
As the Dow Jones and S&P slipped into red territory during afternoon trading, tech stocks held the Nasdaq higher as shares of Microsoft jumped 2.85% after the software company announced continued earnings growth and a strong cloud-services business.
In the other tech stocks, Nvidia improved 2.01%, Intel went up 1.35%, while shares of Texas Instruments surged 2.51% into the green following the company's reported higher revenue.
With rising Omicron cases around the globe, vaccine maker Pfizer is up 0.89%, Moderna is back in winning territory at 1.59%, while Johnson & Johnson is 0.51% in the green.
Oil: Best since 2015
Oil futures are up on Wednesday as West Texas Intermediate crude for March delivery spiked $1.75, or 2%, to settle at $87.35 a barrel on the New York Mercantile Exchange.
In energy stock, shares of Hess are down 4.11%, while Exxon Mobil is down 1.00% and Chevron 0.075% higher.
Gold: Yellow metal slips
Gold futures went lower during trading, falling 1.95% to $1,816.90 an ounce, while March silver lost 0.4% to $23.807 an ounce.
March copper added 1.5% to $4.515 a pound, and April platinum went up 2% to $1,045.90 an ounce.
Forex: US dollar stands firm
On Wednesday, one US dollar equalled $0.89 of the euro, after falling to $0.88 on Monday, $114.29 of the Japanese yen and $0.74 of the Pound sterling.
The yield on the benchmark 10-year Treasury note slipped to 1.779% Wednesday from 1.784% Tuesday.
Read more: Microsoft's peppy guidance helps left tech stocks