US market close: Dow, S&P, Nasdaq rise on earnings reports – will it last?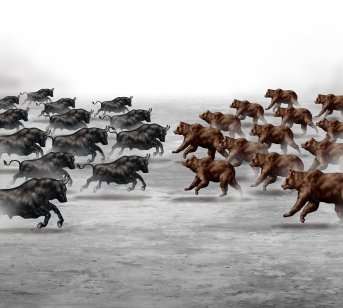 Wall Street investors may have overlooked larger market issues amid a string of midweek earnings reports, according to Piero Cingari, market analyst at Capital.com.
"After yesterday's severe losses, the stock market rebounded as investors positively digested another day of earnings, temporarily ignoring macro worries unfolding in Europe," he said. "While Microsoft (MSFT) marginally exceeded expectations, Alphabet (GOOGL) disappointed amid a drop in YouTube advertising revenues."
Cingari continued: "Visa (V) outperformed earnings per share estimates considerably by roughly 9% and was among Wednesday's top performers, while Meta (FB) is slated to report after hours, with S&P 500 giants Apple (AAPL) and Amazon (AMZN) taking stage tomorrow."
What is your sentiment on MSFT?
Vote to see Traders sentiment!
Visa Inc (V)
Look ahead: Fed rate hikes
Congari said the markets are now being driven by earnings reports, "but the focus may soon shift back to the macro, with the Federal Reserve's preferred inflation indicator, Personal Consumption Expenditure (PCE) announced on Friday."
"The Fed will meet again next week, and 50-basis point raise hike is predicted, alongside further details on quantitative tightening," he added.
Dow, S&P, Nasdaq: Tech index falls at bell
During the session, the Dow Jones Industrial Average (US30) added 61 points, or 0.19%, the S&P 500 improved 0.21%, while the tech-heavy Nasdaq Composite (US100) slipped just below the redline 0.01%, after spending most of the day in positive territory.
On Tuesday, the Dow shed 810 points, or 2.38%, the S&P dropped 2.82%, and the Nasdaq went 3.95% lower.
Winners & losers: Key tech shares hobble Nasdaq
Shares of Microsoft (MSFT) are up 4.81%, Apple (AAPL) is down 0.15%, while Alphabet (GOOGL) is 3.67% lower and Intel (INTC) is 0.66% in the red.
Shares of Texas Instruments (TXN) rose 0.56%, Advanced Micro Devices (AMD) fell 0.29%, as Nvidia (NVDA) dropped 1.99% and Roku (ROKU) slipped 7.63%.
Also on Wednesday, Twitter (TWTR) backpedaled 2.07%, Snap (SNAP) sank 5.58%, while Pinterest (PINS) and Meta (FB) decreased 2.76% and 3.32%, respectively.
Microsoft (MSFT)
Meta Platforms (FB)
Oil: Over $102 a barrel
Oil futures are up midweek as West Texas Intermediate crude for June delivery spiked 32 cents, or 0.3%, to close at $102.02 a barrel on the New York Mercantile Exchange.
In the energy sector, shares of Exxon Mobile (XOM) are 2.84% higher, ConocoPhillips (COP) is up 1.89%, while Occidental Petroleum (OXY) jumped 1.40% and Chevron (CVX) fell 0.18%.
In other energy shares, Diamondback Energy (FANG) added 1.00% as Hess (HES) rose 1.25%.
US Crude Oil
Gold: Two-month low
Gold futures are of on Wednesday as Gold for June delivery went down $15.40, or 0.8%, to close at $1,888.70 an ounce, and May silver shed eight cents, or 0.3%, to close at $23.46 an ounce.
Meanwhile, Pan American silver (PAAS) is off 1.26%.