US FDA approves an e-cigarette for the first time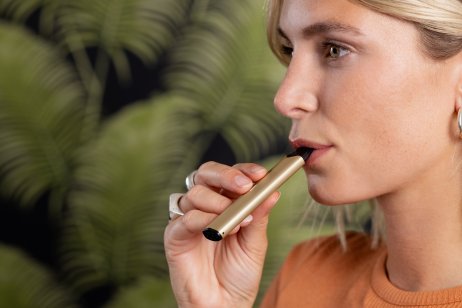 For the first time, the US Food and Drug Administration has authorised the sale of an e-cigarette.
The federal watchdog decided the chances of three RJ Reynolds products reducing youth smoking outweigh their potential harm. The FDA said the marketing of the products would be "appropriate for the protection of public health."
An RJ Reynolds power unit and two tobacco-flavoured cartridges sold under the brand name Vuse received authorisation.
Less toxic than traditional cigarettes
The FDA said Vuse aerosols are "significantly less toxic than combustible cigarettes" based on available data comparisons and non-clinical studies.
"The manufacturer's data demonstrates its tobacco-flavoured products could benefit addicted adult smokers who switch to these products – either completely or with a significant reduction in cigarette consumption – by reducing their exposure to harmful chemicals," said Mitch Zeller, director of the FDA's tobacco products centre in a news release.
"We must remain vigilant with this authorisation, and we will monitor the marketing of the products, including whether the company fails to comply with any regulatory requirements or if credible evidence emerges of significant use by individuals who did not previously use a tobacco product, including youth."
Evidence indicated that young people prefer vaping products that taste like fruit, candy or mint, and are less likely to switch to tobacco-flavoured vapes and start smoking traditional cigarettes, according to the FDA.
American Vaping Association lauds move
"A vaping product being recognised as 'appropriate for the protection of public health' by the Food and Drug Administration is an important development that could have positive impacts around the world," said the American Vaping Association (AVA) in a tweet.
The group advocates the use of vaping products to help conventional cigarette smokers quit.
Several e-cigarettes have been on the market in the US for more than a decade. Their sale has been allowed while the FDA, which began regulating the vaping industry in 2009, slowly introduces product standards.
Watchdog reviewing vaping industry
The FDA has been conducting a court-mandated review of the vaping industry for the past year but is behind schedule. The agency said in September that it has refused to allow 946,000 flavoured e-cigarette products to remain on the market. Most of the rejected products are made by small firms.
While authorising the sale of the three Vuse products on Tuesday, the FDA prohibited the sale of 10 Vuse Solo brand products and ordered any that are now on the market to be removed. The three authorised Vuse products must abide by "strict" digital advertising and television and radio advertising restrictions, the FDA said.
The watchdog said its authorisation does not mean the Vuse products are safe or FDA approved.
"All tobacco products are harmful and addictive and those (people) who do not use tobacco products should not start," the FDA said.
Read More: DraftKings doubles down on pro hockey