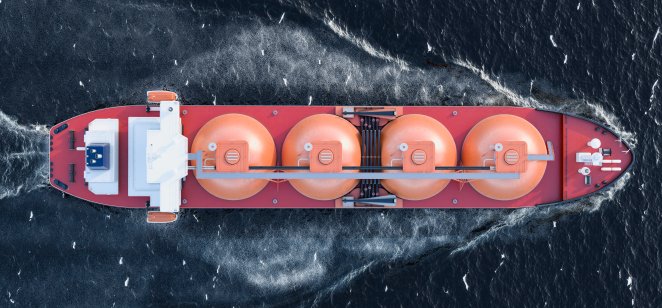 US liquified natural gas (LNG) producers expect their already-high number of shipments to Europe to grow as sanctions and embargoes are placed on Russian exports.
Over this winter, Europe became the largest consumer of American-produced LNG, consuming more than half of the total US shipments.
However, supply chain and capacity problem will hinder the natural gas industry's ability to export LNG to buyers in Europe and Asia, analysts and insiders told Capital.com over the last week.
Capacity limits
Shomik Sen, a data analyst at Gelber and Association, explained to Capital.com the natural gas industry can produce more LNG, but not quickly.
The US will increase LNG production capacity by 20% by the end of 2022, making it the largest exporter of the product as European countries aim to decrease their reliance on Russia.
For the last couple of years, natural gas production has been flat, causing a limited supply to be converted into LNG.
Data provided to Capital.com by Gelber and Associates show natural gas production is stuck at 88-92 billion cubic feet (Bcf) daily in recent years. Of that, around 13 Bcf a day is cooled to -162 degrees Fahrenheit (-108 Celsius) to create LNG, which is easier to transport and storage than natural gas.
Small increase won't be enough
Sen predicts production should increase to around 13.5 Bcf within the next nine months. That's a rise of only 0.5 Bcf.
Even with capital investments over the last few years, American natural gas companies cannot produce enough to meet global demand.
A new LNG facility on Louisiana's Gulf Coast will add a maximum capacity of 11 million metric tonnes daily, but that's far short of meeting demand. LNG companies are investing in new facilities, but these can take years to complete.
Even with additional facilities coming online, US LNG would only provide a sliver of European and Asian use. The continents have turned to other countries – notably Australia and Qatar. But producers there also have other long-term contracts to meet, according to Sen.
Europe
In January, the United States exported about 4.3 million metric tonnes of LNG to Europe, according to market data provider Kpler, accounting for about 60% of total exports. A year earlier, it was 10%.
The demand is so strong, two weeks ago Germany announced it is expediting the construction of two LNG terminals. Currently it has none, said Sen, adding it's unknown how long the construction will take.
Import terminals do not need liquefaction trains – instead using pipelines to get the LNG from the boat dock to the facility – but they do require regasification facilities.
LNG deliveries to Germany
With the recent cancellation of the Nord Stream 2 pipeline over Russia's invasion of Ukraine, Germany was left hurting for the fuel. German leaders – including the country's chancellor – said the country needs to explore different avenues to import LNG.
Germany currently gets LNG deliveries via terminals in Belgium, France and the Netherlands.
Other European nations are more prepared for LNG shipments. There are currently 37 LNG terminals in Europe, of which 26 are in European Union (EU) member states.
What is your sentiment on Natural Gas?
Vote to see Traders sentiment!
This winter, Europe was so in need of LNG and natural gas, at least 12 vessels from the US bound for Asia were redirected to European ports.
Roughly a third of gas used by European countries came from Russia. However, Gazprom's exports – Russia's energy giant – to EU nations dipped by 40% in January after President Vladimir Putin's sabre rattling.
February figures were not available from Kpler.
Price setting
The question of how demand will affect the price has industry insiders and analysts staying a bit mute.
"Pricing is a two-edge sword," said Alan Olsen, executive director of the Montana Petroleum Association.
On Wednesday afternoon, April contracts were up more than $4 to $4.75 per million British thermal units. Over the past week, prices have slipped and then climbed as traders anxiously watched how the US embargo of Russian oil and gas would play out.
However, on news that peace negotiations between Russia and Ukraine have advanced, traders are feeling less leery about the natural gas markets.
Manpower
The natural gas market isn't immune from the lack of manpower and supply chain issues, said Olson in an interview with Capital.com.
Across many natural gas basins, "help wanted" signs are as common as drilling derricks.
He said the natural gas industry – much like coal and oil – has feast or famine cycles. In 2019, the feast cycle stopped, and riggers travelled to outfits in Texas and Oklahoma.
Additionally, the industry is experiencing problems in obtaining necessary equipment, from sand for fracking to pipes to build the pipelines.
Read more: