US discounter Dollar Tree (DLTR) hits earning target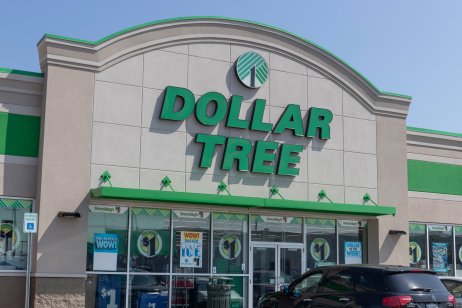 Dollar Tree said Tuesday diluted earnings for the third quarter dropped to $0.96 per share. Even though the number was 31% than the same period last year, the earnings per share number was largely in-line with the Wall Street consensus forecast, briefly pushing shares to a 52-week high.
Shares reach 52-week high
Share prices touched $142.39 in early morning US trading but fell to $138.66 by 10:00 ET (UTC-5). Dollar Tree's 52-week low was $84.26, set on 24 September 2021.
Overall, group revenue increased to $6.42bn for the 13 weeks ended 30 October, a jump of 3.9%, meeting analysts' estimates of $6.41bn. Same-store sales were up 1.6%–rising 2.7% at Family Dollar and 0.6% at Dollar Tree, the company said.
Net income grew 4.1% to $873.7m, up from $839.1m.
The Chesapeake, Virginia-based discount chain tightened full year guidance. Full year earnings should be between $5.48–$5.58 per share, versus prior estimates between $5.40–$5.60 per share with revenues coming in the range of $26.25bn–$26.41bn, compared to $29.19bn–$26.44bn previously guided.
What is your sentiment on DLTR?
Vote to see Traders sentiment!
No comment
Company executives refused to discuss Mangle Ridge Funds recently announced purchase of a nearly $1.2bn stake in the company with hopes of turning the discount retailer around.
The investment caused Deutsche Bank to upgrade Dollar Tree from "hold" to "buy". A note to clients stated the activist investors should help Dollar Tree revamp its Family Dollar chain, which has unperformed for a number of years.
"We don't publicly comment on private conversations we have with investors," said CEO Michael Witynski on the earnings call with analysts.
"Our customers understand the need to increase our prices."
by
CEO Michael Witynski, commenting on Dollar Tree's financial results
New prices
For years, the third largest discount chain by store count after Dollar General and Family Dollar has been known as a place where customers can buy anything from a three-pack of soap to ice trays for a buck. However, company officials said during the call, due to a myriad of factors, the chain will increase its price point to $1.25 in early 2022, especially in its food section.
The new price point, officials said, will not deter shoppers from the store. "Our customers understand the need to increase our prices," Witynski said, adding the increase will offset freight, wage and insurance increases.
Freight costs for the third quarter were "significantly higher than expected", the company said.
"Moving off the $1 price point will allow us to manage our business like it needs to be," he said.
He explained that by the end of the year, the chain plans to offer merchandise priced at $3 to $5 at stores known as "Dollar Tree Plus." By the end of 2022, company executives said they plan 2,000 locations of those stores.
Buyback
Dollar Tree did not repurchase any shares in the third quarter as it was preparing to announce and launch of its broader nationwide $1.25 price point initiative. The company repurchased 9.2 million shares in the first nine months of fiscal 2021 for $950m.
Read more: Dollar Tree (DLTR) stock up on activist's billion-dollar bet