US coal sees resurgence as power provider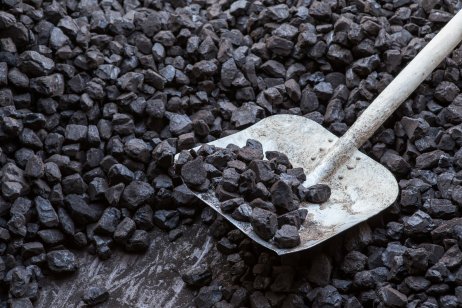 For the first time in five decades, coal-fired power plants are struggling to find supplies while trying to increase inventories ahead of the heating season, sending coal prices to a decade high.
Central Appalachian coal has seen a resurgence as a power generator and mining companies are seeing profits like they haven't in years. For the week ending 3 December, a short ton (2,000 pounds) was selling for $92.50 (£69.87), up $2.75 from the prior week and more than $10 the month before, according to the US Energy Information Administration.
This fall, Central Appalachian coal surpassed the $100 a short ton mark, the highest since 2008, which was the last time fossil fuel prices surged and doubled from the same period last year. Central Appalachian coal is mined in West Virginia, southwest Virginia and eastern Kentucky.
Mining companies are also seeing the benefits. On Monday morning, Peabody Energy was up nearly 2% to $9.84. Arch Coal was trading at $84.84, up 2% and CONSOL Energy gained 3% at $21.88. Peabody's shares are up sevenfold, and CONSOL's shares have tripled. This is compared to a 26% rise in the S&P 500 stock index.
Dwindling
PJM Interconnection is writing coal conservation plans for the cold days ahead. PJM operates the electricity grid that supplies power to about 20% of homes in the US. It's been reported the company is allowing steam plants to shutter if they have less than 10 days' worth of coal in inventory until April.
Power companies are reporting the same situation.
The EIA reports inventories in the American power sector are about two-thirds of the five-year average for this time of year.
13-year high
Not since cars were half a block long, bell bottoms were in style and Richard Nixon was in the White House have power plants reported such low supply levels of coal. This comes as they rush to build up their supply, pushing domestic thermal coal prices to 13-year highs.
Even with a short ton of Central Appalachian coal on the cusp of $100 on the spot market, coal companies are struggling to keep up, as most output is sold on the futures market. For the week ending 27 November, about 11 million tons of coal was mined, according to the EIA, down 135,000 tons from the prior week, but up slightly, 866,000, from the same period last year.
In the past decade, coal has lost market share to natural gas, wind farms and solar installation. The switch to alternative energy sources hindered finances for wild cat production.
"The ride has been bumpy and we're a bit bruised after the last few years, but the market is turning around. Many of us have ridden this rocket ship before, and we don't know where the stop is," one veteran mine operator told Capital.com. He asked not to be named for fear of offending his customers.
Natural gas
Not since 1885, when more Americans used wood as a source of energy than coal, has it been so out of favour as a radix of heat. Since 2010, US power providers have retired about 33% of all coal fired generating plants, with more closures scheduled. In 2019, the US consumed more renewable energy than coal for the first time.
In 2016, natural gas surpassed coal as the top power generation fuel in the US. Since then, coal has been on a slippery downward slope with renewable energy prices falling rapidly.
Don't count coal out, just yet. It continues to be a vital source of power, serving as a swing fuel to help other sources when renewables' output is low, and when natural gas prices are high.
Temporary
Those in the coalfields know this is a boom time and sometime in the future, it will be bust times again but for now, the coal operators say, the mines will continue to struggle to supply power companies' demands as the switch to clean energy shrinks the industry's market shares.
Read more: Coal shakes off the dust thanks to demand
Read more: Сoal market forecast: will thermal coal price rally end?