Unilever (ULVR) share price forecast: will investors boost stocks
Subscribe to Weekly Highlights
The major market events for the week ahead right in your inbox.
Subscribe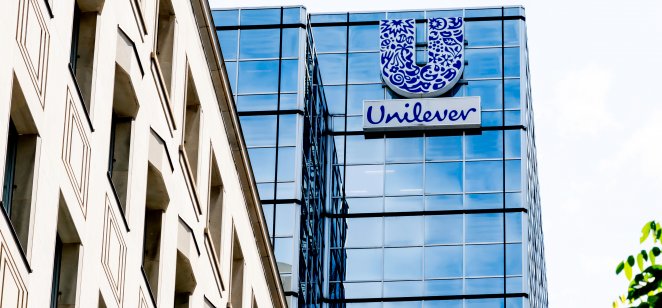 Content
Global fast-moving consumer goods (FMCG) giant Unilever (ULVR) was in the spotlight recently following a failed multi-billion-dollar bid to acquire a rival's consumer business, activist investor interest and a restructuring plan devised to accelerate stagnating growth.
ULVR investors have grown discontent with the company's slowing sales, poor mergers and acquisitions (M&A) track record, and management concerns. In the last five years, Unilever's share value has appreciated by a mere 14% as of 4 February. In comparison, Switzerland-headquartered Nestle has returned over 61% and US-based Procter & Gamble has surged 86% in the same period.
With billionaire activist investor Nelson Peltz's Trian Partners building a stake in Unilever and the company announcing its latest growth-oriented reorganisation, shareholders of the near century-old firm will be hoping for better things to come.
In this article, we will take a closer look at the road ahead for Unilever and whether it can kick-start its growth on the back of renewed optimism following recent developments. This article will also discuss Unilever stock performance, Unilever stock analysis, Unilever stock news and Unilever stock predictions for 2022 and beyond.
Stock analysis: How has the FMCG company fared recently?
According to Unilever historical share prices, its London-listed stock has fallen about 6% in the past year. Investors have preferred rival defensive stocks like food and beverage-focused Nestle, hygiene-oriented Procter & Gamble and chocolate-maker Hershey, which have seen share price rises of 17%, 27% and 38%, respectively, for the same period.
On 17 January, Unilever saw its worst day in more than two years, dropping nearly 7% after the company confirmed its interest in buying Sensodyne-owner GSK Consumer Healthcare.
"This concluded that Unilever's future strategic direction lies in materially expanding its presence in health, beauty and hygiene," the company
explained
.
However, Unilever abandoned its bid for GSK Consumer Healthcare saying it would not increase its offer above £50bn (£36.9bn, €43.7bn). Philip Gorham of research firm MorningStar said in a note:
"We believe that these assets would have improved the quality of the business model, but that a higher offer would have destroyed Unilever shareholder value."
On 25 January, Unilever gained 7.3% after the company announced plans to simplify its structure and organise itself around five distinct business groups: beauty & wellbeing, personal care, home care, nutrition, and ice cream.
"Growth remains our top priority and these changes will underpin our pursuit of this," said CEO executive Alan Jope.
Unilever's primary London-listed stock was trading at around £38.10 as of 4 February. Its 52-week high stood at £43.88 while its 52-week low was £34.50.
Unilever stock news: reorganisation and activist investors
As mentioned, Unilever is reorganising into five business groups. The company will be slashing 1,500 jobs globally as a result of the changes.
Analysts at investment firm Jefferies said the reorganisation could pave the way for the company to be split into various divisions to unlock value, adding that the split of the ice cream business from the broader foods business will facilitate "a whole or partial exit from either".
"ULVR has been adamant that the statement implies nothing about the direction of portfolio rationalisation. But the creation of category-aligned cost and asset bases must surely facilitate more options," added Jefferies.
A point reiterated by JP Morgan, which said in a note: "We believe the standalone [business groups] BGs structure should facilitate the potential separation (if needed) of certain low-growth businesses (eg food/nutrition and/or ice cream) as highlighted by Unilever's board in pursuit of major acquisition.
On 23 January, Reuters reported, citing internal sources, that Nelson Peltz's activist hedge fund Trian Partners had built a stake in Unilever. Market watchers believe the hedge fund may have a hand in the reorganisation plans, given the similar path taken by the likes of Procter & Gamble under Trian Partners.
Nelson Peltz has an impressive track record of helping companies turn around their fortunes – and has been appointed to the boards of FMCG firms P&G and Mondelez as well as asset managers Janus Henderson and Invesco among others. Procter & Gamble stock gained more than 50% during Peltz's tenure on its board between mid-December 2017 and August 2021.
In other news, Unilever announced that its chief human resources officer, Leena Nair, would be leaving the company to take up her new role as CEO of luxury fashion house, Chanel.
In November 2021, the Dove soapmaker revealed it had exited the tea business by selling 34 brands including Lipton and PG Tips to CVC Capital Partners Fund for €4.5bn.
Volume growth declines as Covid bites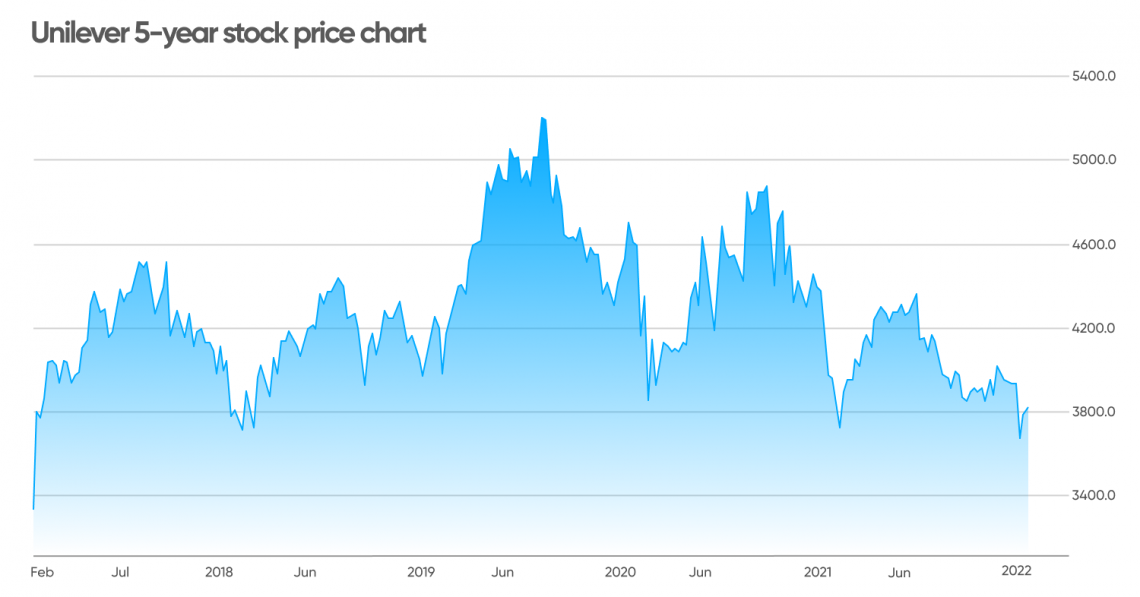 | | |
| --- | --- |
| Long position overnight fee | -0.0500% |
| Short position overnight fee | 0.0140% |
| Overnight fee time | 22:00 (UTC) |
| Spread | 60.00 |
| | |
| --- | --- |
| Long position overnight fee | -0.0500% |
| Short position overnight fee | 0.0140% |
| Overnight fee time | 22:00 (UTC) |
| Spread | 0.00350 |
| | |
| --- | --- |
| Long position overnight fee | 0.0436% |
| Short position overnight fee | -0.0680% |
| Overnight fee time | 22:00 (UTC) |
| Spread | 0.005 |
| | |
| --- | --- |
| Long position overnight fee | -0.0164% |
| Short position overnight fee | 0.0059% |
| Overnight fee time | 22:00 (UTC) |
| Spread | 1.8 |
In the third quarter of 2021, Unilever reported a turnover of €13.5bn, up 4% year-on-year.
Underlying sales growth during the quarter grew 2.5% compared with the same period in 2020.
The company declared a quarterly dividend of €0.4268. Unilever added that its share buyback programme of €3bn will be completed by the end of 2021.
However, the Magnum ice-cream and Hellmann's mayonnaise seller reported declines in volume growth across all segments of beauty and personal care, home care and foods, citing the impact of Covid-19 in Southeast Asian markets.
Unilever also warned of cost inflation remaining at "strongly elevated levels" and that would continue into 2022. The company has increased its pricing across most business divisions to counter increasing costs.
The company is expected to release its fourth quarter earnings results on 10 February 2021.
Analyst commentary: ULVR targets for 2022, 2025 and 2027
Research firm Morningstar in its latest report on ULVR has given the stock a fair value estimate of £43.00, representing an upside of over 11% on 4 February's trading price of £38.15.
"The law of large numbers is unfavorable for the large consumer companies, and moving the needle on Unilever's €50bn top line in a low-growth environment is challenging, especially as growth is largely being driven by niche, local, and artisanal brands," said Morningstar.
Moringstar rated Unilever medium in its ESG risk analysis saying the company's products are used by over 2.5 billion people every day, making it significantly exposed to product quality and safety risks.
Analysts at Jefferies rated ULVR stock a buy and set a price target of £46.50 for the stock, representing a potential upside of over 18.53% to current price levels.
"It looks like something more than the result of a Trian-provoked essay crisis and signals that ULVR is serious about the business of evolution and transformation. We expect the battle to continue, to the benefit of the share price, into the Q4 on 10 February and beyond," Jefferies said, referring to the company's recently-announced reorganisation amid activist investor pressure.
Investment bank JP Morgan in its latest note set a Unilever stock price target of £37.50, representing a downside of 1.7% to 4 February price of £38.15 for its London-listed stock.
"We rate Unilever underweight. High raw materials' input cost inflation will drag on margin both in 21E and 22E, with Unilever particularly exposed to high rate of inflation combined with higher volume elasticity (we expect negative volume/mix in 2022) and gross margin sensitivity," added JP Morgan.
According to analyst sentiment data compiled by MarketBeat, the consensus recommendation for ULVR stock, as of 4 February 2022, was hold. From a total of 12 analysts covering the stock, four rated it a buy, four a hold and four sell.
MarketBeat's data showed that the ULVR stock price target consensus stood at £42.08, representing a potential upside of over 10% on the 4 February price of £38.15.
According to an algorithm-based Unilever share price prediction from Gov Capital as of 4 February, the ULVR price could rise in a year by more than 94%.
Wallet Investor expected the Unilever stock market value to fall to about £35.61 by February 2023. It expects the Unilever share future price to fall to a maximum value of about £31.46 by 2025 and extend losses further to £26.94 by 2027.
When looking for Unilever stock predictions, it's important to bear in mind that analysts' forecasts can be wrong. Projections are based on making fundamental and technical studies of Unilever stock's historical price pattern, but past performance does not guarantee future results.
You should do your own research and always remember your decision to trade depends on your attitude to risk, your expertise in the market, the spread of your investment portfolio and how comfortable you feel about losing money. You should never invest funds that you cannot afford to lose.
FAQs
Is Unilever stock a good buy?

Analysts sentiment is currently mixed on Unilever, Morningstar rated the stock a buy with a fair value estimate of £43.00, while algorithm-based forecaster Wallet Investor expects stock prices to fall over the next few years, reaching £26.94 in 2027.

However, analysts' forecasts can be wrong and have been inaccurate in the past. When considering whether to invest in a stock you should always do your own research.
Why has the Unilever stock price been going down?

Unilever's stock prices have fallen in the past few months amid strong competition from rival stocks such as Nestle, Procter & Gamble and Hershey.
Is Unilever stock a buy, sell or hold?

As of 4 February 2022, analysts at Jefferies have rated the stock a buy, while at Market Beat, the consensus recommendation for ULVR stock, was hold, with four rating it a buy, four a hold and four sell.

However, whether or not a stock is a suitable investment for you will depend on your personal financial circumstances, risk tolerance and investment timeframe.
Related reading