UK retail footfall down one-third on pre-pandemic level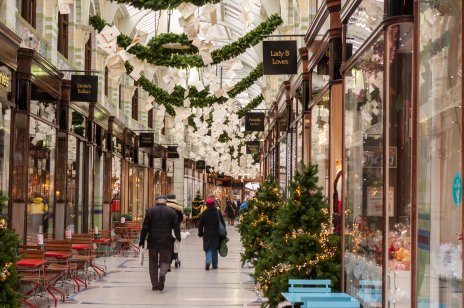 The number of shoppers on UK high streets climbed last year but remained well below pre-pandemic levels, figures published today by the British Retail Consortium (BRC) show.
Retail footfall was up 19.3% year-on-year, but down 33.2% on 2019. The biggest drop by city was seen in London, where footfall was down 26.7% compared its pre-crisis level, followed by Nottingham (​​-23.8%), Glasgow (-21.8%) and Birmingham (-19.7%).
At the other end of the scale, Belfast was down just 0.6%, with softer falls also seen in Liverpool (-11.2%) and Manchester (-12.9%).
Gloomy Christmas
The BRC found that UK footfall in December, usually the busiest month for retailers, was down 18.6% on 2019.
The impact was seen most in shopping centres, which saw 36.6% lower footfall than before the pandemic, followed by high streets, down 23.1%. Retail parks saw a more modest two-year decline of 9.2%.
"Much of the progress made over the last four months was wiped out in December as surging Omicron cases and new work-from-home advice deterred many from shopping in-store, particularly in towns and city centres," said BRC chief executive Helen Dickinson.
However, with the UK introducing fewer new Covid restrictions than some of its European neighbours, the December drop was less severe than in Germany (down 51.5% on 2019), Italy (-37%), Spain (-25.2%) and France (-23.5%).
Uncertainty ahead
England has stuck to its 'Plan B' Covid measures, including advice to work from home where possible and mask mandates for most public spaces, excluding hospitality venues.
The country looks unlikely to bring in further restrictions following Prime Minister Boris Johnson's speech on 4 January, though retail bosses have previously warned that even the current restrictions impact trade.
Scotland, Wales and Northern Ireland have introduced tougher measures, including the closure of nightclubs and limits on six people meeting in pubs, restaurants and bars.
"With Christmas out the way, time will tell if shoppers return to their local high streets to embrace January sales and the arrival of spring collections. Still, retailers may have to work twice as hard to tempt many consumers back into the cold this January," Dickinson said.
Read more: German retail sales fall as higher prices weigh