UK housing market: Barratt update underlines weakness of real estate stocks
Subscribe to Weekly Highlights
The major market events for the week ahead right in your inbox.
Subscribe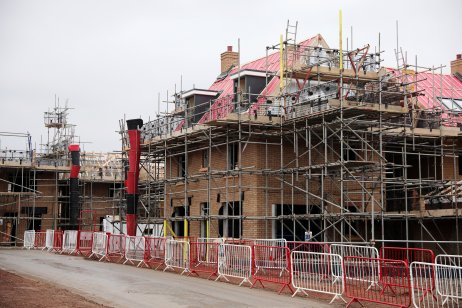 Content
UK housebuilder Barratt Development's (BDEV) latest trading update may not be surprising in its downbeat nature but provides further evidence of the tough times the sector - and those related to it - are going through.
Barratt has revealed that its sales rate and forward order book are both down and that it has introduced a hiring freeze.
As Russ Mould, investment director at AJ Bell explains, the biggest surprise from Barratt Development's very gloomy statement is that it's taken this long for collapsing confidence in the housing market to show up fully in its numbers.
What is your sentiment on BDEV?
Vote to see Traders sentiment!
Dislocation in mortgage market
Mould says: "While the extreme dislocation in the mortgage market which followed the mini-Budget can be characterised as a one-off event, higher borrowing costs for purchasers are here to stay.
"The big drop in Barratt's order book reduces visibility but should not come as a shock. When people are being warned house prices are going to fall by double digits in percentage terms, why wouldn't they put off any purchase and wait and see if their dream home becomes a bit more affordable."
Mould adds: "Barratt just needs to wait and see how bad things get. The company at least has a strong balance sheet to provide a buffer against weak trading and reward investors for their patience with dividends."
Ben Yearsley, investment consultant at Fairview Investing says trading updates are likely to be poor, given that share prices are down so much as they anticipate future events.
However, he argues that as long as those updates are little worse than expected then most of that bad news is already in the price.
"That probably holds true for the first six months or so of this year. After that, if the recession is worse than anticipated or the bank raises rates higher than expected, then you'll see more share price falls".
Mould takes a similar line: "Management is now starting to hedge its bets on its target for housing completions too, but the shares are not falling as much as perhaps you might expect given the lack of visibility and after last year's crunching declines and analysts' swingeing cuts to profit forecasts it may be that a lot of bad news is already factored into the housebuilders' stock."
What is clearly noticeable right now is that whatever pain is being felt, it is not just amongst housebuilders but amongst material suppliers and REITs too.
Biggest fallers over the past year
A scan through the biggest fallers in the FTSE 350, shows that Persimmon (PSN.L)is down 51%; Barratt down 38%; Vistry Group (VTY) down 38%; and
Taylor Wimpey (TW.) down 34%.
But they are also joined by building supplies firm Travis Perkins (TPK), down 40%; Shaftesbury REIT (SHB), down 42%; and Capital & Counties Properties REIT (CAPC), down 38%.
It is true REITs showed signs of recovery in November 2022 but that did not even come close to making up lost ground over the year - averaging a -18.42% total return by the end of 2022.
There were a few niche areas that held up well, for instance Student Housing, Data Centre and Casino REITs. But Office, Retail Mall, Land and Hotel REITs were all hit hard.
Building material suppliers Travis Perkins' numbers will inevitably depend on how far, if at all, housebuilders recover through the year. Other suppliers, including Ferguson (FERG) (formerly Wolseley) the plumbing and heating specialist, has also seen its share price slide over the last 12 months as housebuilding has experienced a slowdown.
Further pain ahead?
Should housebuilders expect further pain in 2023? Probably, but in some ways it is a difficult call, as Danni Hewson, financial analyst at AJ Bell explains:
"There's no way to sugar coat what's going on in the UK housing market. Confidence has flatlined as mortgages have become more expensive and house prices are falling. Demand is likely to remain supressed for much of the year as people wrestle with the cost-of-living crisis and uncertainty about their personal financial futures."
She says that for housebuilders there are tough decisions to make off the back of a tough year when share prices have tumbled and the cost of doing business was blisteringly expensive.
"It is telling that Barratt has announced a hiring freeze despite the past year when finding skilled labour in the sector was cited as a huge roadblock to growth."
Hewson adds: "Uncertainty is the watchword but ultimately the UK still wrestles with the age-old dilemma that demand outstrips supply and if housebuilders can keep costs down, can deliver what people want at a price they can afford - the market will keep moving."
"Smart planning, belt tightening and recognising when the pendulum is starting to swing the other way will all be crucial."
Related reading