UK employment rises as payrolls pass pre-pandemic level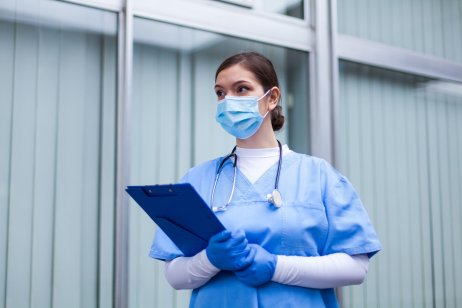 The UK employment rate continued to rise in the final months of 2021, with the number of payrolled employees overtaking its pre-pandemic level.
Initial estimates from the Office for National Statistics (ONS) showed there were 29.5 million salaried workers in the UK in December 2021, 409,000 more than in February 2020.
The data put the overal UK employment rate, which includes self-employed workers, at 75.5% in the period from September to November. That is 0.2% above the previous quarter, though still 1.1% below the last pre-pandemic quarter of December 2019 to February 2020.
The unemployment rate was estimated at 4.1%, which was 0.4% lower than the previous quarter and just 0.1% above its pre-pandemic level.
Staff needed
The number of job vacancies in the UK has continued to soar, hitting a new record high of 1.25 million between October and December.
That was up from 1.12 million in the previous quarter and 811,000 before the pandemic.
The biggest rise was in human health and social work – a sector that has for months been warning of a staffing crisis – followed by accommodation and food service activities, and professional, scientific and technical activities.
Labour market
"The ONS data shows there are now just 1.1 unemployed people per job vacancy, another record, but one that could create challenges for economic growth down the road," said Jack Kennedy, UK economist at jobs website Indeed.
"This tightness underlines the balance of power is firmly in the hands of job seekers. Employers are having to fight ever harder to prize recruits away from their existing jobs or persuade them to pass up job offers from other companies. This battle for talent is being fought primarily with ever-increasing wage rises."
ONS estimates released today showed a 3.8% increase in average pay excluding bonuses in the last three months of the year.
Figures published by Indeed showed average pay for nursing jobs on its site was up 6.8% year on year, construction sector wages were up 7.3% and food service pay had risen by 8%.
Inflation issues
Despite pay in some sectors rising, the ONS found there was no overall wage rise in real terms when adjusted for inflation, and single-month growth in average weekly earnings fell in November for the first time since July 2020.
"Those workers whose skills are in demand have every incentive to seek higher pay, in order to ride out the cost-of-living squeeze, with energy prices set to soar and tax hikes looming," said Kennedy.
As well as the hit to consumers' receipts and household bills, rising inflation is having a negative impact on businesses, which are seeing their input costs soar.
Matthew Percival, director of employment at the Confederation of British Industry (CBI), said: "Rising inflation means that squeezed incomes joins the difficulties firms are facing filling vacancies as major challenges in the UK labour market.
"To break this cycle and deliver sustainably rising living standards, the UK needs a plan to unleash business investment and raise ambitions for growth."
Furlough shake-off
This set of employment data was significant for showing the fullest picture yet of the aftermath of the UK's furlough scheme.
"The burden of the withdrawal of the furlough scheme at the end of September, and the Omicron hit to consumer services demand, has fallen squarely on the shoulders of employers, not their staff," said Samuel Tombs, chief UK economist at Pantheon Macroeconomics.
"Few people were fired when the furlough scheme ended and those that were quickly found new roles."
Future picture
Tombs believes employment growth will begin to slow from the strong pace seen over the past nine months.
"For a start, few people who want a job don't have one currently. The unemployment rate is only 0.4% above its pre-Covid low, while the number of people who are technically inactive – because they are not actively looking for work and available to start immediately – but say they would like a job equates to only 5% of the workforce, a record low share," Tombs added.
"In addition, April's increase in employers' National Insurance contributions likely will undermine demand for labour. At least immigration should pick up, as the impact of the pandemic on international labour mobility eases, but inflows will fall well short of the levels when the UK was an EU member.
"Accordingly, we expect quarter-on-quarter growth in employment to average 0.3% this year, down from 0.6% in the second half of 2021."
Meanwhile, with wage growth being supported temporarily by a surge in job-to-job moves, Tombs forecasts average weekly wages will rise by just 3.5% this year, well below the near-5% average rate of CPI inflation.
Monetary response
Three key measures of labour market slack are currently lower than when the Bank of England's Monetary Policy Committee voted to increase the bank rate to 0.5% in November 2017, Tombs observed.
The base rate was increased to 0.25% last month.
ING analysts Francesco Pesole and Chris Turner wrote that the jobs data was helping the pound hold up well amid general US dollar strength across the board.
"We think that the Bank of England's rate expectations (four hikes by the end of 2022) are overdone, but this morning's jobs data as well as tomorrow's CPI data – in our view – are set to do little to challenge the current hawkish bets," they said.
"Ultimately, this means that the pound's good momentum, which has remained immune to the UK's political noise – should remain broadly intact into the 3 February Bank of England meeting."
In late-morning trade in London the pound was down 0.23% against the dollar at $1.3617, and was 0.87% lower versus the euro at £0.8364.
Read more: CBI warns UK labour shortages could last for two more years