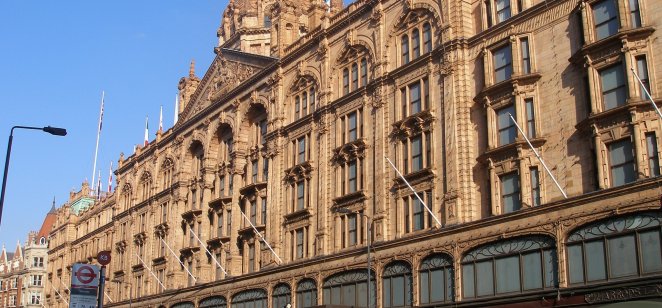 UK retail sales increased by 1.4% in March on a like-for-like basis from March 2017, when they had decreased 1% from the preceding year, according to the latest British Retail Consortium/KPMG report issued on Tuesday morning.
Headlined: "Rollercoaster ride in run-up to Easter", the report says that on a total basis, sales rose 2.3% in March, against a decline of 0.2% in March 2017. This is above the three-month and 12-month averages of 1.8% and 1.9% respectively, but is positively distorted by the timing of Easter.
There is hope that, with the gap between inflation and wage growth finally narrowing, consumers' purse strings will slacken
by
Helen Dickinson, British Retail Consortium
Over the three months to March, in-store sales of non-food items declined 3% on a total basis and 4% on a like-for-like basis. On a 12-month basis, the total decline was 2.2%. Over the three months to March, food sales increased 4.2% on a like-for- like basis and 5.3% on a total basis. This is the strongest three-month average since July 2009 and above the 12-month total average growth of 4.4%, which itself is the highest since March 2012, says the report.
Over the three-months to March, non-food retail sales in the UK decreased 1.8% on a like-for-like basis and 1% on a total basis. This is below the 12-month total average decrease of 0%.
Online sales of non-food products grew 7.9% in March, against a growth of 6.6% in March 2017. This is above the three-month and 12-month averages of 6.6% and 7.8% respectively. Online penetration rate increased from 20.6% in March 2017 to 22% in March 2018.
Modest growth despite poor weather
Helen Dickinson, BRC chief executive (left), said: "March paints a volatile picture for sales, which experienced peaks and troughs to deliver some modest growth on last year. The positive distortion from the timing of Easter pushed sales up by over 15% during the holiday week compared with the rest of the month, only just making up for a sub-zero performance at the start of the month.
"There's no doubt that the 'Beast from the East' and its successor played a significant role in deterring shoppers from making store visits. But it didn't dampen consumers' appetites towards food purchases, which saw the anticipated spike from the Easter festivities.
"This was in stark contrast to non-food sales which, despite some promotional- driven activity, bore the brunt of consumers' disinterest in typical springtime purchases, as well as the ongoing spending squeeze on non-essentials.
"There is hope that, with the gap between inflation and wage growth finally narrowing, consumers' purse strings will slacken to some extent. But the grip on spending power will persist over the course of the year."
Easter boost disappointing
Paul Martin, Head of Retail, KPMG, was less effusive when he added: "March was difficult for large parts of the UK retail industry. Seemingly endless cold weather dissuaded would-be shoppers from the high street and a number of retailers delivered bad news.
"Great hopes were placed on Easter trading, but whilst the latest figures point to overall improvement when compared to recent months, the Easter boost didn't quite measure up to previous years.
"The divide between food and non-food sales became further pronounced, with food clearly the winner. This came at the expense of other categories, with few others noting growth.
"Retailers with an online presence were far more fortunate, with a marked lift in all categories. The cold weather clearly persuaded shoppers to peruse from the comfort of their own homes, with beauty and clothing grabbing the most attention.
"The start of 2018 has already seen a list of casualties, and with trading conditions unlikely to change in the short-term, retailers are increasingly having to be clear on their point of differentiation. It appears that unless you're a grocer, bridging the gap between online and off-line sales offers the best means of success in this climate."
Recent retail casualties
The most recent of the casualties referred to is Conviviality, the owner of, amongst others, the iconic Bargain Booze. Given the strong demand for low-priced alcohol in the UK, the blame for its plight lies surely with bad management.
"How is it even possible to go bust selling bargain booze to the British?" is one immediate reaction. On the high streets of some struggling towns in middle England, it is almost possible to hear the tumbleweed bowling along.
Conviviality, whose website seems to have stopped carrying jaunty press releases last August, joins a roster of names disappearing from Britain's retail landscape which includes Toys R Us and Maplins Electronics.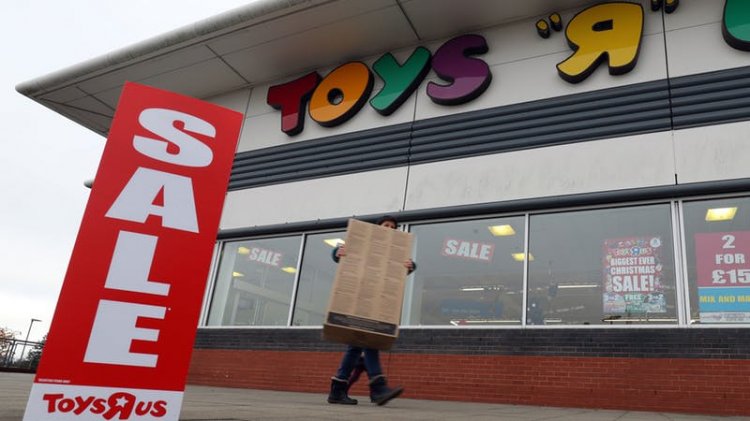 Toys R Us was a casualty this year of tightening purse strings and changing shopping habits: PA Images
Specialist parent and child retailer Mothercare and private equity-owned Italian-style casual dining chain Prezzo have also had trouble with economic headwinds forcing them into attempts at a voluntary arrangement to ease worsening financial positions.
Even personal products maker PZ Cussons has been having difficulties. A trading update issued in mid-March said: "The UK washing and bathing division has continued to experience lower levels of purchases reflecting consumer caution across all retail channels caused by economic uncertainty and inflation out-stripping wage growth.
"Whilst new product launches have been well received, they have not had the desired uplift in sales to compensate for the wider volume and margin shortfall."
Dare one suggest that if people are cutting back on soap to save money, that does not bode well for the wider economy?
Shop price deflation
Earlier BRC figures further call into question the central bank ivory tower notion that the UK is participating in some kind of global synchronised recovery. These figures show that shop price deflation deepened to 1% in March from 0.8% in February.
Shop prices have been deflationary for 59 months now and this is the deepest deflation since February 2017.
Deflation in non-food prices eased in March, with prices decreasing at a rate of 1.9% compared to February when prices declined by 2.2%.
Food inflation slowed down substantially in March, inflation standing at 0.4%, down from 1.6% in February. This is the lowest food inflation rate since February 2017.
Fresh food inflation slowed to the lowest rate since March 2017. Prices increased by 0.3% in March on the same month last year, compared to 0.9% in February. This is the lowest rate of inflation since March 2017.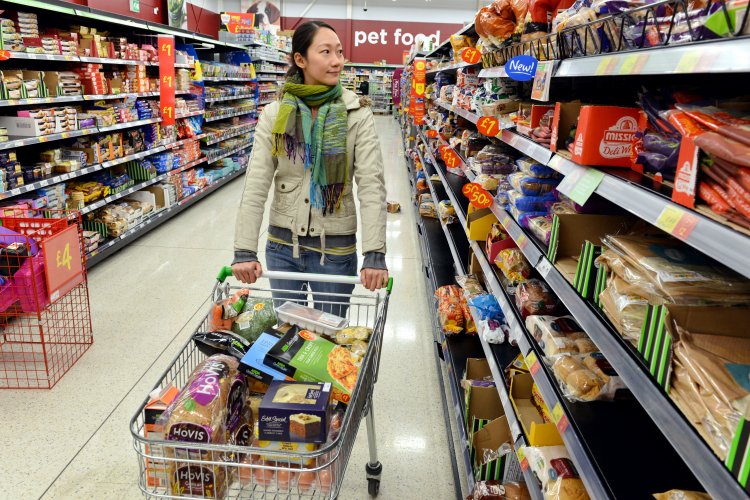 Food inflation slowed down substantially in March: Shutterstock
The ambient food inflation rate was lower in March by close to two percentage points compared to February. Ambient prices increased by 0.6% in March on the previous year, while in February inflation stood at 2.5%. This is the lowest rate since February 2017.
Value seekers increase
Joanne Denney-Finch, chief executive, Institute of Grocery Distributors (IGD), noted that spring performance is often hard to judge, with varying Easter dates making for difficult year on year comparisons.
"The bad weather conditions businesses have faced this season add further complexity - April trading may give us a clearer picture," she said.
"Despite this, UK grocery retailers reported growth last month. Price change continues to provide some support, but there are now signs that inflation is slackening, both in the grocery market and wider economy. This, coupled with rising wages, may encourage shoppers to spend more as the year progresses.
"For now, IGD's most recent ShopperVista data suggests that most remain cautious about economic outcomes. Value-seeking behaviour is actually becoming more common, with 46% of shoppers saying they always look for the cheapest products even if it takes time to find them (up from 40% in March 2017)."
This suggests that an increasing number of people are shopping at value chains such as Germany's Aldi and Lidl, and even the UK's cut price B&M, and less at the upmarket Waitrose and Marks and Spencer chains.
B&M, incidentally, sells Lindeman's Winemaker's Release Shiraz Cabernet Sauvignon at £4.99 a bottle. Waitrose sells exactly the same wine at £8.99 a bottle.