Sotheby's auctioning Twitter NFTs to benefit health-care charity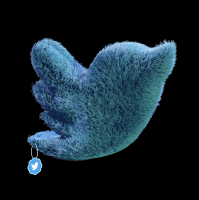 Sotheby's launched a new non-fungible token (NFT) auction Monday offering seven lots of Twitter-related original art awarded earlier this year to 140 Twitter users. Proceeds from the sale, which closes on 30 November, will go to public health-care worker charity Sostento.
Bidding began at 4 pm EDT (UTC-5) Monday over the auction house's Metaverse NFT auction site. Bids on six of the lots are currently $50 (£37.32), while one NFT 'Furry Twitter' (pictured) is up to $200. The original distribution NFTs were minted by Twitter and given at random for free to 140 followers of the platform's eponymous account.
The sellers represent seven of the 140 initial recipients of the Twitter NFTs, which represent various milestones and company memes.
"These seven lucky strangers have united to sell the full set of seven NFTs with proceeds aiding Sostento and its critical mission in supporting front-line health workers save lives and the organisation's long-term effort to end the Covid-19 pandemic and the opioid overdose crisis," Sotheby's said in a release announcing the auction.
Seven besties passing it forward
The original Tweet, from 30 June, reads "140 free NFTs for 140 of you, besties." The recipients have since become known as Besties. Some of the NFTs have already traded hands over NFT marketplace OpenSea, according to theblockcrypto, having generated over $5.30m in trading volume and a minimum bid of $281,000, as of August.
"We are so proud to partner with Sostento for this incredibly important auction in support of the courageous front-line health care workers battling the Covid-19 pandemic and the opioid crisis," said Sotheby's global head of Science and Popular Culture Cassandra Hatton.
"As NFTs continue to be adopted by nearly all facets of popular culture, it is exciting to see a company like Twitter use NFTs that will ultimately benefit such a worthy cause."
NFTs inspired by donation
The NFT minting and giveaway were inspired by Twitter CEO Jack Dorsey selling a digital representation of his first-ever Tweet over the microblogging platform for $2.90m in March 2020. Dorsey donated the proceeds to Covid-19 relief charities focussed on Africa.
"Over the past 18 months, since the onset of the Covid-19 pandemic, it has become increasingly urgent that the demand for support from front-line health-care workers was far outpacing the traditional means of providing it," added Sosento CEO Joe Agoada.
"The genesis of this sale is from our exploration of NFTs as a way to bridge that gap, and it is incredibly exciting to work side-by-side with Sotheby's in bringing together the NFT community in the spirit of giving for our health-care heroes, and it's all happening on the biggest stage possible," said Agoada.
Partnership with cryptocurrency donation platform
Sosento has a partnership with cryptocurrency donation platform The Giving Block.
"We are so proud to be partnering with Sotheby's, Sostento, and others to make this event possible," added Giving Block co-founder Pat Duffy. "So many charitable causes are not equipped to accept cryptocurrency and we are thrilled to provide that service. Together, we are all changing the world for the better."
Read more: Sotheby's Metaverse NFT auction hits 7,500 average per lot price