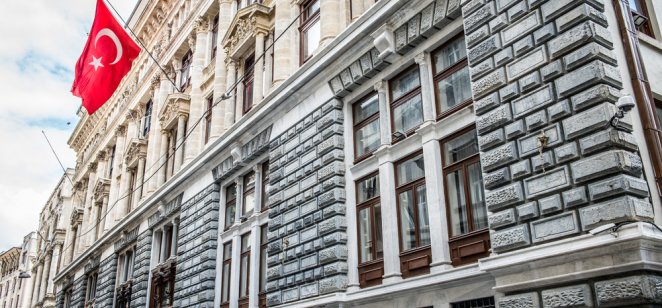 Despite mounting inflation, the Central Bank of the Republic of Turkey (CBRT) left interest rates unchanged at 14% sending the Turkish lira (TRY) lower against the US dollar.
The fall in the Turkish lira was less than 1%, unlike the dramatic falls seen over the past few months after a monetary policy meeting of the Turkish central bank. This was largely because it kept rates on hold rather than cutting them.
After the meeting on Thursday (March 17) the USD/TRY exchange rate was 0.96% higher at 14.73.
Central bank expects disinflation
Despite consumer price inflation being higher than 50%, the Turkish central bank expects that its actions will soon result in disinflation.
"The [Monetary Policy] Committee expects the disinflation process to start on the back of measures taken and decisively pursued for sustainable price and financial stability, along with the decline in inflation owing to the base effect and the resolution of the ongoing regional conflict.
"Accordingly, the Committee has decided to keep the policy rate unchanged," the bank said in a statement.
"While the cumulative impact of the recent policy decisions is being monitored to create an institutional basis for sustainable price stability, the comprehensive review of the policy framework continues with the aim of encouraging permanent and strengthened liraisation in all policy tools of the CBRT," the statement added.
Experts see inflation rising
Experts predict that the bank will actually cut rates next rather than going by the conventional logic and raising rates.
Jason Tuvey, senior Emerging Markets economist at Capital Economics, said in a note: "The further worsening of the inflation picture and downward pressure on the lira were, once again, not enough to persuade Turkey's central bank to raise the one-week repo rate from 14.00% today.
"If anything, we suspect that the next move in rates is more likely to be down than up."
Tuvey added that unlike the Turkish central bank's expectations, inflation is not likely to go down in the country anytime soon: "The war in Ukraine has only added to the inflationary risks by pushing up commodity prices. We expect inflation to hover around 55%–60% this year.
"At the same time, the backdrop of Turkey's poor external position means that risk-off sentiment has weighed on the lira, which is now down by around 9% against the dollar since the start of the year," he said.
Read more