TSMC leads European push for chip security: Taiwan firm plans German foundry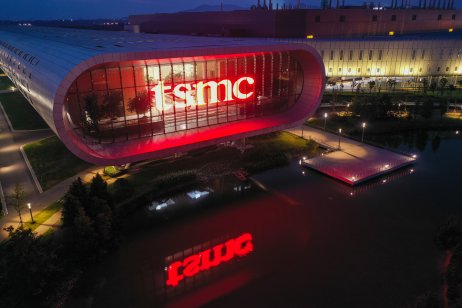 Taiwanese semi-conductor maker TSMC (TSM) is close to setting up its first European plant in the German city of Dresden.
According to a report in the FT, the world's largest chipmaker hopes to capitalise on increasing demand from the area's car industry.
It is believed TSMC is sending a delegation of senior management to Germany in early 2023 to discuss the level of government support for the prospective plant as well as the capacity of the local supply chain to meet its requirements.
Earlier this year TSMC executives visited Germany for initial discussions over locally manufactured supply of chips. However, due to the invasion of Ukraine, and a temporary drop in demand, the move was put on the backburner.
Now it seems increasing demand from Europe's carmakers for easily accessed chips has encouraged a rethink at TSMC .
A final decision on whether to invest billions of dollars in a German plant, which could begin construction as early as 2024, is expected to follow soon after this second visit, the report said.
TSMC share price chart
TSMC's enthusiasm for opening non-Asian-based manufacturing facilities has been evident for some while.
Last month, TSMC revealed plans to construct a second chip factory in Arizona in addition to an already standing commitment to build one factory there.
In a statement at the TSMC commented: "In light of the strong customer demand we are seeing in TSMC's advanced technology, we will consider adding more capacity in Arizona with a second fab based on operating efficiency and cost economic considerations."
Opening a plant in Europe certainly makes sense for the same reasons as in the US.
Analysts are encouraged by TSMC opening manufacturing sites in Arizona, US, effectively reducing risk from geopolitical tensions due to its regional concentration in Asia.
Analysts also like the fact that TSMC has such a dominant market position, making chips for key clients including Apple (AAPL), Nvidia (NVDA) and Qualcomm (QCOM).
What is your sentiment on TSM?
Vote to see Traders sentiment!
European ventures?
But what about other chip manufacturers, will they likely follow TSMC's lead and set up factories in Europe?
Certainly, the likes of Intel (INTC) and Samsung (SMSN) have made no secret of their desire to expand capacity.
Samsung is constructing a new semiconductor factory in Texas. Announced last year, the company plans to invest $17bn in this facility - its second chip plant in the US.
Along with TSMC – the big three chip manufacturers are expected to invest around $380bn over the next decade in new factories – while this may include plants in Taiwan and South Korea, US, Japan, Germany, Ireland and Israel are expected to figure in this broader thinking.
As is the case with the Dresden proposal, any expansion into Europe will depend much on both government and supplier support to progress a new factory from concept to reality.
Given that the worldwide semiconductor market is predicted to hit $1tn in value by 2030, for chip manufacturers the demand equation looks healthy for the medium term – assuming they can set up European operations speedily.
And there is certainly a bullish sentiment towards major players in this market right now
Last month, shares in TSMC soared after it was confirmed Warren Buffett's Berkshire Hathaway had snapped up a stake of around $4.1bn in the semiconductor giant.
When the likes of Warren Buffett see long-term value in a stock – the market normally takes note.
Marketbeat currently rates TSMC a 'moderate buy' with a consensus price target of $116.57 – the stock is currently at the $75 level.
Marketbeat also rates Samsung a 'buy' at $40.60 and Intel a 'hold' at $25.97.