Trump Media sponsor's shares skyrocket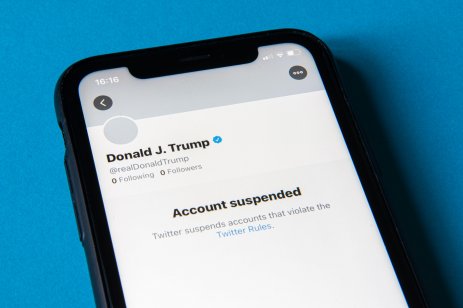 Shares skyrocketed Thursday morning for the special acquisition vehicle that has made a deal to take Donald Trump's new social media and content venture public.
Digital World Acquisition shares rose by more 45% in the first 15 minutes of trading on Nasdaq, to $14.99. The company's warrants, which entitle holders to purchase one share for $11.50, soared from 51 cents on Wednesday to over $4 at the open.
Digital World was listed on Nasdaq in September and described its focus for acquisition targets at the time as "middle-market emerging growth technology-focused companies in the Americas, in the SaaS and Technology or Fintech and Financial Services sector".
Now it is bringing Donald Trump's media vehicle to market.
Introduced by news release
Trump Media & Technology Group announced the transaction on Wednesday evening with a press release.
"Trump Media & Technology Group's mission is to create a rival to the liberal media consortium and fight back against the 'Big Tech' companies of Silicon Valley, which have used their unilateral power to silence opposing voices in America," the news release proclaims.
TMTG says it plans to launch its own social media platform, TRUTH Social.
"I created TRUTH Social and TMTG to stand up to the tyranny of Big Tech," the news release quotes the former president as saying. "We live in a world where the Taliban has a huge presence on Twitter, yet your favorite American President has been silenced."
TMTG also plans to roll out a streaming service called TMGT+ and TMTG News, according to the release and content on The TMTG website also refers to TMTG News and a streaming service called TMTG+.
Read more: Donald Trump to launch media venture via Nasdaq SPAC merger
The difference between stocks and CFDs
The main difference between CFD trading and stock trading is that you don't own the underlying
stock when you trade on an individual stock CFD.
With CFDs, you never actually buy or sell the underlying asset that you've chosen to trade. You
can still benefit if the market moves in your favour, or make a loss if it moves against you.
However, with traditional stock trading you enter a contract to exchange the legal ownership of
the individual shares for money, and you own this equity.
CFDs are leveraged products, which means that you only need to deposit a percentage of the full
value of the CFD trade in order to open a position. But with traditional stock trading, you buy the
shares for the full amount. In the UK, there is no stamp duty on CFD trading, but there is when
you buy stocks.
CFDs attract overnight costs to hold the trades, (unless you use 1-1 leverage)
which makes them more suited to short-term trading opportunities. Stocks are more normally
bought and held for longer. You might also pay a stockbroker commission or fees when buying
and selling stocks.