Trump connection lifting some obscure companies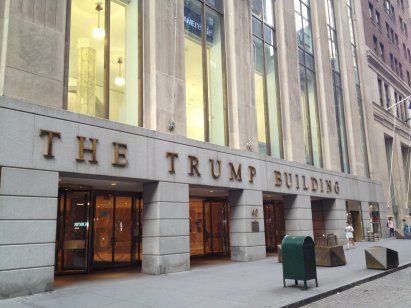 While Digital World Acquisition Corp. shares have skyrocketed over 1100% since news broke that the blank cheque company was taking Trump Media & Technology Group public via a SPAC merger, other small-cap stocks have ridden seemingly tangential relationships to DWAC and the former president to new highs – and valuations.
For example, Phunware, an Austin, Texas-based software developer, which contracted on the Trump-Pence 2020 Campaign's social media effort, has traded up over 654% since Thursday's $1.58-per-share opening price to open trading Monday at $11.92. Trading volume topped 188m shares as of noon Monday, versus a 16m daily average, according to Nasdaq.
Phunware, which trades over the Nasdaq Exchange under the ticker PHUN, has seen its market capitalisation go from under $80m (£58.10) as of Wednesday morning's market close to over $1.3bn Friday morning, when Phunware shares hit a 52-week high of $24.04.
Phunware reported loss
For the most recent period, Phunware reported an $8.3m loss in the 2Q 2021, or 12 cents per share, on $1.4m of revenue. For the full year 2020, Phunware reported a $22m loss, or 50 cents per share, on $10m in revenue.
"Trump likes Phunware (see: 2020 re-election campaign). Trump needs to build out a social media app. Phunware can make a social media app. Ipso facto...Trump will use Phunware to create TRUTH," explained The Water Coolest in its Monday report.
Users on the Reddit forum r/WallStreetBets have gotten in on Phunware as well, with user Turbulent-Sort2964 posting "PHUN run lol" Monday morning.
Trump connection
Phunware isn't the only company seeing share price spikes on Trump speculation. Conservative media outlet Salem Media Group has seen its shares rise over 43% since the DWAC acquisition announcement. The connection? Sebastian Gorka, a former Trump administration deputy assistant and National Security Board Education Board member, hosts a radio programme on Salem Media.
Benessere Capital Acquisition Corp., a separate SPAC run by DWAC CEO Patrick Orlando, which closed Thursday at $10.11 per share, has seen its shares rise over 77% to open Monday at $17.93. Orlando is also CEO of Yunhong Capital Acquisition Corp, which after a mid-session spike Friday, has seen its shares move back in line with the pre-merger announcement price range.
Read more: Donald Trump to launch media venture via Nasdaq SPAC merger