Trading natural gas: What causes price fluctuations?
Subscribe to Weekly Highlights
The major market events for the week ahead right in your inbox.
Subscribe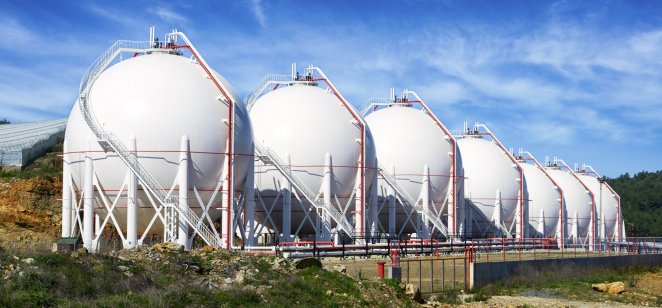 Content
Natural gas prices on Europe's benchmark Dutch Title Transfer Facility (TTF) fell for a third session on Tuesday to below €190 per megawatt hour (MWh) as supply concerns continue to play on the minds of traders.
By contrast, the price of US natural gas on the Henry Hub rose to $8.3 per million British thermal units (MMBtu) - with warmer weather forecasts adding some price support.
US natural gas price chart
"The bullish weather shift for week two — with strengthening heat over the Midwest potentially bringing 90°F temperatures to Chicago — added 5 Bcf of cooling demand in a notable counterseasonal warming in the third week of September. With coal and nuclear units entering maintenance, it may result in an elevated call on gas-fired demand," EBW Analytics said in a note to clients on Tuesday.
As Capital.com previously pointed out, natural gas prices are linked to weather and such consequential changes in demand – when it's cold, customers use gas-fired heating; when it's hot, they use air conditioning, which uses electricity generated by gas-fired power stations. Weather has a bigger impact on spot prices than on futures prices.
Read on to find out what other factors are worth keeping an eye on that could cause natural gas prices to fluctuate in the coming weeks.
What is your sentiment on Natural Gas?
Vote to see Traders sentiment!
Ukraine-Russia conflict
It was reported on Monday that Ukraine had made advances against Russian troops, reclaiming territory as it continues its counter-offensive.
For the market, natural gas on the TTF fell to its lowest level in seven weeks following the news, perhaps raising hopes that the war will end earlier and ease the energy crisis.
History has taught us that sentiment can play a major role in how the markets move, regardless of the outcome.
Nord Stream 1 closure
At the time of writing, flows of natural gas from Russia to Europe via the key Nord Stream 1 pipeline remained suspended - a tit-for-tat move by Moscow following Western sanctions.
Europe had relied heavily on Russia for its natural gas and thus this limiting of supplies of the commodity to the bloc has also put upward price pressure on natural gas futures.
| | |
| --- | --- |
| Long position overnight fee | -0.0062% |
| Short position overnight fee | 0.0023% |
| Overnight fee time | 22:00 (UTC) |
| Spread | 0.020 |
| | |
| --- | --- |
| Long position overnight fee | -0.0157% |
| Short position overnight fee | 0.0013% |
| Overnight fee time | 22:00 (UTC) |
| Spread | 0.03 |
| | |
| --- | --- |
| Long position overnight fee | 0.0436% |
| Short position overnight fee | -0.0680% |
| Overnight fee time | 22:00 (UTC) |
| Spread | 0.005 |
| | |
| --- | --- |
| Long position overnight fee | -0.0061% |
| Short position overnight fee | 0.0025% |
| Overnight fee time | 22:00 (UTC) |
| Spread | 0.18 |
Russia price cap
An EU plan to impose a price cap on Russian natural gas is also weighing on prices. The objective would be to cut the Kremlin's revenues used to fund the war in Ukraine.
Traders are anticipating that such a move would lead to Russia retaliating in some way giving natural gas prices more support.
However, EU member states remain divided over the price cap with at least ten out of 27 governments reportedly against the proposal.
Meanwhile, EU ministers are continuing to work towards coming up with a plan to intervene in European energy markets.
"A draft proposal suggests that the EU will look to enforce mandatory demand cuts for power- overall demand cuts as well as during peak hours. In addition, the EU is also proposing a levy on energy companies' extra/abnormal profits. Finally, the EU also wants to cap revenues for power generators, with the exception of gas fired power capacity. This is still a proposal, but the hope is that a deal is finalised before the end of September," ING said in a note to clients on Tuesday.
Natural gas price outlook
According to the latest projections from the Energy Information Administration (EIA), US natural gas spot prices on the Henry Hub will average roughly $9 MMBtu during the fourth quarter before retreating to around $6 on average in 2023 amid rising domestic production.
By contrast, as a result of the supply tightness, analysts at Dutch bank ABN AMRO said in July that it expects natural gas prices to remain elevated until 2025 to 2026.
"Europe will remain strongly dependent on gas imports as local investments in gas exploration will remain very limited and the transition towards renewable alternatives will take years to materialise and decades to fully push natural gas out of the energy mix," Hans van Cleef, ABN AMRO's senior energy economist, recently said to Capital.com.
"Therefore, filling the inventories is an important step to prepare for the tight market conditions during the colder months of this and next year, but this does not provide any guarantee whatsoever that there would be enough supply available to meet demand," the economist added.
Related reading