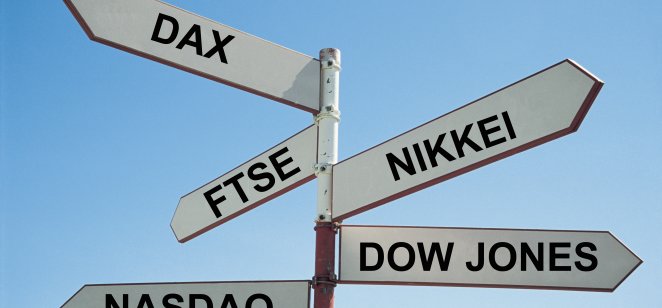 To learn the basics of trading indices, and CFDs on indices in particular, first we should get a clearer idea of what they really are. Generally, an index is usually referred to as a portfolio of stocks of different companies that represent a certain market or its sector.
What are indices?
Watch a short video to get the gist of indices.
The majority of highly developed, as well as developing economies, have at least one financial index. For example, the S&P 500 index includes the stocks of 500 of the most widely-traded American companies, comprising 70% of the overall financial value of the US stock market. It provides a good view on the state of the American stock market as a whole.
How are stock indices calculated?
An index's value is usually represented by a number of points. Every index is calculated a bit differently, but in general, its common value is represented by a weighted average of the current values of the constituent stocks.
Therefore, an index's value changes according to the fluctuations in value of its underlying individual stocks. Analysts and investors see indices as a benchmark of the market's performance in every country.
What are the current leading indices?
Various indices have a certain focus on particular market sectors and stocks. For example, the Dow Jones Industrial Average (one of the world's most popular indices) consists of the stocks of 30 key players in specific industries.
Some of the most widely-traded indices include: the S&P 500 and Dow Jones (New York), the FTSE 100 (London), the DAX30 (Frankfurt), the Hang Seng (Hong Kong), the Nikkei 225 (Tokyo) and the Shanghai Composite.
Generally, there are three common types of indices – global, regional and national.
Type of Index

Description

Leading Indices

Global stock market indices

Tracks equities from all over the world. For example, the MSCI World index comprises large and mid-cap equities from 23 developed countries

MSCI World Index

S&P Global 100

FTSE All-World Index

S&P Global 1200

Dow Jones Global Titans 50

Russell Global Index

Regional stock market indices

Tracks equities of certain regions. These indices may reflect European, Latin American, Asian equities, etc.

Asia

S&P Asia 50 index

FTSE ASEAN 40 index

Latin America

S&P Latin America 40 index

Europe

FTSE Euro 100 index

S&P Europe 350 index

National stock market indices

Tracks equities of individual countries. The top 10 national indices include the following:

China: SSE Composite Index

Japan: Nikkei 225

Germany: DAX30

United Kingdom: FTSE 100

France: CAC40 Index

India: Bombay stock market Index

Italy: FTSE MIB Index

Brazil: Bovespa Stock Index

Canada: S&P TSX 60 Index

South Korea: KOSPI Index
How can you trade indices?
Trading on indices provides traders with the possibility to speculate on the index's movements, predicting whether the price will go up or down, without the actual need to buy the underlying assets.
If you believe the market is going to increase, you can go long on a certain index, otherwise, if you think the index will likely drop down, you can go short. By trading CFDs on indices you can enter both long and short positions, therefore, a bearish market also provides potential opportunities for profit.
If you choose to trade indices, it's important to keep track of different events that may affect the index's value, such as economic reports, geopolitical news, etc. Made up of a big number of stocks, whose prices are constantly moving, indices may be referred to as relatively volatile instruments.
Modern CFD trading platforms offer you an access to an extensive list of various international indices from one account. In choosing contracts for difference you get a relatively low-cost entry to the most popular financial markets.