Content
What is Tesla?
Founded in 2003, Tesla is an innovative automotive and energy company taking on the mission to accelerate the world's transition towards sustainable energy.
Moving towards a zero-emission future, the company specialises in electric car manufacturing and has gone a long way to prove that electric vehicles can be better and quicker than traditional gasoline cars.
Besides the Tesla electric vehicles, the company builds clean energy generation and storage products.
Headquartered in Palo Alto, California, Tesla operates several production and assembly plants, including Gigafactory 1 in Reno, Nevada, and the Tesla Factory in Fremont, California.
As of March 2019, Tesla sells the Model X, Model S and Model 3 vehicles, Powerpack, Megapack and Powerwall batteries, solar roof tiles, solar panels and other related products.

Tesla trading hours
Tesla is traded on the NASDAQ stock exchange according to the regular trading session schedule (EST):
Pre-market trading hours from 4:00 to 9:30
Market hours from 9:30 to 16:00
After-market hours from 16:00 to 20:00
If you choose to trade CFDs, you can follow the Tesla stock price live in US dollars with the comprehensive TSLA stock price chart on Capital.com:
Monday to Friday from 14:30 to 21:00
How to trade Tesla CFDs
An individual has two options when trading in the stock market. Firstly, they can buy shares in companies on the exchanges where they are listed. For instance, you can buy Tesla stock on the NASDAQ exchange, so you actually own a share in the company. This can be considered a long-term investment, as the individual is usually waiting for the price to rise over time.
Alternatively, they can trade a contract for difference (CFD) on a particular stock, and speculate on the price difference of the underlying asset, without actually owning the asset. A CFD is a financial contract, typically between a broker and an investor, where one party agrees to pay the other the difference in the value of a security, between the opening and closing of the trade. You can either hold a long position (speculating that the price will rise) or a short position (speculating that the price will fall). This is considered a short-term investment or trade, as CFDs tend to be used within shorter timeframes.
Trade Tesla Inc - TSLA CFD
The key difference between trading a long position with a CFD and buying a security is the leverage that is employed. CFDs are traded on margin, which means that a trader can open larger positions with their capital.
Trade Tesla CFDs with Capital.com. Sign up at Capital.com to use our desktop platform, or download our mobile app to start trading on the most popular global markets anywhere, anytime.
Why trade Tesla CFDs with Capital.com
Advanced AI technology at its core: A Facebook-like News Feed provides users with personalised and unique content depending on their preferences. If a trader makes decisions based on biases, the innovative News Feed offers a range of materials to put him back on the right track. The neural network analyses in-app behaviour and recommends videos, articles, news to polish your investment strategy.
Trading on margin: Providing trading on margin (up to 5:1 for individual equities), Capital.com gives you access to the stock market with the help of CFDs.
Trading the difference: When trading Tesla CFD, you don't buy the underlying asset itself, meaning you are not tied to it. You only speculate on the rise or fall of the Tesla stock price. CFD trading is nothing different from traditional trading in terms of strategies. A CFD investor can go short or long, set stop and limit losses and apply trading scenarios that align with their objectives.
All-round trading analysis: The browser-based platform allows traders to shape their own market analysis and forecasts with sleek technical indicators. Capital.com provides live market updates and various chart formats, available on desktop, iOS, and Android.
Focus on safety: Capital.com puts a special emphasis on safety. Licensed by the FCA and CySEC, it complies with all regulations and ensures that its clients' data security comes first. The company allows clients to withdraw money 24/7 and keeps traders' funds across segregated bank accounts.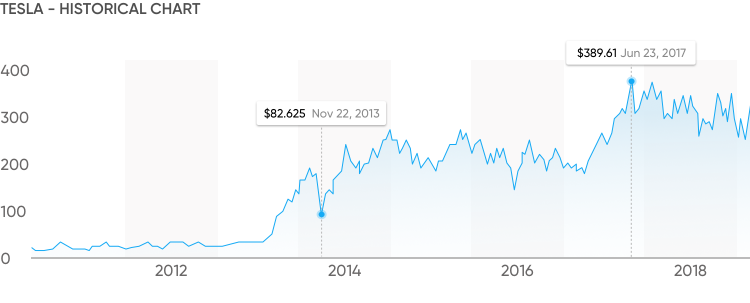 History of Tesla
In July 2003, Tesla was founded by two engineers Martin Eberhard and Marc Terpenning in California, US. The company was named after the famous physicist, engineer and futurist – Nikola Tesla. In 2004, Elon Musk invested $30 million and joined the business as the Chairman of its Board of Directors. Other co-founders included Jan Wright and JB Straubel.
In 2008, the company launched its first car – a completely electric Roadster, unveiling Tesla's cutting-edge battery technology. However, this move did not help Tesla to avoid significant financial problems. In 2009, the business was on the brink of bankruptcy, having only $9 million in cash on hand. To survive, the company opened up to investors, including Mercedes, and secured $40 million more by issuing convertible debt.
The same year, Tesla revealed its new Model S, the world's first premium all-electric sedan, which combined both efficiency and safety.
On June 29, 2010, Tesla went public through the Initial Public Offering (IPO), selling 13.3 million shares at $17 per share on the Nasdaq, bringing in $226.1 million.
In 2012, the company opened its first freestanding charging stations, known as Superchargers. Only two years later, Elon Musk presented Tesla's semi-autonomous self-driving system called Autopilot.
To create an entire sustainable ecosystem, on April 30, 2015, Tesla unveiled Powerwall, a large rechargeable battery for residential buildings, and Powerpack, a battery for commercial use.
In 2015, Tesla launched the Model X – one of the quickest and safest sport vehicles. In 2016, the company designed the Model 3 – a high-volume and low-price electric vehicle meant to be more affordable for a wider audience. Its production started in 2017.
Tesla has taken the electric vehicle market by storm: from 2017 to 2018, its US vehicle sales increased by 280% from 48,000 to 182,400. In 2018, it was ranked as the world's best selling plug-in passenger car manufacturer, both as a brand and by automotive group, with 245,240 units delivered and a market share of 12% of the plug-in segment sales.
At the end of the second quarter of 2019, Tesla's global sales since 2012 totalled over 720,000 units. In October 2019, the company got permission to start mass production in Shanghai, China.
For many years, Tesla has been reporting net losses in most quarters. However, in its third quarter of 2019, the company surprised analysts, who had anticipated a quarterly loss of approximately 40 cents per share, with adjusted earnings of $1.61 per share, on total quarterly revenue of $6.3 billion.
FAQ
Who competes with Tesla?

Toyota is one of the top competitors of Tesla. Founded in 1937, Toyota Motor Corporation is the leading Japanese and the world's second-largest automobile manufacturer.

BMW Group is also seen as one of the major competitors of Tesla. Established in 1916, the company produces premium automobiles and motorcycles under the brands BMW, Mini and Rolls-Royce.

Another Tesla rival is Audi. Founded in 1909, it is now a member of the Volkswagen Group. Alongside BMW and Mercedes-Benz, it produces some of the world's best-selling premium automobile brands.

The list of other top competitors of Tesla includes General Motors, Porsche, Volkswagen, Ford, Honda, Nissan and Lexus.
Is Tesla a constituent of any popular indices?

Tesla is a constituent of the NASDAQ 100 index and the Russell 1000 index.
What factors affect the Tesla stock price?

As with any equity, quarterly earnings announcements as well as the financial performance of the wider stock market are two crucial factors to watch when deciding how Tesla share price will perform. Something more specific to Tesla that affects its performance is the success and demand for its cars. The waiting list to buy Tesla's Model 3 right now is along one. The demand for Models S and X also remains high. However, the Tesla share price is heavily affected by emerging competitors in the EV industry. Investing in Tesla, has always been arguably higher risk than some other car companies, as its share price has been marked by periods of significant volatility.
Who is Elon Musk?

An American businessman with a PhD in physics and material science, Elon Musk is a revolutionary entrepreneur and investor, who founded Tesla Motors and Space X.

Musk became a multimillionaire in his late 20s, after he sold his first successful business Zip2 for $22 million. Musk's next project, the worldwide electronic payment system PayPal, proved to be another great success.

In 2001, Elon Musk founded SpaceX, focused on aerospace and space travel. In 2003, Musk became a co-founder of Tesla Motors. The businessman's other businesses include SolarCity, OpenAI, Hyperloop, Neuralink, and The Boring Company.

In 2018, Elon Musk was listed by Forbes as the 53rd richest person in the world with a total net worth of $20.8 billion.