Content
What is Sainsbury's?
J Sainsbury plc – commonly known as Sainsbury's – is a large UK-based business operating in the retail industry. The company's core activities are split into three divisions: Sainsbury's Supermarkets Ltd, Sainsbury's Bank and Sainsbury's Argos. The group's head office is located in Holborn, London.
Sainsbury's is known for being the UK's second-largest chain of supermarkets, with a 16 per cent market share as of the end of 2019. Founded in 1869, the business was one of the first to adopt the self-service shopping model that has later revolutionised the way people buy food. Today, the company has approximately 2,000 food suppliers and more than 1,000 non-food suppliers, running over 600 supermarkets and 800 convenience stores and offering more than 12,000 own-brand products.
Sainsbury's Bank provides a range of financial products, such as consumer loans, savings accounts, insurance products and credit cards. It is authorised by the Prudential Regulation Authority (PRA) and regulated by both the PRA and the Financial Conduct Authority (FCA). For its fiscal year ended February 29, 2020, the bank reported £323m in total income, £9.402bn in total assets and £6.312m in customer deposits.
In 2016, J Sainsbury acquired Argos, one of the UK's leading digital retailers, for £1.4bn. The goal of the purchase was to boost Sainsbury's online and digital expertise and broaden its reach into general merchandise and, in return, provide Argos with a greater presence inside the grocer's larger stores. Today, Argos offers more than 89,000 products online and in-store, having almost a billion online visitors and 29 million store customers annually.
Sainsbury's also owns the Tu label, one of the largest clothing retailers in the UK by value.
Sainsbury's shares are traded on the London Stock Exchange (LSE) under the ticker symbol SBRY. The company is a constituent of the FTSE 100 Index.
Sainsbury's stock trading hours
With Capital.com, you can trade Sainsbury's shares between the regular UK trading hours: Monday to Friday from 07:00 to 15:30 (UTC). This gives you plenty of time to monitor the company's activity and stay on top of the events that may affect short-term movements in the share price.
How to trade Sainsbury's shares CFDs
An individual has a few options when investing in Sainsbury's shares. Firstly, they can buy the company's shares on the exchanges where they are listed, for instance on the London Stock Exchange. In this case, they actually own a share in the company. This can be considered a long-term investment, as the individual is usually waiting for the price to rise over time.
Alternatively, they can trade a contract for difference (CFD) on a particular stock and speculate on the price difference of the underlying asset. A CFD is a financial contract, typically between a broker and an investor, where one party agrees to pay the other the difference in the value of a security, between the opening and closing of the trade.
Trade J Sainsbury PLC - SBRY CFD
Investing in Sainsbury's shares CFDs gives you the opportunity to trade the stock in both directions. Regardless of having a positive or negative view of the company's future, you can try to profit from both upward and downward price movements.
You can either hold a long position, speculating that the SBRY share price will rise, or a short position, speculating that the price will fall. This is considered a short-term investment as CFDs are used within shorter time frames.
Another key difference between trading shares with CFDs and buying them from the stock exchange is the leverage that is employed. CFDs are traded on margin, which means that a trader can open larger positions with their capital. However, it is crucial to note that as CFD trading involves the use of leverage, losses, as well as profits, are magnified.
Looking for a reliable CFD trading provider to invest in Sainsbury's shares? If so, try our award-winning web trading platform or download our mobile app, which will become your smart CFD trading assistant. Just spend three minutes of your time to sign up and start your journey of Sainsbury's share trading with Capital.com today.
Why trade Sainsbuiry's shares CFDs with Capital.com
Advanced AI technology at its core: a Facebook-like News Feed provides users with personalised and unique content depending on their preferences. If a trader makes decisions based on biases, the innovative News Feed offers a range of materials to put him back on the right track. The neural network analyses in-app behaviour and recommends videos, articles and news to help polish your investment strategy, allowing you to refine your approach to Sainsbury's share trading.
Trading on margin: providing trading on margin with the help of CFDs, Capital.com gives you access to the stock market even with a limited amount of funds in your account.
Trading the difference: when choosing to trade Sainsbury's stock with CFD, you do not buy the underlying asset itself, meaning you are not tied to it. You only speculate on the rise or fall of the SBRY share price. CFD trading is nothing different from traditional trading in terms of strategies. A CFD investor can go short or long, set stop and limit losses and apply trading scenarios that align with his or her objectives.
All-round trading analysis: the browser-based platform allows traders to shape their own market analysis and forecasts with sleek technical indicators. Capital.com provides live market updates and various chart formats, available on desktop, iOS, and Android.
Focus on safety: Captal.com puts a special emphasis on safety. Licensed by the FCA and CySEC, it complies with all regulations and ensures that its clients' data security comes first. The company allows to withdraw money 24/7 and keeps traders' funds across segregated bank accounts.
History of Sainsbury's
Sainsbury's was founded in 1869 when John James Sainsbury and his wife Mary Ann, opened the first shop in Holborn, London. The business' philosophy was: "Quality perfect, prices lower." Originally just a retailer of fresh produce, it later moved into packaged groceries. In 1922, J Sainsbury was incorporated as a private company.
Sainsbury's was a pioneer in the introduction of self-service supermarkets in the Fifties and Sixties, and a leading force in the development of own-brand products. In the Seventies and Eighties, the company invested heavily in out-of-town supermarkets and hypermarkets. What once was a small shop has now become a large multi-billion business, with more than 116,000 employees and annual revenue of £29bn in the year ended March 7, 2020.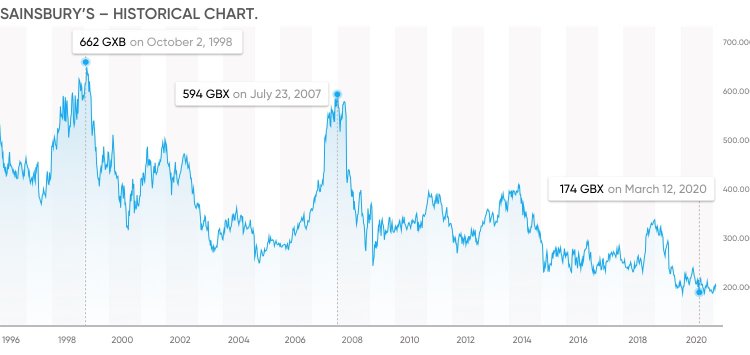 With regards to Sainsbury stock price history, just like any other publicly traded company, it has experienced lots of volatility.
The company went public on July 12, 1973, on the London Stock Exchange. At the time, it was the largest ever flotation on the UK exchange. To create as many shareholders as possible, the firm rewarded the smaller bids for shares. The list of applications was closed within one minute, with £495m offered for £14.5m available shares.
As J Sainsbury share price history suggests, right from its initial public offering, the company's stock experienced a significant rally, eventually reaching a price of 654 GBX per share in February 1993. Another hike happened between October 2004 and July 2007. During that time, the stock soared from 242 GBX to 590 GBX per share. However, amid the following global financial crisis, shares quickly lost their value, falling as low as 240 GBX by October 2008.
After recovering to trade well above 300 GBX throughout September 2010-February 2011, the stock fell steeply once again, hitting 263 GBX per share in September 2011. Shortly after, shares gained another upside momentum, rising to 414 GBX by November 2013.
Ever since, the Sainsbury's share value has been fluctuating dramatically, mainly in the downward trajectory. Only during the first half of 2018, the stock had been on a significant uptrend, going from 225 GBX in March to 342 GBX in August. It then started to fall abruptly, dropping as low as 177 GBX per share in August 2019.
SBRY shares started 2020 trading at 230 GBX. However, driven by the looming economic uncertainty brought by the Covid-19 pandemic, the stock closed at its historical lowest of 174.95 GBX on March 12 against the background of the broader market sell-off. By the end of June, shares had recovered some of their losses, changing hands at 210 GBX.
You can follow all the latest developments in the SBRY share price in real-time and spot the best trading opportunities with Capital.com's comprehensive chart.
FAQ section:
Which factors affect Sainsbury's share price?

There is a lot to consider when it comes to Sainsbury's share trading. First of all, quarterly earnings announcements, as well as the financial performance of the wider stock market are two crucial factors to watch when trying to predict the stock's next move. Secondly, the overall demand for the company's products and services, market sentiment, fundamental valuation and analyst expectations about the future can influence the share price.

In addition, geopolitical turbulence and economic turmoil can also have a great impact on Sainsbury's shares. For example, in 2020, the Covid-19 pandemic, Brexit uncertainty and weak economic growth have posed downward pressure on the company's stock performance.
Who are Sainsbury's competitors?

The UK retail industry is mainly dominated by supermarkets, represented by the four majors that are often called the Big Four: Tesco (TSCO), Sainsbury's (SBRY), Walmart (WMT) Asda and Morrisons (MRW). Waitrose is another large chain that trails the Big Four in footprint. These are closely followed by online retailer Amazon (AMZN) and department stores, such as Marks & Spencer (MKS) and John Lewis. In recent years, German grocers Aldi and Lidl have also become strong competitors in the UK grocery market.

In regard to the banking segment, the company's key competitors are the industry's mammoths HSBC (HSBA), Barclays (BARC) and Lloyds Banking Group (LLOY). Besides, apart from Sainsbury's, there are other retail groups that also own banking businesses, including Tesco that operates its Tesco Bank.
Related reading