Content
What is Polkadot?
Polkadot is a decentralised network protocol that connects public or private blockchains, allowing users to transfer across tokens and data. The network was created in 2017 by Gavin Wood, the co-founder of Ethereum. Wood co-founded Polkadot with Robert Habermeier and Peter Czaban. DOT is the native Polkadot cryptocurrency token that runs on the network and is used for staking, bonding and governance.
Switzerland-based Web3 Foundation is developing Polkadot as part of its work to facilitate Web3 decentralised internet applications.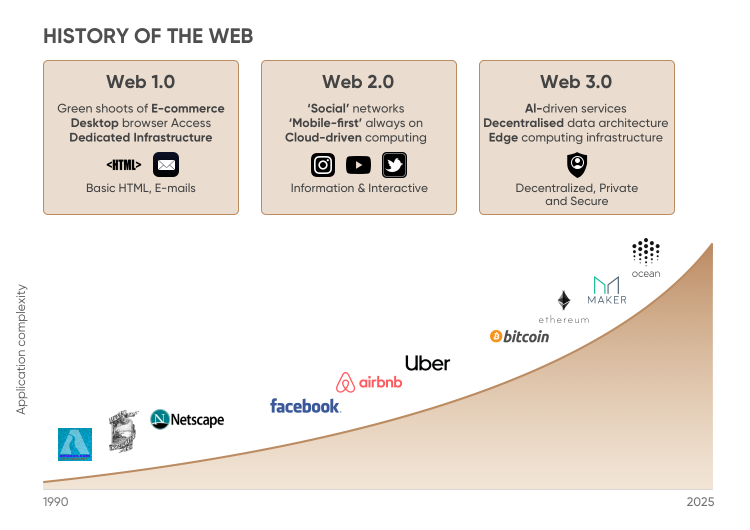 Decentralised platforms give users, rather than corporations, control over their privacy and personal data. Parity Technologies is working on three main technologies: Parity Ethereum, Parity Substrate, and the Polkadot project with Web3.
Polkadot is based on a multichain network architecture that can process multiple transactions on more than one chain simultaneously. There are a limited number of slots for these independent parachains, which developers secure with the DOT token in a permissionless auction.

Polkadot runs alongside Kusama, which was released as an initial version of the protocol to provide a live environment for developers to test out new features. Kusuma is also being touted as more suitable for new start-ups to use, while enterprise applications are being developed on the Polkadot network.
Why is Polkadot important to traders and investors?
Polkadot's Substrate framework offers high-speed response times to process transactions, and its interoperability across blockchains is attracting interest from developers of blockchains for non-fungible tokens (NFTs). Its relay chain uses a consensus mechanism that can process transactions, blocks, and chain blocks seamlessly. Developers favour its on-chain governance and upgrade system.
Polkadot is being adopted by a growing number of developers, with some switching from other protocols that do not offer the same kind of functionality across blockchains. The DOT token has become one of the largest cryptocurrencies by market capitalisation as the potential for Polkadot to achieve broad adoption in decentralised finance (DeFi) applications and NFT auctions have made DOT trading more popular among investors.
An update to the Substrate development platform in September 2020 included the introduction of a framework that seamlessly connects on-chain logic with off-chain logic. The interaction between digital and offline assets is a key feature of NFTs that will enable new applications in the sale of art, music, collectibles and real estate.
Based on the Polkadot history, investors expect the DOT price to rise in the future as its adoption grows.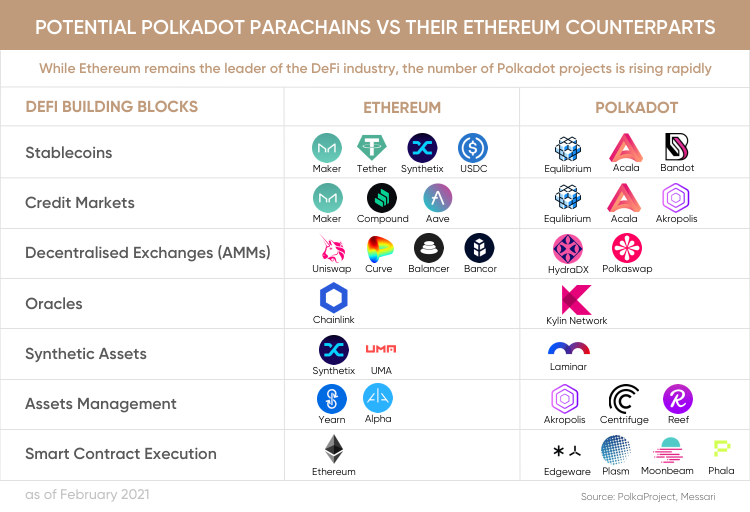 DOT price history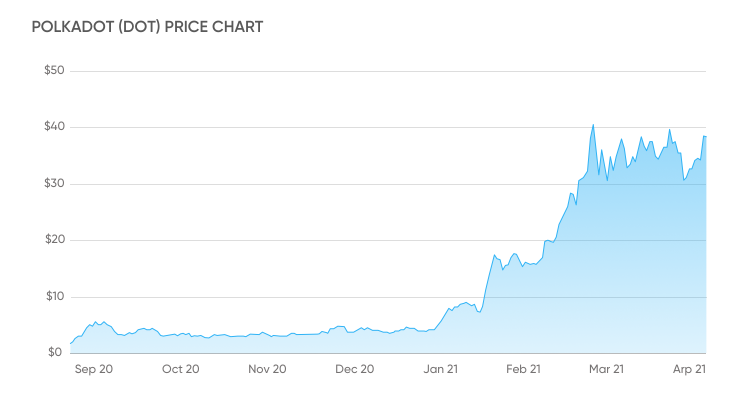 Following an initial coin offering in 2017, the Polkadot crypto token was redenominated on August 21, 2020, with 1 Old DOT converted to 100 New DOT. That increased the total allocation of tokens in circulation from 10 million to 1 billion.
At that time, the DOT cryptocurrency price was 2.89 against the US dollar, climbing by 102 per cent in the first week to reach $5.84 on August 28, right before slipping back to $4.51 on September 11. Analysis of the Polkadot graph shows that the price bottomed out at $4.05 on October 9, then turned higher, ending 2020 at a fresh high of $7.36.
The DOT price climbed by 448 per cent to the $40 level on February 20, 2021, when a broader rally brought several cryptocurrencies to new record highs. The coin's value subsequently dropped back to the $30 level in March but quickly began to run upwards towards $40 again. Check out Capital.com's live Polkadot chart to stay up-to-date with the coin's latest movements.
If you are looking to profit from the market volatility, read on to find out how to invest in Polkadot.
How to get Polkadot
Unlike Bitcoin (BTC), which is based on a proof-of-work (PoW) concept where it is mined by computers processing blockchain transactions through a complex verification process, the Polkadot coin is based on nominated proof of stake (NPoS) and is not mined. Rather than earning coins from mining, holders can buy DOT tokens and stake them, earning more tokens as a reward for committing to hold them in the ecosystem for a period of time.
If you want to add the tokens to your investment portfolio, you can buy DOT on a cryptocurrency exchange, such as Binance, Kraken, Bittrex, Huobi Global or OKEx, and store them in a digital wallet.
Alternatively, you can trade Polkadot with contracts for difference (CFDs) to speculate on the direction of the price. With CFDs, you can take a position on the price of a cryptocurrency without having to hold it in a wallet or separate trading account. Read on to learn more about the advantages of Polkadot trading on Capital.com's proprietary CFD platform.
How to trade DOT CFDs
Are you wondering how to buy Polkadot crypto with CFDs? A CFD is a type of contract, typically between a broker and an investor, where one party agrees to pay the other the difference in the value of an asset, between the opening and closing of the trade. CFDs are typically held for short timeframes to take advantage of price fluctuations, rather than as long-term investments.
Trading a CFD in the cryptocurrency market differs from buying a cryptocurrency on an exchange. When you purchase a cryptocurrency, it is stored in a digital wallet, whereas when trading CFDs, your contract is held in your account with an online broker, which is regulated by a financial authority. Moreover, you are more liquid when you purchase CFDs as you are not tied to the asset: you have merely purchased the underlying contract.
Investing in Polkadot CFDs gives you the opportunity to trade DOT in both directions. You can either hold a long position, speculating that the DOT price will rise, or you can go short on the coin if you think the price will drop. So, regardless of having a positive or negative view of the future of the Polkadot crypto price, you can still try to profit from both upward and downward fluctuations.
Trade DOT to US Dollar - DOT/USD CFD
However, if you are new to CFD trading, you should be aware that CFD trading involves leverage, which allows you to make bigger gains with a smaller initial investment but also increases losses if the crypto price moves against your position. Check out our comprehensive CFD trading guide to learn more.
Looking for a reliable CFD trading provider to trade Polkadot? If so, just spend three minutes of your time to sign up and start your journey of DOT trading with Capital.com. Try our award-winning trading platform or download our mobile app, which will become your smart CFD trading assistant.
Why trade DOT CFDs with Capital.com?
Advanced AI technology at its core: a Facebook-like news feed provides users with personalised and unique content depending on their preferences. If a trader makes decisions based on biases, the innovative News Feed offers a range of materials to put them back on the right track. The neural network analyses in-app behaviour and recommends videos, articles and news to help polish your investment strategy. This will help you to refine your approach when trading a volatile asset like the DOT cryptocurrency.
Trading on margin: providing trading on margin with the help of CFDs, Capital.com gives you access to the cryptocurrency market even with a limited amount of funds in your account.
Trading the difference: when trading DOT CFDs, you do not buy the underlying asset itself, meaning you are not tied to it. You only speculate on the rise or fall of the Polkadot price. CFD trading is nothing different from traditional trading in terms of strategies. A CFD investor can go short or long, set stop and limit losses and apply trading scenarios that align with their objectives.
All-round trading analysis: the browser-based platform allows traders to shape their own market analysis and forecasts with sleek technical indicators. Capital.com provides live market updates and various chart formats, available on desktop, iOS, and Android.
Focus on safety: Capital.com puts a special emphasis on safety. Licensed by the CySEC and NBRB, it complies with all regulations and ensures that its clients' data security comes first. The company allows you to withdraw money 24/7 and keeps traders' funds across segregated bank accounts.
DOT trading hours at Capital.com
Unlike the traditional financial markets, the decentralised cryptocurrency markets are open around the clock. As such, Polkadot trading with CFDs is available on Capital.com 24/7. This allows you to actively manage your position in real-time in response to market volatility and maximise gains.
FAQs
What is the future of Polkadot?

Polkadot's multichain ecosystem is expected to be adopted by a growing number of developers for DeFi services and NFT trading. Polkadot has gained the moniker the "Ethereum Killer" as it enables interoperability between blockchains.
What will Polkadot be worth in 2025, 2030?

Wallet Investor projects that DOT will trade up from around $45 in January 2025 to $49 by December 2025. Digitalcoin predicts that the DOT price could climb further to trade around $115 by 2025, continuing to rise to reach the $169 level by 2028. Crypto exchange ChangeHero.io predicts DOT will trade between $40-$150 in 2025 and in a tighter range of $48.30-$77.45 in 2030.
Can Polkadot reach $100?

The more bullish forecasts suggest that if Polkadot continues to attract new developers to expand its use and investors continue to buy the token, the DOT price could rise to the $100 level in the coming years.
How can I buy Polkadot?

You can buy Polkadot tokens on cryptocurrency exchanges and hold them in a secure digital wallet, or you can trade DOT CFDs to profit from changes in the price. Sign up for an account with Capital.com in just a few minutes to get started.